The filling and crust for this Pumpkin Cheesecake with White Chocolate-Toffee-Buttermilk Ganache are the same as those for my recent Pumpkin Cheesecake with Salted Caramel Praline Pecan Cheesecake. It takes on a whole new personality with a simple change in the topping. You could also change it up by using graham crackers or vanilla wafers for the crust.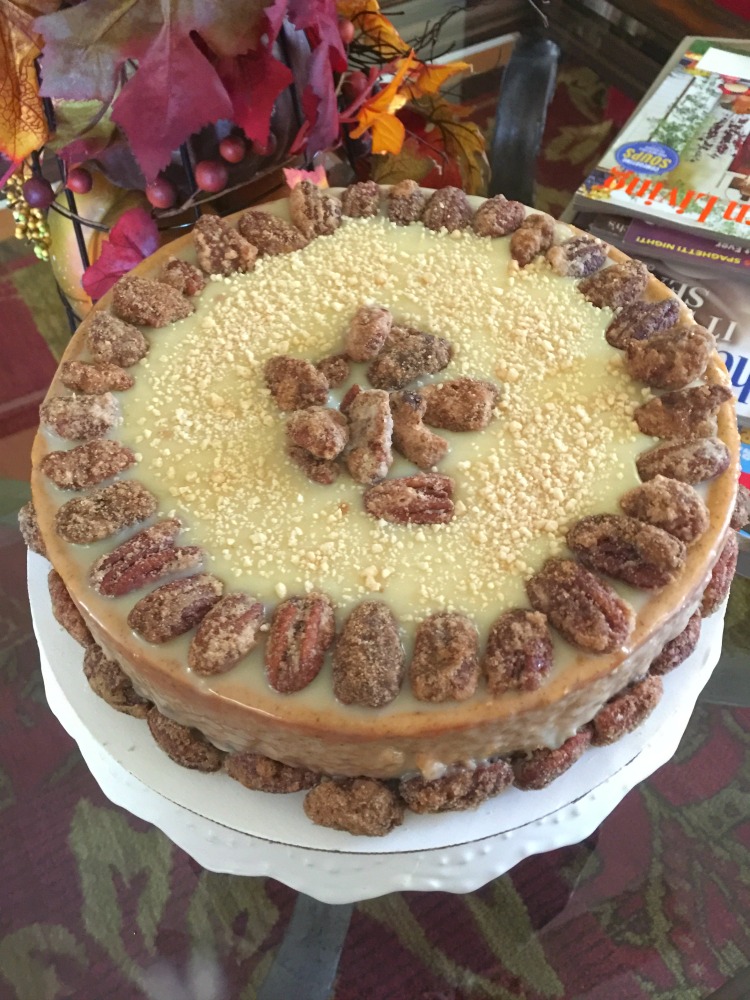 If you haven't by now, I encourage you to make your own pumpkin pie and apple pie spices. It's so much cheaper (and I think better) to make your own. I recently priced a small, approximately 9-ounce container of commercially prepared pumpkin pie spice at $4.44! Oh my goodness, y'all! I promise, you're going to be so glad you've made your own.
This deliciously decadent cheesecake is so pretty decorated with praline or glazed pecans or walnuts. When I made this one for the recent CASA chili cook off, I used store-bought praline pecans. Glazed pecans or walnuts are easy enough to make if you want to make them up ahead of time.
The White Chocolate-Toffee-Buttermilk Ganache is super easy to make. I happen to like the combination of the three flavors, but you can easily adjust those to suit your preferences.
My friend Mel of Adventures of Mel uses her Instant Pot to make a pumpkin cheesecake. I have used my Fodor 3-in-1 (at home), but I've not yet tried one in the IP (at the lake). Check out Mel's recipe HERE.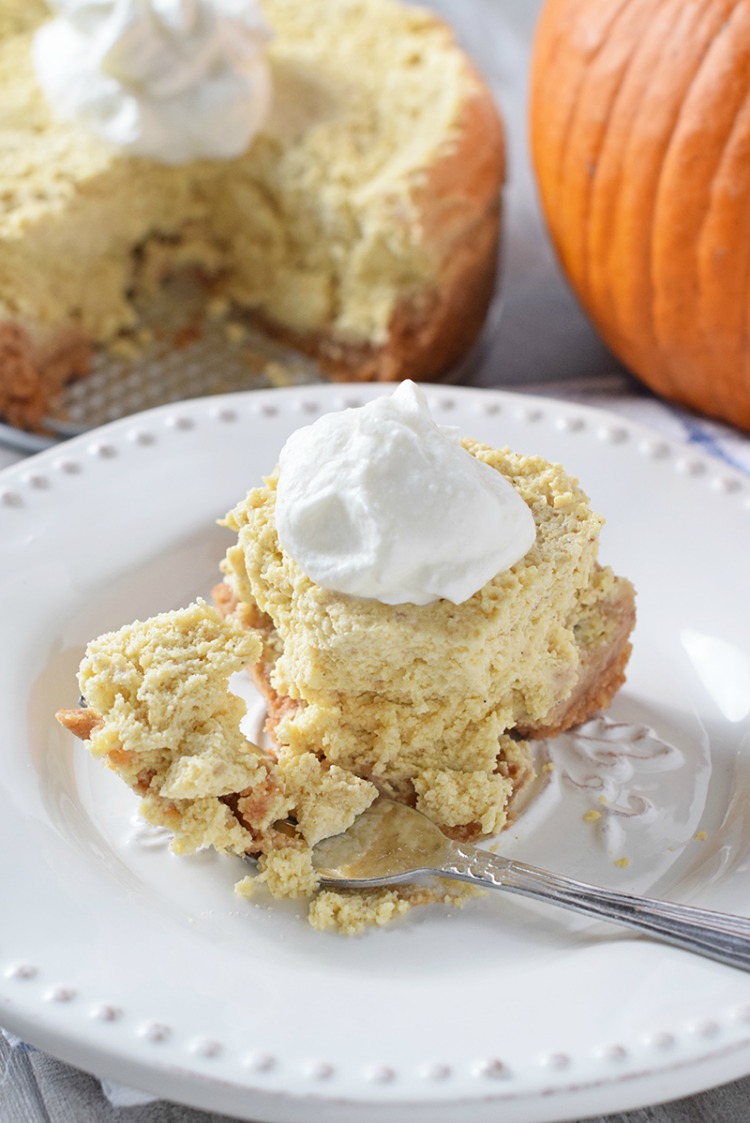 TIPS FOR MAKING CHEESECAKES
Make sure all ingredients are at room temperature.
For best results, prebake the crust. If you skip this, the moisture from the filling is likely to cause the crust to become soggy.
Continually scrape down the sides of the mixing bowl. Cream cheese has a tendency to clump around the beater and in the bottom of the mixing bowl.
Do not overbeat.
Most successful cheesecake instructions involve dual temperature baking. Be sure to follow the directions carefully.
For the best results, do not open the door during baking — and for this version—during the cooling as well.
Never cut a cheesecake before it has chilled several hours in the refrigerator.
White Chocolate-Toffee-Buttermilk Ganache
Ingredients
1/4 cup buttermilk
6 ounces good quality white chocolate, chopped
2 ounces toffee chips
Glazed or praline pecans, if desired as garnish
Instructions
In a small glass mixing bowl, heat buttermilk in the microwave 30-45 seconds until hot.
Add in chopped white chocolate and the toffee chips.
Stir continually until the chocolate and toffee are melted and smooth. I strain the ganache with a sieve in order to catch any stray toffee chips.
Pour over the top of the cheesecake and gently smooth with a spatula allowing the ganache to flow down the sides.
Garnish with glazed or praline pecans, if desired.
Notes
You can replace the buttermilk with heavy cream for a more traditional ganache.
https://diningwithdebbie.net/2017/10/24/pumpkin-cheesecake-with-white-chocolate-toffee-buttermilk-ganache/
DiningWithDebbie.net. All Rights Reserved.