#CelebratingNationalSoupMonth
You may have noticed that I have this "thing" for soups, stews, chilis and gumbos. There's probably not a week that goes by when I don't make a pot of soup of some kind. Fortunately, Hubby's pretty much like I am when it comes to those one-pot wonders. He has his favorites, of course, but he's always willing to try new ones.
With the frigid weather we've had of late, soup has certainly been a welcomed menu item. Long, slow-cooking soups are typically the ones I turn to the most since I really enjoy the lingering, tantalizing smell they create throughout the day. There are exceptions, of course, such as the one I'll be making Tuesday on THV!! — Barleycorn's Cheese Soup.
Supposedly, this is the same recipe used by the long-gone Little Rock Barleycorn's Restaurant. We always ordered their cheese soup because it was just so dang good and filling. I can't trust my taste memory to assure you that this soup is the very same one as the restaurant's, but I can tell you that this one is as good or better.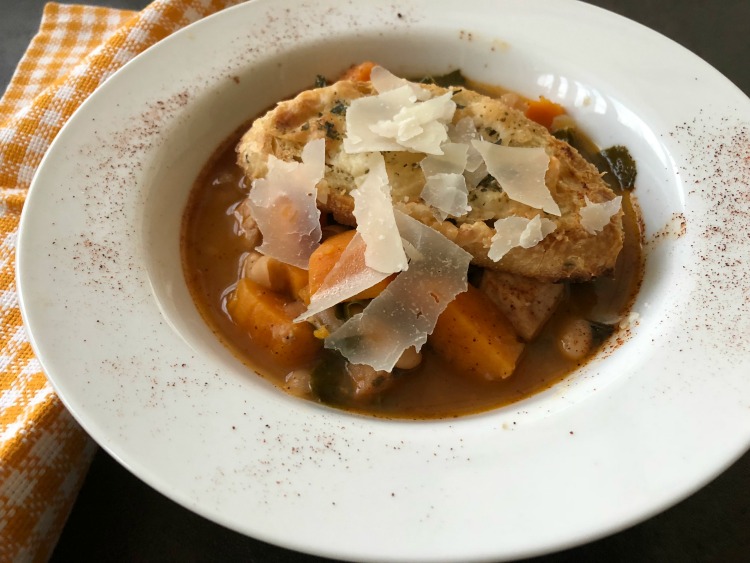 This Cannellini Bean, Pork and Kale Soup is taking its place among our favorites as well. It's nice to have a protein other than chicken or beef now and then, isn't it? You could almost call this a stew, but the broth is more of a soup consistency which is only thickened when one of the cans of cannellini beans is partially mashed.
Have you ever wondered about the difference between a soup and a stew? Chili? Gumbo? Bisque? I actually researched that and got several answers that contradicted one another. Go figure!
Mostly what it comes down to is the thickness of the broth with a soup and a stew. Chili and gumbo will differ in large part with the protein and seasonings. A true bisque is made from the strained broth of crustaceans such as shrimp and lobster. However, my Shrimp and Corn Bisque is chunky and my family loves it that way. Not messing with that one!
How about you? Are you a soup lover as well? How are you celebrating National Soup Month?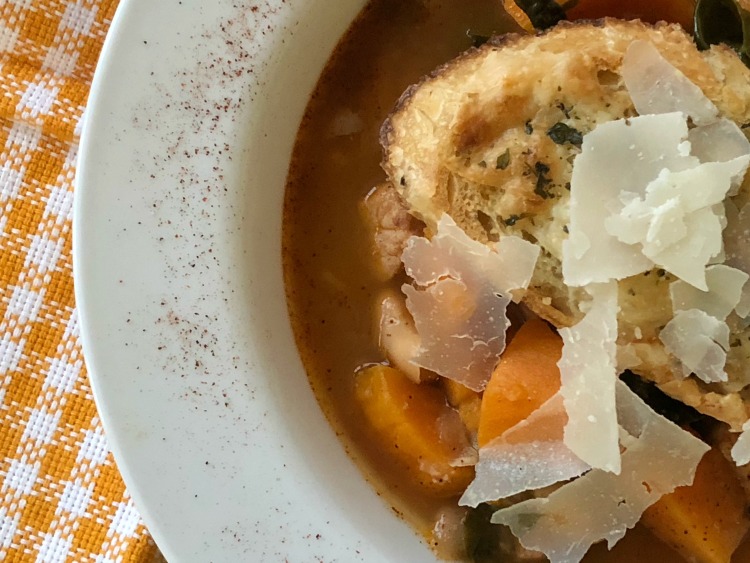 Cannellini Bean, Pork and Kale Soup
Ingredients
1 pound pork loin, trimmed and cut into bite-sized pieces
1 Tablespoon minced fresh rosemary
1/2 teaspoon freshly cracked black pepper
1/4 teaspoon kosher salt
1/4 teaspoon smoked paprika
1/4 teaspoon ground chipotle pepper
2 tablespoons extra-virgin olive oil
1 cup chopped onion
2 garlic cloves, minced
1 bay leaf
6 cups unsalted chicken stock
2 tablespoons double-concentrated tomato paste
2 (15-ounce) cans unsalted cannellini beans, (rinse and drain 1 can)
4 cups cubed sweet potatoes,
8 cups chopped kale, spinach or escarole leaves
2 ounces shaved Parmesan cheese, about 6 tablespoons
Instructions
Combine pork, rosemary, black pepper, salt, paprika, and red pepper in a bowl.
Heat a large skillet over medium-high heat.
Add oil; swirl. Add pork mixture; sauté 2 minutes.
Add onion and garlic; sauté 4 minutes.
Add stock, tomato paste, and 1 can of the beans (undrained); bring to a boil. Reduce heat and cook, partially covered, for 10 minutes.
Drain and rinse the remaining can of cannellini beans. Coarsely mash beans with a fork and stir into soup.
Stir in kale; cook 2 minutes or until wilted.
Ladle into bowls and top each serving with shaved parmesan cheese as desired.
Notes
Other greens may be substituted for the kale. Both escarole and spinach are good alternatives.
As an alternate to the parmesan garnish, lightly toast one side of crostini, spread with a mixture of garlic powder or paste and butter. Top with parmesan and place under a broiler until cheese is melted. Float cheese crostini on top of the soup.
https://diningwithdebbie.net/2018/01/08/cannellini-bean-pork-and-kale-soup/
DiningWithDebbie.net. All Rights Reserved.