Disclosure: I serve as a Brand Ambassador for Petit Jean Meats. I was given a variety of Petit Jean Meats' new line of cheeses as a gift. This is not a directly sponsored post.
We've been having a rather "chilly" few days lately. Like it's been below freezing since before New Year's Day, y'all. It was warmer in much of Alaska than it was here! Incredible.
When it turns cold like this, my mind and menu turn to soups, stews and chilis. It's pretty much all that I really want…something to warm me to my toes. We tend to be soup lovers anyway so no one is complaining.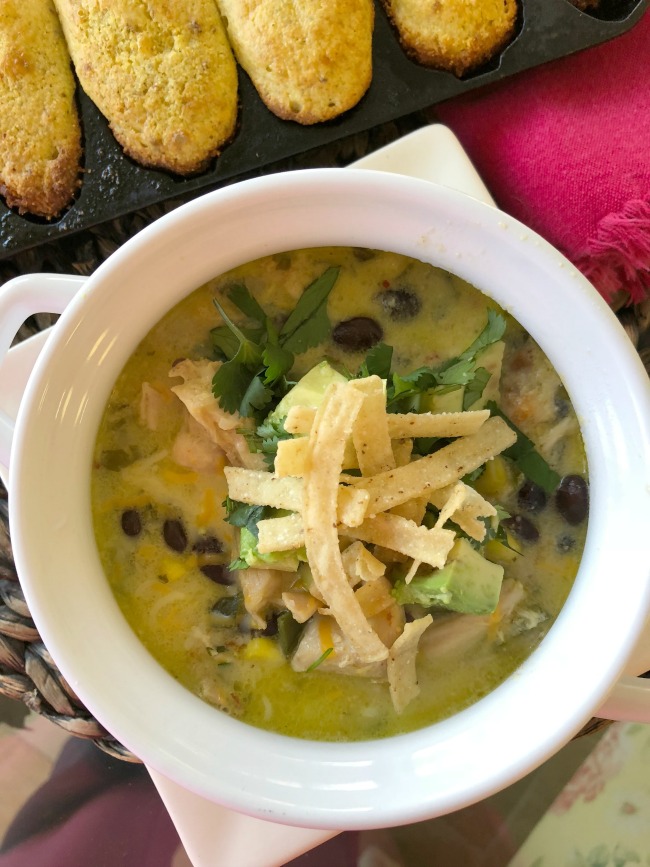 This Cheesy Poblano Corn and Chicken Chowder married some of our favorite flavors: cheese, poblanos, chicken and black beans.I actually had all of the ingredients on hand so it was a snap to pull it together.
Don't you just love it when that happens?
Poblanos don't really have a ton of heat, certainly less than jalapeños. By removing the membrane and seeds from each one, you'll pretty much eliminate most of the heat. If you want the soup to be hotter, I suggest you toss in a minced jalapeño with the peppers as they are sautéing.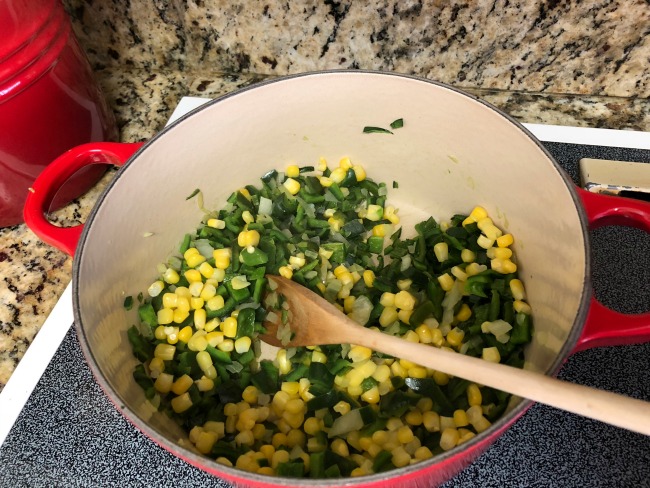 We absolutely loved this soup! I sure do hope you'll give it a try. It's a perfect addition to your National Soup Month menu.
And I really hope you're warming your toes in front of a crackling fire!
Cheesy Poblano Corn and Chicken Chowder
Ingredients
3 poblano peppers, seeded and diced
1 1/2 cups chopped yellow onion
2 Tablespoons canola or Riceland Rice Bran Oil
1/2 - 1 teaspoon ground smoked chipotle pepper
1/2 - 1 teaspoon ground cumin
1 (16-ounce) package frozen baby gold and white corn or yellow whole kernel corn, thawed and divided
1 1/2 cups 2% milk, divided
1/2 cup heavy cream
2 cups unsalted chicken stock
2-3 cups chopped, cooked chicken
1 15-ounce can black beans, drained and rinsed
4 ounces Petit Jean Meats Cheese 'N Hot Pepper, grated
1/2 cup freshly grated sharp cheddar cheese
1/2 cup minced cilantro plus more for garnish
Salt and Pepper to taste
Tortilla strips as garnish
Chopped avocado as garnish
Instructions
In a 5 1/2-quart Dutch oven, heat 2 Tablespoons oil over medium-high heat. Add in diced poblano and onion. Sauté until softened.
Add 1 cup corn and 1 1/2 cups milk to pepper and onion mixture. Add in chicken stock. Bring mixture to a boil over medium heat.
Meanwhile, place 2 cups corn and 1/2 cup heavy cream in a blender; process until smooth.
Add pureed mixture to corn mixture in pan. Stir well to blend. Reduce heat to medium-low.
Add in smoked chipotle and cumin; whisk to combine.
Add in black beans and chicken.
Add in cheeses, whisking often to prevent cheese from sticking. Heat through to completely melt cheeses. Reduce heat to low.
Cover and keep warm until serving.
Season to taste and garnish with avocado and tortilla strips before serving.
https://diningwithdebbie.net/2018/01/05/cheesy-poblano-corn-and-chicken-chowder/
DiningWithDebbie.net. All Rights Reserved.
Still looking for more soup ideas? Here are a few for you to try: