Disclosure: This post was sponsored, in part, by @TysonFoods. All opinions are my own. #TysonMadeWithLove
Are you feeling all stressed out about the holiday season? If we are honest, most of us have been or are there! We try to be all things to everyone: shopper of bargains that look like a $1,000,000, gift wrapper extraordinaire, party planner/caterer, gourmet cook and baker—you get the picture, right?
Well, maybe it's time you called in the help. What I mean by that is, it's okay to get some outside help. And for a food blogger like me, that is just a tad bit paramount to waving a white flag!
But you know what? White's a great color at times especially when you can use some really quality products to assist you.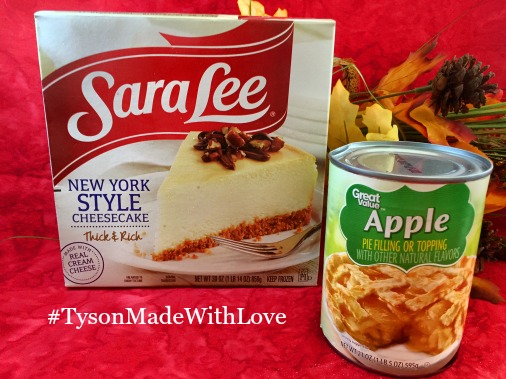 I love cheesecake. I love making cheesecake. But sometimes I just need a little extra help in getting it all done. Sara Lee® Cheesecake is made with top quality products including real cream cheese just like I would use in my homemade cheese cake. So when I decided to use it as the base for a fabulous "dressed up" dessert, I knew I wanted to use my favorite caramel-apple cider glaze that my family is so fond of.
The cheesecake was a blank canvas. I could have used a chocolate ganache and maybe topped it with fresh raspberries, sugared cranberries or candied orange peel. Or peppermint! Oh my, I do love peppermint paired with dark chocolate ganache, y'all.
There are just so many ways you could go with this idea. I'd love to know what you'd do.
The main thing is to make your life easier while still offering up a special treat for your holiday parties or family dinners. Trust me. You don't have to do it all.
Hours in the kitchen mean less time for the moments that matter. I'd rather my grandchildren remember that I made time to play "babies" or to shoot basketball with them rather than I spent the day in the kitchen making scratch cheesecake.
It's only taken me a gazillion years to realize that. Let @TysonFoods be your sous chef and go enjoy your holidays. #TysonMadeWithLove is my idea of loving myself.
Cheesecake with Caramel Apple Glaze
Ingredients
1 Sara Lee® Cheesecake (without topping)
1 can apple pie filling
1 cup fresh apple cider
1 cup brown sugar
4 Tablespoons unsalted butter
1/2 teaspoon homemade apple pie spice
pinch sea salt
1/3 cup toasted, chopped walnuts
Instructions
Let frozen cheesecake thaw while making the caramel sauce. Remove any outside wrapping, but allow cake to remain on round cardboard base trimming as needed.
In a small saucepan, combine apple cider, brown sugar and apple pie spice, whisking well to combine.
Bring cider mixture to a boil. Immediately reduce heat to low, add butter and allow mixture to reduce over medium-low heat until reduced by about half.
(The sauce should be thickened but still pourable.)
Remove from heat and stir in sea salt; set aside to cool to lukewarm.
Set a wire cake rack over a piece of waxed paper. Set cheesecake on wire rack.
While cider mixture is reducing, place apple pie filling into a sieve and drain as much as you an over a small bowl. The sauce from the pie filling may be added to the cider mixture, if desired.
Place pie filling apple in a decorative pattern on the top of the cheesecake.
Sprinkle the walnuts over the top of the apple slices.
When cooled, slowly drizzle caramel apple sauce over the top of the cheesecake allowing some of the sauce to flow over the edges.
Remove cake to a decorative cake plate or stand to serve. Slice with a serrated knife, wiping blade clean after each slice.
Cake should be stored in refrigerator until serving.
https://diningwithdebbie.net/2017/12/08/cheesecake-with-caramel-apple-glaze/
DiningWithDebbie.net. All Rights Reserved.
You might also try:
Caramel-Coconut Cheesecake from Saving You Dinero