Disclosure: I serve as a Brand Ambassador for the Arkansas Soybean Promotion Board. All opinions expressed are my own.
Y'all, I've so looked forward to sharing this recipe for Soy Hummus since I first tasted it at the kickoff dinner for Arkansas Soybean Month which was held at Three Fold Noodles + Dumpling Co. in Little Rock. Actually, what I've mostly looked forward to is getting to learn from Chef Lisa Zhang just how she makes this dish, an instant favorite among attendees that evening.
Did I mention I may have tried to lick the bowl?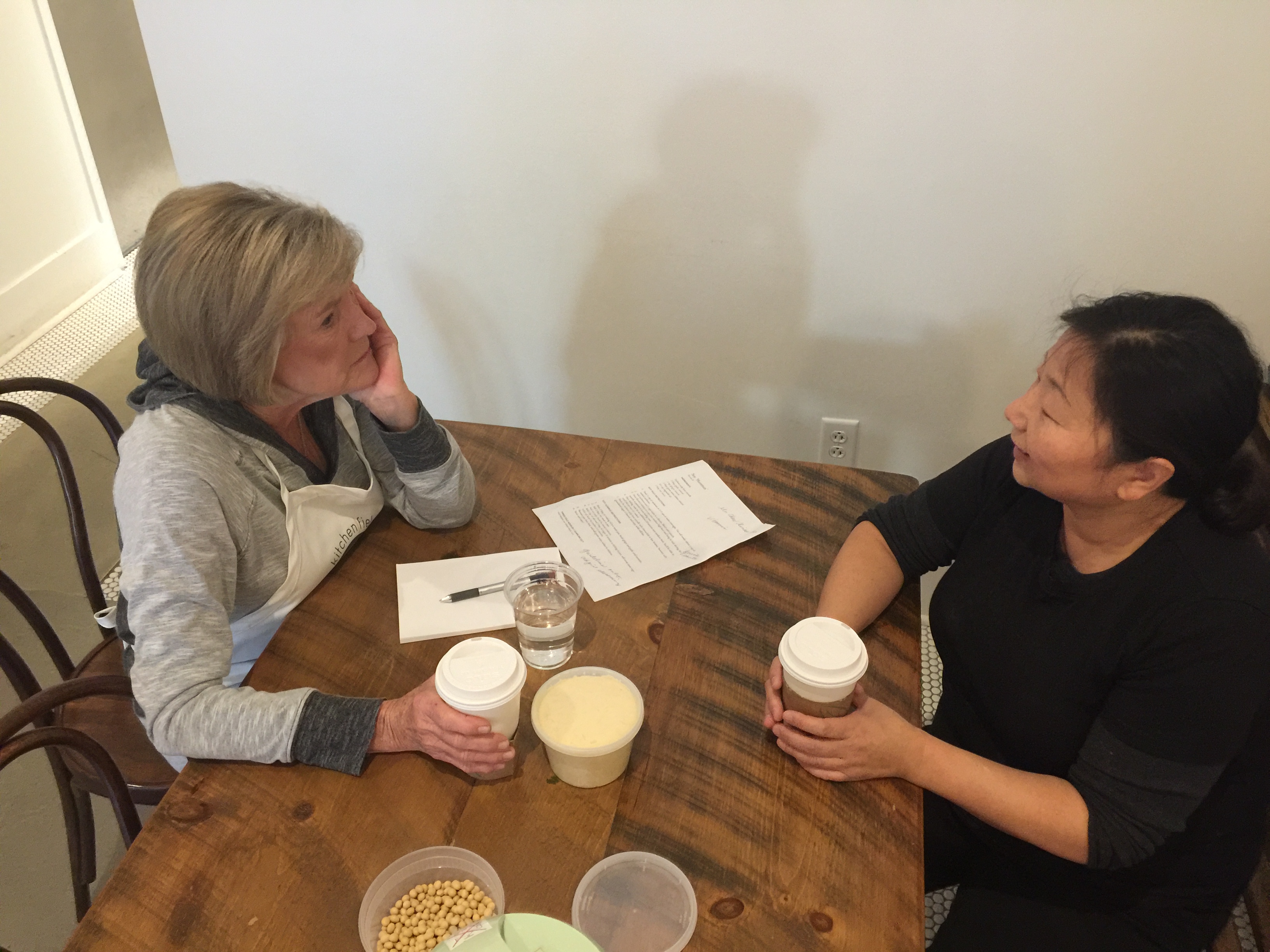 Over a cup of house made, warm soy milk, Lisa shared how she wants those who choose to dine at Three Fold to know that Chinese cooking is all about the simplest and most flavorful ingredients. Prior to immigrating to the U.S., Lisa worked many years as a chemist. Along with her chemistry background, Lisa uses the knowledge she gained while cooking with her parents who were excellent cooks, to bring what she feels is the best of Chinese cooking to her menu.
I featured Three Fold's Soy Hummus on my THV11 This Morning segment today. If it's any indication just how delicious it is, you should have heard the lip smacking going on from the crew!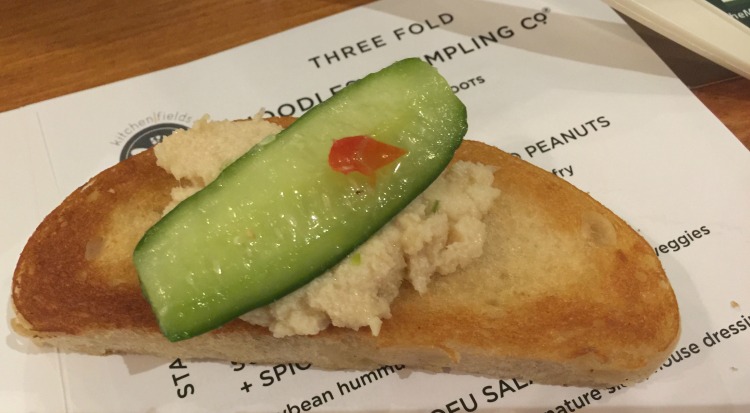 She's an ardent user of soy products which makes Three Fold Noodles + Dumpling Co. a natural choice as a partner restaurant for the Kitchen|Fields Table Tour. Additional partner restaurants participating include:
Be sure and let me know when you dine at these supporting establishments. I'd love to know what you enjoyed the most.
Soy Hummus from Three Fold Noodles + Dumpling Co.
Recipe courtesy of Lisa Zhang of Three Fold Noodle + Dumpling Co in Little Rock, Arkansas.
Ingredients
Soybean pulp from soy milk (see instructions)
2 Tablespoons finely minced garlic
2 teaspoons finely minced ginger
2 Tablespoons finely minced green onion whites (including pale green)
1/4 cup vegetable oil
2 Tablespoons soy sauce
Instructions
Soy Pulp

Soak ½ cup of soybeans in 2-3 cups of water overnight. This will render about 1 cup of
soaked soybeans.
Add soybeans and 2 - 3 cups water to a blender. Blend until smooth. (I used the liquid from the soaking plus enough to make 2 1/2 cups.)
Heat blended mixture in a pot over medium-high heat and bring to boil, stirring frequently
to prevent it from boiling over.
Once boiling, cook for an additional 20 minutes over medium-low heat, stirring often. You'll be able to
smell the soy once it's cooked.
Strain the soybean pulp from soy milk with cheesecloth or fine strainer. Sweeten with
granulated sugar if desired, and enjoy while still hot.
Soy Hummus

Heat 2 Tablespoons of cooking oil in a sauté pan. Sauté ginger and garlic until aromatic.
2 Tablespoons soy sauce to pan.
Add soy pulp. Sauté for about a minute.
Add 1 tsp. of salt and 1 tbsp. of sugar. If mixture is sticking to pan, add some more vegetable
oil. Sauté for another 1-2 minutes.
Remove pan from heat, and add green onion whites to mixture. Allow to cool. (May be refrigerated.)
Garnish with thinly sliced green onions or pickled cucumber, if desired.Serve and enjoy!
Notes
Lisa said to follow her recipe as a guideline only. The seasonings should be adjusted to suit your tastes. I suggest using less salt and sugar to start, adjusting as you go.
https://diningwithdebbie.net/2017/11/28/soy-hummus-from-three-fold-noodles-dumpling-co-kitchenfields-table-tour/
DiningWithDebbie.net. All Rights Reserved.