I do love fall in my home state. I've not been to New England during autumn, but I really feel that Arkansas' autumnal season will rival anything that might be there. Ya'll it is just gorgeous, and I look forward to sharing a glimpse or two of what it's like to be here during this time of the year.
While I've been experimenting a ton with new pumpkin ideas for my appearance on THV11 during the last week of October, I've also returned to some tried and true favorites like this Roasted Maple Glazed Pumpkin and Brussel Sprouts with Sage dish. You know my Hubby who took thirty years to gell me he didn't like mushrooms? Well, he loves Brussel Sprouts. Go figure, right?
Only he does not (nor do I) like them when they are boiled to pure mush. You don't do that, do you? I call that "sprout sabotage."
If you are not a sprout fan, I promise you'll have a rejuvenation of spirit if you give this little dish a try. It's rich and full of flavor. The roasting makes all the difference.
And the maple glaze is optional, but I suggest you give it a try on the first round just to see what you think.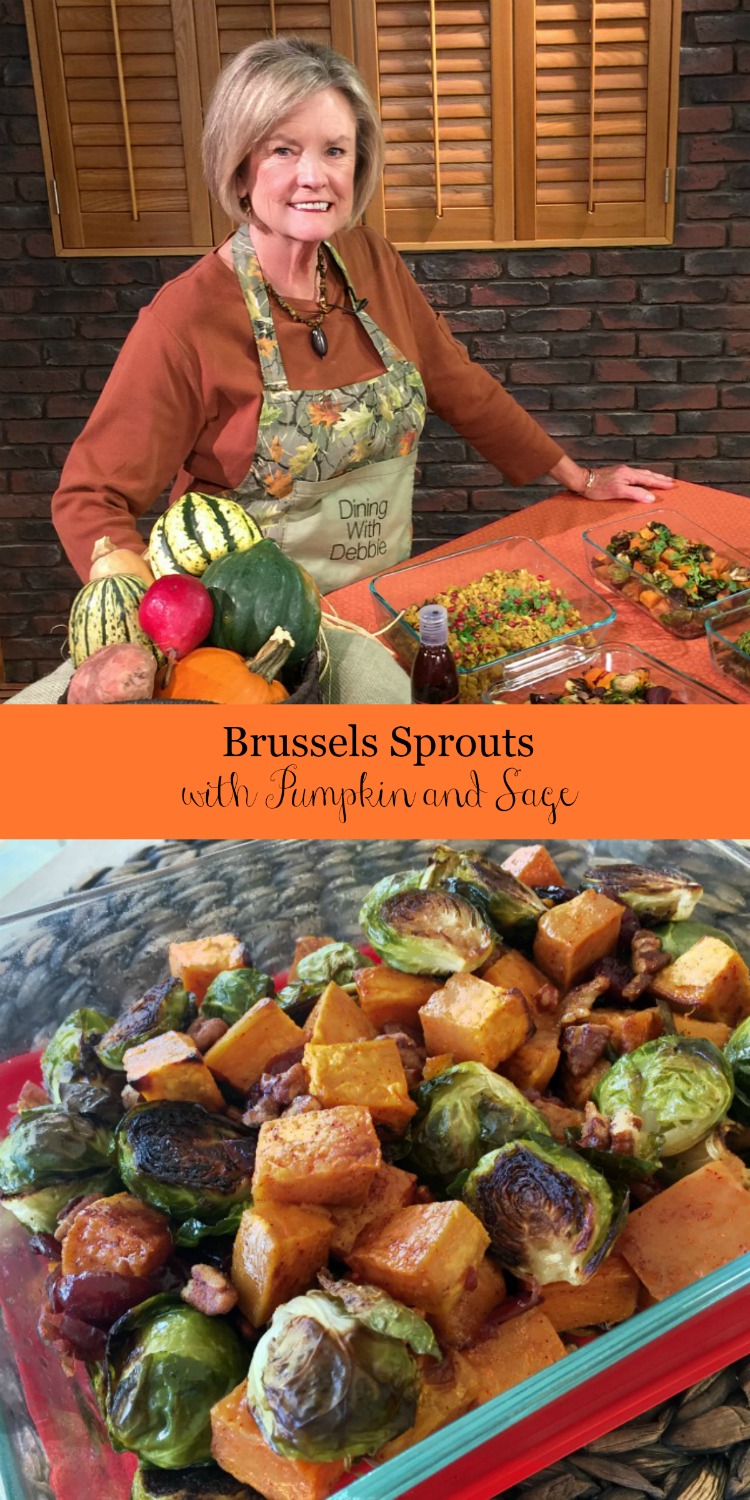 Roasted Maple Glazed Pumpkin and Brussel Sprouts with Sage
Ingredients
1 pound fresh Brussels sprouts, cleaned and halved
5 cups cubed peeled pie pumpkin or butternut squash
3 Tablespoons unsalted butter, melted
1 Tablespoon olive oil
1 tablespoon minced fresh sage or 1 teaspoon dried sage leaves
1 garlic clove, minced
1/2 teaspoon salt
1/2 teaspoon freshly cracked black pepper
1/4 - 1/3 cup pure maple syrup
Instructions
Preheat oven to 425°.
Place Brussels sprouts and pumpkin in a large bowl.
Stir together butter, olive oil sage leaves, garlic, salt and pepper and maple syrup.
Add to Brussels sprouts and pumpkin and toss to coat.
Transfer to a greased 15x10x1-in. baking pan. (I usually like to line the pan with aluminum foil.) Roast 35-45 minutes or until tender, stirring occasionally, being careful not to mash pumpkin.
https://diningwithdebbie.net/2017/11/13/roasted-maple-glazed-pumpkin-brussel-sprouts-sage/
DiningWithDebbie.net. All Rights Reserved.