We enjoy combinations of roasted vegetables with many of our meals. For me, those veggies sometime become my meal! Experiment to find your favorites.
I think what makes this dish especially nice is the color variations you can use. Try to find a variety of colorful veggies such as purple carrots, white carrots or parsnips, While I used butternut squash here, you could just as easily substitute pumpkin, sweet potatoes or Hubbard squash. Either will add just a little sweetness to the dish.
The contrasting flavors of savory and sweet make this an especially flavorful dish that pairs well with grilled pork tenderloin, pork roast or your Thanksgiving turkey.
It's colorful. It's delicious. It's your perfect side dish. Give it a try and let me know what you think.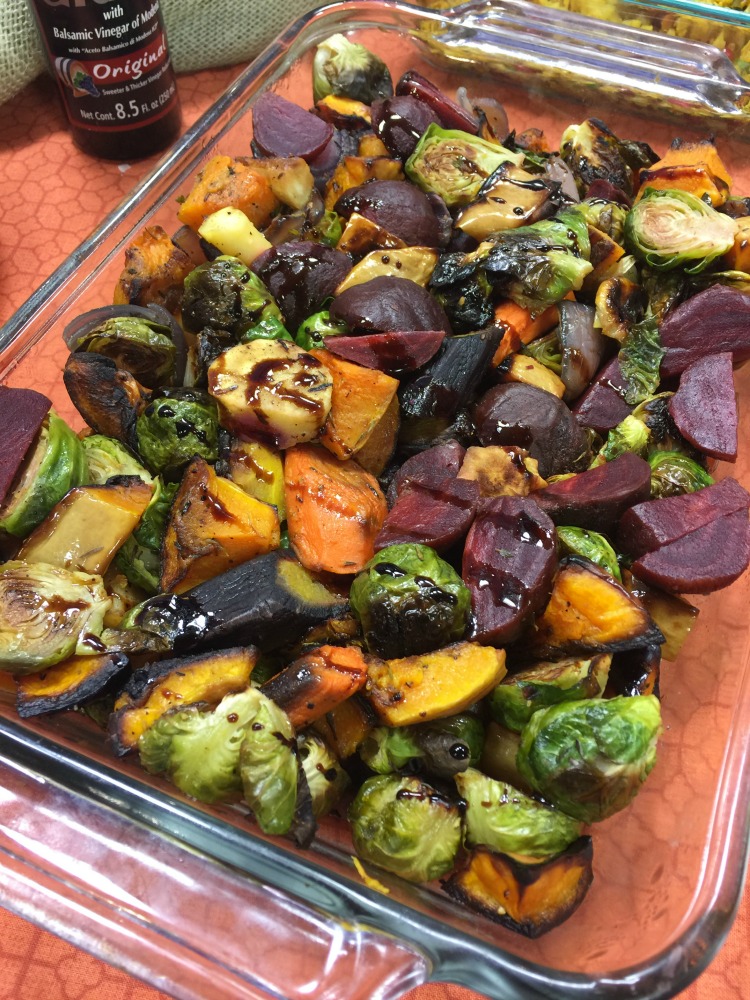 Ingredients
1 1/2 pounds carrots (mixed colors if possible)
1 1/2 pounds Brussels sprouts, trimmed and halved
1 seeded butternut squash, optional
8 large garlic cloves
1/2 teaspoon salt
1/4 teaspoon freshly cracked black pepper
1 tablespoon chopped fresh thyme leaves
2 Tablespoons Riceland Rice Bran Oil
1 - 2 8.8-ounce package(s) cooked beets (fresh in produce section)
Instructions
Preheat the oven to 400 degrees F.
Peel and cut the carrots into 1-inch pieces. Trim the Brussels sprouts and halve them lengthwise. Peel the garlic cloves; cut the cloves in half if they are large.
If using, cut the butternut squash into 1-inch pieces. I do not peel mine, but that is an option.
Put the carrots, Brussels sprouts and garlic cloves into a large baking dish and toss with the oil.
Sprinkle with salt and pepper.
Stir the thyme into the carrot and Brussels sprouts mixture and cook approximately 30 minutes.
Cut beets in half or quarters depending upon their size. After vegetable mixture is tender, add beets to heat through. (You could always roast your own beets if you prefer. I prefer taking the easy way with this dish.)
Check seasonings and serve.
Notes
Serves 8-10 (If served with butternut squash, you will get about 2-4 more servings.)
Use a drizzle of DeNigris Balsamic Glaze to add an extra special pizzazz to the dish. You could make your own, but this is so good and sooo much easier. (not sponsored)
https://diningwithdebbie.net/2017/11/08/thanksgiving-sides-with-a-twist-roasted-mixed-vegetables/
DiningWithDebbie.net. All Rights Reserved.