Is there anything more classic for fall desserts than a Pumpkin Roll? It's been one of my favorites for a very long time. It's much easier to make than it might first appear. Just take your time and follow my easy instructions. You can either use store-bought cream cheese frosting or make your own from your favorite recipe. I like to add a little homemade pumpkin pie spice to whichever one I use.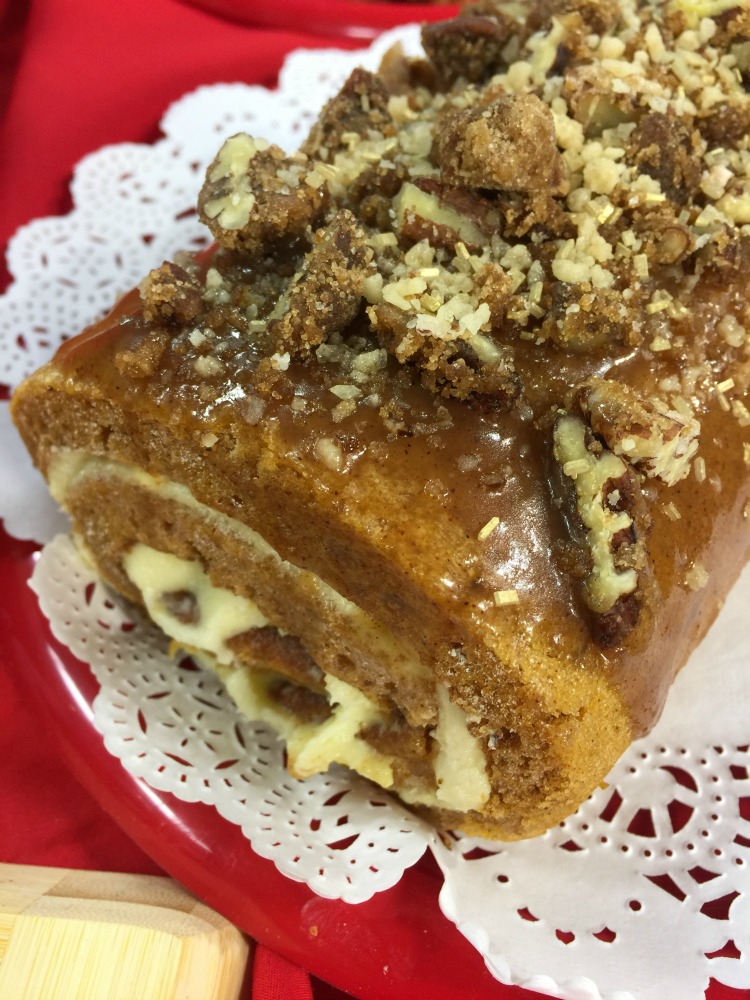 This is the perfect dessert to share for your fall get togethers. It looks pretty, stays moist and is definitely tasty. You can bet your family and friends are going to think you are some sort of bakery guru when they see it.
I like to garnish it with Apple Cider Caramel and praline pecans, but you can simple sprinkle on some sifted powdered sugar if you prefer.
I don't really recommend freezing the pumpkin roll as the filling may tend to weep during thawing. You can make the frosting ahead of time and freeze it separately if that works best for your time schedule.

Ingredients
1 cup cake flour, sifted
2 teaspoons homemade pumpkin pie spice
½ teaspoon baking soda
½ teaspoon salt
5 large eggs, at room temperature
1 cup granulated sugar
1 cup canned pumpkin puree (not pumpkin pie mix)
3 cups cream cheese frosting (Use your own cream cheese frosting if you prefer)
Apple Cider Caramel

1 cup apple cider
1 cup brown sugar
1 teaspoon homemade pumpkin pie spice
1 Tablespoon unsalted butter
1/2 cup chopped store-bought praline pecans, optional
Instructions
Place oven rack in middle position. Preheat oven to 350 degrees.
Spray an 18 x 13-inch rimmed baking sheet with nonstick spray; line with parchment paper. Spray parchment with nonstick spray as well.
Whisk flour, pumpkin pie spice, baking soda and salt in medium bowl; set aside.
With electric mixer on medium-high, beat eggs and sugar until pale yellow and thick, 6 to 10 minutes.
Add pumpkin and mix on low until well blended.
Fold in flour mixture until combined. Spread batter evenly in prepared pan. Bake until cake is firm and springs back when touched, about 15 minutes.
Before cooling, run knife around edge of cake to loosen, and turn out onto clean sheet of parchment paper that has been dusted with confectioners' sugar.
Gently peel off parchment attached to cake and discard.
Roll cake and fresh parchment into log and cool completely, about 1 hour.
Gently unroll cake and spread with frosting leaving 1-inch border at edges. Re-roll cake somewhat tightly, leaving parchment off as you roll.
Wrap cake tightly in plastic wrap.
Chill at least 1 hour or up to 2 days. Remove plastic and place on wire cake rack.
Apple Cider Caramel

In a small saucepan, combine all ingredients and bring to a boil.
Reduce heat and cook over medium heat until reduced and thickened.
Allow to cool slightly. Spoon slowly over pumpkin roll.
Garnish with chopped praline pecans.
Notes
Do not spread the filling to the edges or it will squeeze out of the ends.
https://diningwithdebbie.net/2017/11/06/classic-pumpkin-roll/
DiningWithDebbie.net. All Rights Reserved.