I'm sure just about everyone has one version or another of an ooeey-gooey butter cake, especially since Paula Deen made them so notable when she was on the Food Network. I particularly like this pumpkin spice version that I have tinkered with over the years, and I hope you'll give it a try and let me know what you think.
One of the real keys to its depth of flavor is the browned butter which I keep on hand in the refrigerator all of the time. When I make it, I usually do a pound or two of unsalted butter at a time. Note: I rarely use salted butter. About the only time I might is when it is going to be used for spreading on biscuits or bread.
If you opt to use a spice cake mix as opposed to the butter yellow one, I suggest omitting the pumpkin pie spice in the crust or, at least, reducing it. Otherwise, I think the spice will overwhelm the delicate taste of the filling.
You can make this in a 9 x 13-inch baking pan. Or do as I often do, make it in 2 8 x8-inch pans. Since I made this one for the CASA of Saline County chili cook off, I did just that so there would be more to auction. They may not be the prettiest Pumpkin Spice Ooeey-Gooey Butter Cakes I've ever made, but don't judge them by their looks. They just may have been the two tastiest desserts at the event.
Don't skip the addition of the glaze, y'all. Yes, it does add sweetness, but it also adds a smooth, caramel taste that I just know you're going to love.
Have you made gooey butter cakes before? I'm curious; what flavor(s) does your family enjoy?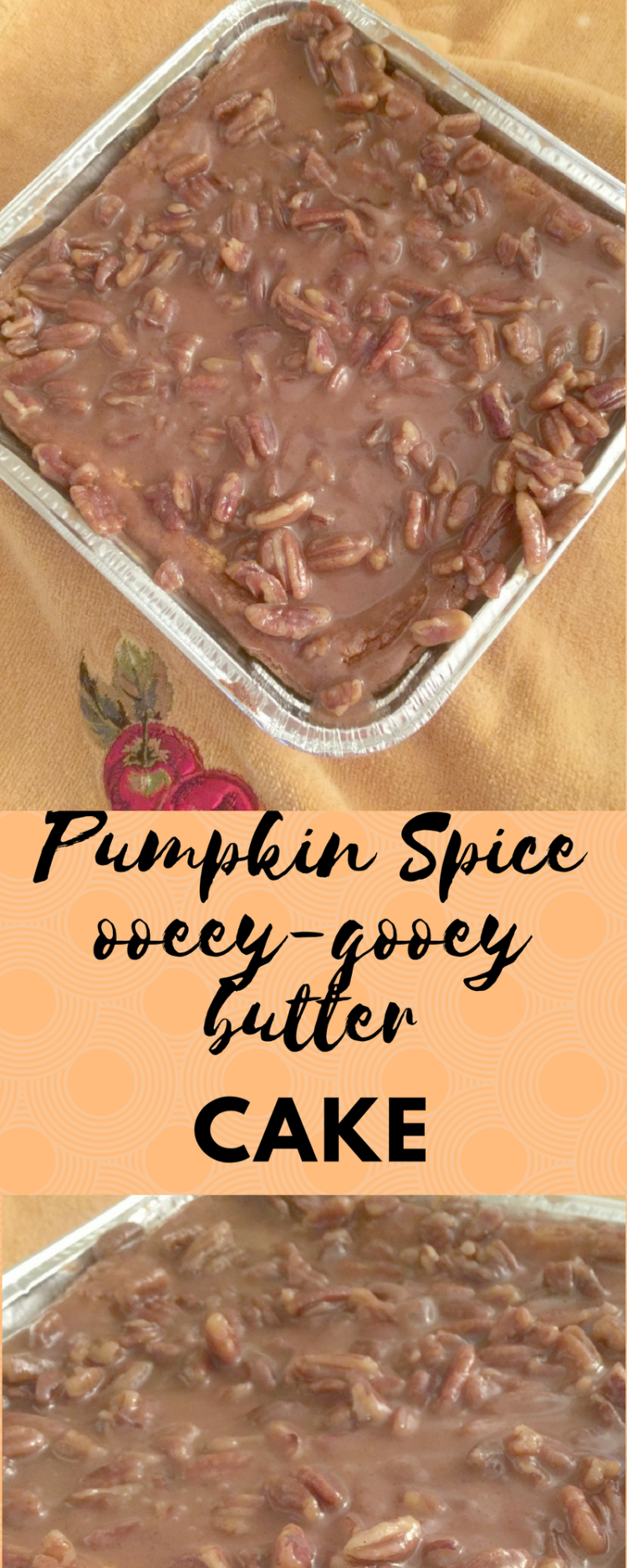 Pumpkin Spice Ooeey-Gooey Butter Cake with Salted Caramel Glaze
Ingredients
Filling

1 large egg
1 teaspoon pumpkin pie spice
4 Tablespoons browned butter
1/2 cup pumpkin puree (not pumpkin pie mix)
4 1/3 cups powdered sugar, sifted
Glaze

1 cup granulated sugar
1 cup fresh apple cider, buttermilk or water
1 teaspoon salt (more to taste)
1 cup (or more) toasted, chopped pecans or walnuts
1 Tablespoon vanilla extract
1/2 teaspoon caramel extract, optional
Instructions
Have all ingredients at room temperature. Spray a 9 x 13-inch baking pan with nonstick spray. Preheat oven to 350 degrees.
For the crust

In a medium bowl, whisk cake mix and pumpkin pie spice together.
Add in softened 1/2 cup browned butter and 2 eggs. Mix well. Spread crust mixture into the bottom of the pan and press well.
For the filling

In the bowl of an electric mixer, cream egg with 1 teaspoon pumpkin pie spice 4 Tablespoons browned butter and 1/2 cup pumpkin puree.
Slowly add in sifted powdered sugar until thoroughly combined. Spread the filling over the prepared crust.
Bake at 350 degrees for 50-60 minutes. The middle should still be slightly gooey.
Remove from oven and set on wire rack to glaze. Do not remove from the baking pan.
For the glaze

In a small saucepan, combine sugar and apple cider, buttermilk or water, stirring over medium heat until sugar has dissolved.
Stir in salt and bring mixture to a slow boil, allowing sugar-cider mixture to thicken and reduce about 1/3rd. Cool a bit of the glaze in a teaspoon and taste for salt. You may choose to add more.
Stir in nuts, butter and vanilla. Allow mixture to continue to cook about 5 minutes.
Pour hot topping over cooked cake.
Cool before cutting to serve.
Notes
It is very important to have all ingredients at room temperature and to scrape the mixing bowl down repeatedly.
The cake may be made ahead and refrigerated after completely cooked. It will keep several days covered with aluminum foil or plastic wrap.
I prefer to make this in 2 8 x 8-inch pans. It just makes it easier for me to share or carry.
https://diningwithdebbie.net/2017/10/22/pumpkin-spice-ooeey-gooey-butter-cake-with-salted-caramel-pecan-glaze/
DiningWithDebbie.net. All Rights Reserved.