It's no secret I love dark chocolate, and I really like the way it combines with the apple and zucchini in this Dark Chocolate Apple Zucchini Bread. You can choose to make it into a loaf, but I typically do large muffins instead. That just seems to work best for our family of two.
With chocolate coming from the dark chocolate cocoa and the chocolate chips, they burst with that good chocolately richness. The apple and zucchini add additional moisture and a little tartness which only enhances that yummy chocolate taste. Nut lovers that we are, I'm always going to include them whenever I can. If I plan on taking them to our grandson I, of course, omit them since he has an allergy to tree nuts.
Bummer. But Perfect Boy handles it quite well.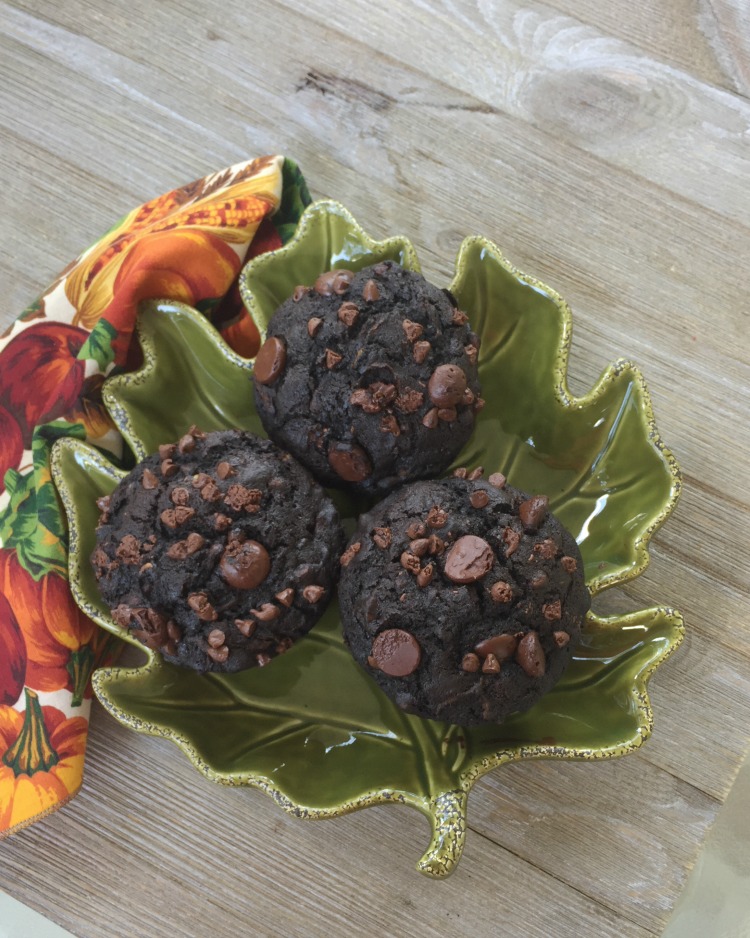 Because these muffins are not overly sweet, I suppose you might even enjoy them at breakfast. Brunch for sure.
Take a break from your pumpkin addiction (me, too) and give these delicious bites a try.
This is one of the Baking with Fall Fruits dishes I prepared for my THV11 segment my this past week.
Dark Chocolate Apple Zucchini Bread
I typically make this as large muffins rather than a loaf. That works best for our family of two. Plus, it gives me some to share with a neighbor or two. This bread freezes very well.
Ingredients
1 cup all purpose flour
1/2 cup dark cocoa powder
1 teaspoon baking soda
1/2 teaspoon salt
1 teaspoon (apple pie spice|http://diningwithdebbie.net/2017/09/25/kitchen-basics-homemade-apple-pie-spice-mix/)
2 large room temperature eggs
1/4 cup browned butter, melted
1/2 cup canola or coconut oil
3/4 cup packed dark brown sugar
1 teaspoon vanilla
1 cup shredded Granny Smith apple
1/2 cup shredded zucchini
1/2 cups dark chocolate chips
1/2 cups mini chocolate chips, optional
1/2 cup toasted chopped pecans
Instructions
Allow eggs to come to room temperature.
Preheat oven to 350 degrees. Spray a 9 x 5-inch loaf pan with nonstick cooking spray and set aside.
In a medium bowl, sift together flour, cocoa powder, baking soda, salt and apple pie spice.
In the bowl of an electric mixer, add eggs, melted browned butter, oil, vanilla and brown sugar. Cream until light and fluffy,
Gradually stir in dry ingredients, stirring just to incorporate. Do not over mix.
Fold in apple, zucchini, dark chocolate chips and pecans.
Pour batter into prepared pan. Sprinkle top with mini chocolate chips, if desired.
Bake approximately 50-60 minutes or until a toothpick inserted into the center comes out clean.
Remove from oven and cool on wire rack for 10 minutes before removing from pan. Cool completely before slicing or storing.
Notes
I usually make this as muffins since that fits our household of 2 better. Plus, it gives me an easy way to share with others.
This bread freezes quite well. Use within 1-2 months.
https://diningwithdebbie.net/2017/10/11/dark-chocolate-apple-zucchini-muffins/
DiningWithDebbie.net. All Rights Reserved.