I've always been partial to lemon. In fact, I'm rather obsessed with it if I'm being completely honest. The tarter, the better in most cases. And I'll also go on record in saying that I'm definitely obsessed with lemon curd. Or, as I grew up saying "tart lemon jelly."
When the Benton Junior Auxiliary published its Calico Cupboards cookbook in my recipe for Tart Lemon Jelly was included along with my homemade gingerbread. I loved the contrast of flavors of the lemon curd and the spiciness of the gingerbread together. Since then, I've used lemon curd in so many ways—crepes, trifles, and in this very simple dessert with fresh strawberries, homemade whipped cream.
I absolutely know that fresh Arkansas strawberries are the best to use in this, but they had such an early and brief season this year. You can certainly make this with fresh market berries, but I do not recommend it for frozen ones. I have made this with blueberries and raspberries. It works quite well there also.
While you can make the components ahead of time, I do not recommend actually putting the dessert together until just before serving. The strawberries tend to bleed into the curd. Don't misunderstand, it will still be delicious, just not as pretty.
And please take the time to whip you own cream. Y'all, it's just so much better than the canned stuff and takes no time at all to make.
Promise.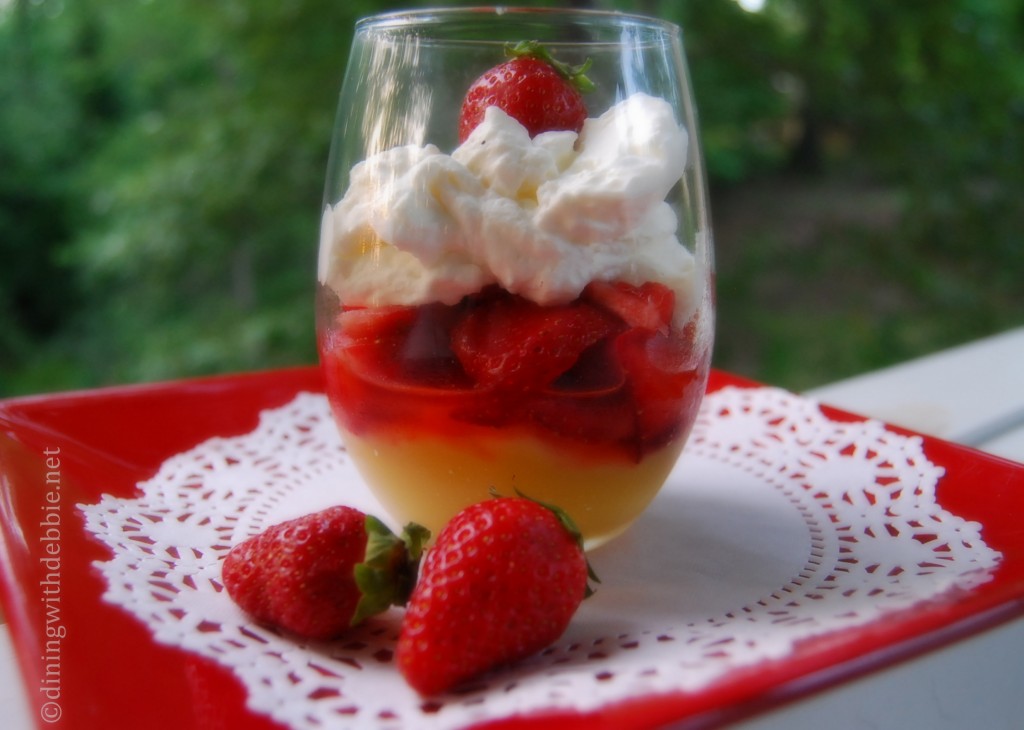 Strawberries with Lemon Curd
Ingredients
1 quart fresh strawberries, washed hulled and thickly sliced
1 cup heavy cream (more if you want more cream)
1/4 - 1/2 cup powdered sugar (or to taste)
Lemon Curd

3 eggs, beaten
1 cup granulated sugar
1 Tablespoon plus 1 teaspoon cornstarch
8-10 Tablespoons fresh lemon juice
4 teaspoons finely zest of lemon peel
2 Tablespoons unsalted butter
Fresh mint, for garnish
Instructions
Prepare strawberries and set aside in the refrigerator.
Prepare whipped cream and set aside in the refrigerator.
Lemon Curd

In a medium saucepan, combine sugar with cornstarch and mix with beaten eggs.
Add lemon juice and zest.
Cook over low heat, stirring constantly until mixture is quite thick.
Add butter, whisk and cool completely. Chill until serving.
At serving, layer lemon curd with strawberries and top with whipped cream.
Garnish with fresh mint, if desired.
https://diningwithdebbie.net/2016/08/10/strawberries-lemon-curd/
DiningWithDebbie.net. All Rights Reserved.