Everything but the kitchen sink. Ever heard that before? When I used to ask my Nonnie what ingredients she included in her famous chicken and dressing or her as famous vegetable soup, her response was typically, "I use everything but the kitchen sink."
Funny thing is, I knew exactly what she was saying.
Tradition has it that the expression comes from World War II when just about everything possible was use in the war effort. For example, all metal was used for the U.S. arsenal and armaments. About the only thing that could not be contributed was a porcelain sink.
I've since read where the phrase can be found in much earlier literary references, but I rather like to perpetuate the World War II version myself.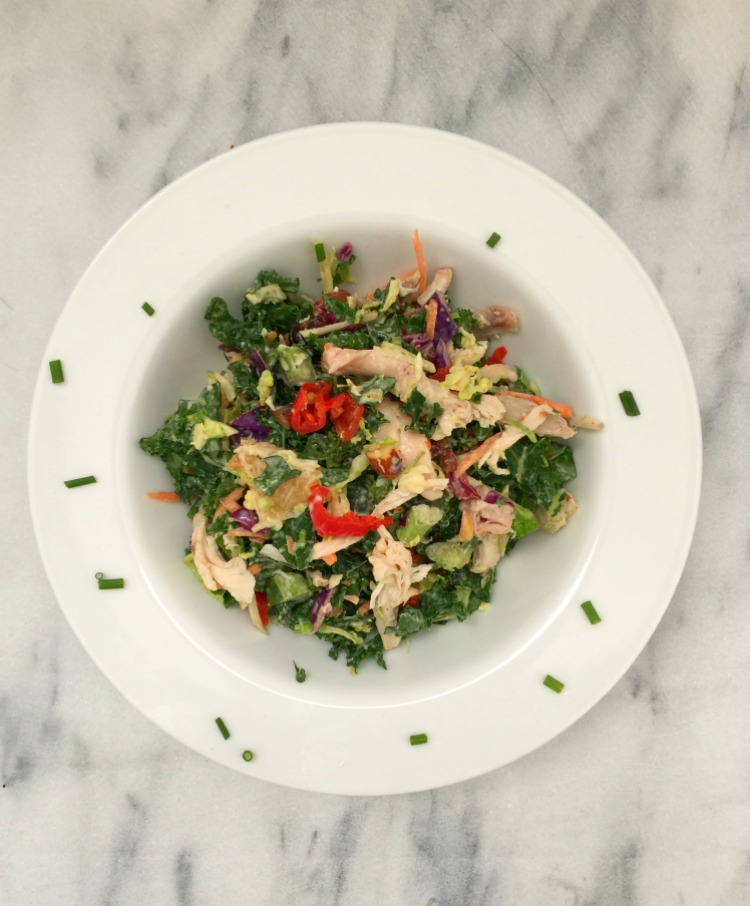 Anyway…this Kitchen Sink Chopped Kale Salad came about when I was cleaning out the refrigerator and had a "smidgen" of this and a "dollop" of that. Know what I mean?
I mean, what are you to do with a quarter of a head of a small red cabbage? Or a 1/2 cup of shredded carrots? 3 brussels sprouts? So the ingredients for the salad often depend upon what's in the frig. You get the idea.
It's just not in my nature to throw those bits of perfectly good food items away. That's another thing I got from my Nonnie. So I created this salad.
The dressing is a fairly typical vinaigrette, but I prefer to use Country Dijon for this hearty salad. It seems to stand up better to the strong greens and veggies.
We liked it so much that I sometimes intentionally buy the ingredients now in order to make it! It probably could use a fancier name, I suppose. But Hubby knows when I say we're having Kitchen Sink Chopped Salad exactly what to expect.
For us, this makes a meal especially when I add leftover ham, steak or roasted chicken.
Don't you just love serendipitous surprises?

Kitchen Sink Chopped Kale Salad
Ingredients
Salad--Use desired amounts of any/all of the following:

chopped kale
chopped red cabbage
shredded radicchio
shredded carrots
shredded brussels sprouts
diced red or yellow bell pepper or peppadew
leftover cooked and shredded chicken, chopped steak or thin slices of ham
dried cranberries, cherries or golden raisins
chopped candied pecans or walnuts
chopped smoked almonds
Creamy Country Dijon Salad Dressing

1/4 cup red or white wine vinegar
1 tablespoon Country Dijon mustard
1 tablespoon honey, sorghum or molasses
1/2 teaspoon kosher salt
1/2 garlic clove
1/2 cup vegetable oil
2 tablespoons extra-virgin olive oil
Freshly cracked black pepper
Instructions
Salad

Use desired amounts of each of the suggested ingredients. This varies depending upon what I have on hand.
Dressing

Pulse 1/4 cup good-quality red or white wine vinegar, 1 tablespoon Country Dijon mustard, 1 tablespoon honey, 1/2 teaspoon kosher salt, and 1/2 garlic clove in a blender to combine.
With motor running, slowly add 1/2 cup vegetable oil, then 2 tablespoons extra-virgin olive oil.
Season to taste with salt and freshly ground black pepper.
Store in glass jar and shake well before using.
https://diningwithdebbie.net/2017/01/26/kitchen-sink-chopped-kale-salad/
DiningWithDebbie.net. All Rights Reserved.