Arkansas isn't really Mardi Gras central, but we're close enough to Louisiana to sort of "adopt" it. We have a neighborly fascination with krewes, parades and beads. We tend to know that Fat Tuesday is the last day of the Carnival season and that it always falls the day before Ash Wednesday, the first day of Lent.
Lent we get. Fat Tuesday we get. We're definitely all in the spirit of 'fattening up." Too much so sometimes.
When Mardi Gras rolls around can crawfish be far behind?
Crawfish season typically lasts from November to July, when it's been a warm and wet winter, which it definitely has NOT been this year. Typically, you'll find the best crawfish in the spring and early summer, February through May. Most of our crawfish come from farms in Texas and Louisiana.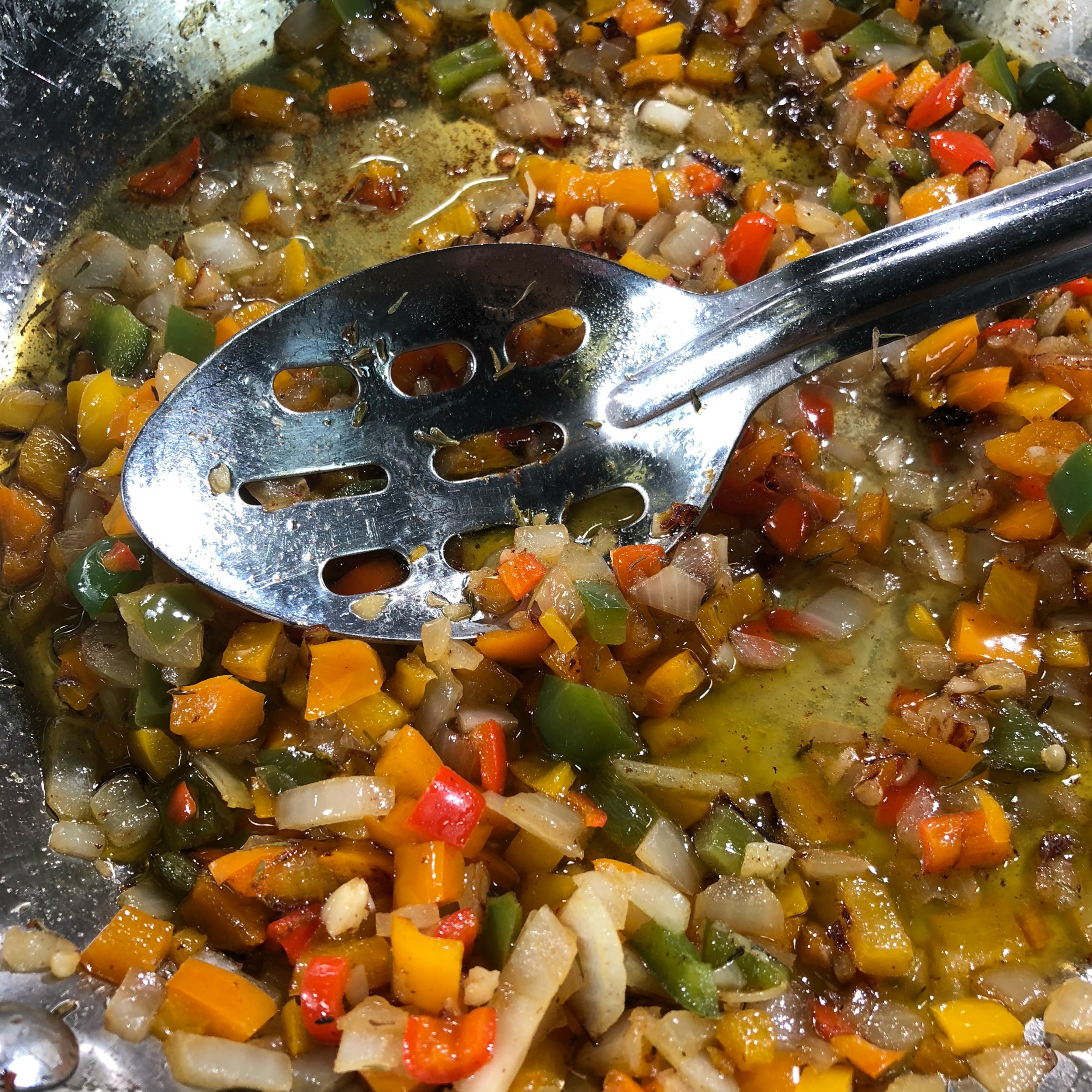 While this recipe uses frozen, cooked crawfish tails, there's nothing better than having a real crawfish boil with live crawfish. Need instructions on cooking those? Try this method from our local Eat My Catfish – LINK.
And we take every chance we can to enjoy as much of those mudpuppies as we can. (My grannies would roll over in their graves to think of me eating crawdads, y'all.)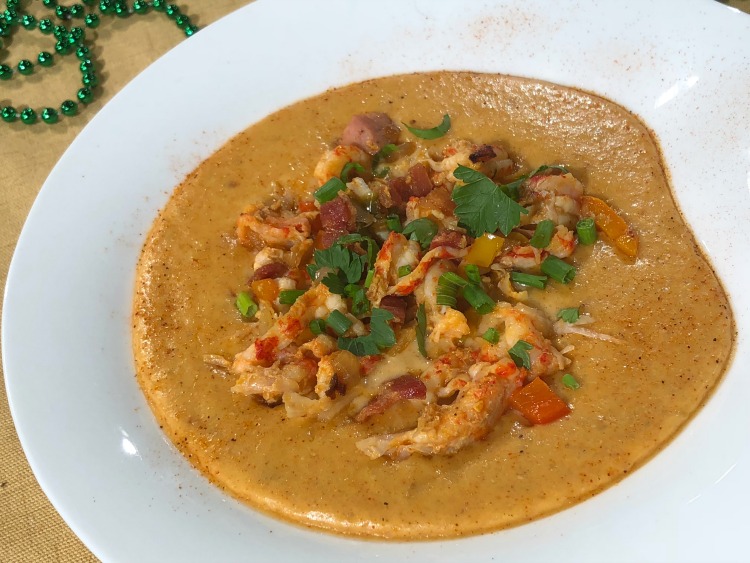 This Fat Tuesday Crawfish and Smoked Gouda Grits recipe is based upon the Creole Shrimp and Smoked Gouda Grits recipe I developed for Riceland Foods so if you're not a crawfish lover, use shrimp instead.
Heck, use both if you want.
Enjoy your day. Just don't give up crawfish for Lent, y'all.
Fat Tuesday Creole Crawfish with Smoked Gouda Grits
Ingredients
For the Grits

1 cup Riceland Long Grain Brown Rice or Riceland American Jazmine Rice, uncooked
2 1/2 cups unsalted chicken stock
1 1/2 teaspoons Liquid Smoke
1/2 cup heavy cream
1/2 teaspoon kosher salt
1 teaspoon smoked chipotle pepper
1 teaspoon smoked paprika
4 Tablespoons unsalted butter
1/4 cup cream cheese
4 ounces smoked gouda, grated
1/2 cup white wine, optional (substitute unsalted chicken stock)
Freshly cracked black pepper
For the Crawfish

6 slices Petit Jean Meats thick-sliced bacon, thinly sliced and drippings reserved
1 cup cubed andouille sausage (or more if desired)
3 Tablespoons clarified butter
1/2 red bell pepper, chopped
1/2 yellow bell pepper, chopped
1/2 medium yellow onion, chopped
2 cloves garlic, minced
1 Tablespoon fresh thyme leaves
1 pound frozen, cooked crawfish tails
Garnishes: bacon, andouille sausage, minced parsley, thyme and/or chives. Green onions may also be used.
Instructions
For the Grits
Place rice into a food processor or blender. Secure lid.
Pulse rice until desired fineness is achieved. We like ours to have a somewhat coarse texture.
In a large saucepan, bring stock, Liquid Smoke and cream to a boil over medium-high heat.
Gradually stir in rice grits, whisking until smooth and creamy.
Reduce heat to low, cover and cook, whisking occasionally until very creamy but still with some texture, about 20-25 minutes.
Whisk in smoked chipotle and smoked paprika. (to taste)
Remove from heat and whisk in butter, cream cheese and gouda.
Season with salt and pepper.
Whisk in additional white wine as needed for creamy consistency.
Serve topped with Fat Tuesday crawfish mixture.
For the Crawfish

In a large skillet over medium-high heat, fry thinly sliced bacon until crisp; drain on paper towels and reserve.
In reserved bacon drippings, slightly brown andouille sausage; drain on paper toweling and reserve.
Add clarified butter to skillet and melt. (Unsalted butter may be substituted.)
Add red and yellow bell peppers and onions to skillet and cook until softened. Add garlic and thyme leaves.
Remove pepper mixture from skillet and drain on paper towels; set aside.
Thoroughly dry thawed crawfish and coat liberally with Creole Seasoning; add to skillet.
Add reserved pepper mixture to crawfish in skillet and heat through. Do not overcook.
To Serve

Spoon a generous amount of rice grits into each serving bowl. Top grits with a big spoonful of crawfish and pepper mixture.
Garnish with reserved bacon, andouille sausage, minced parsley and chopped chives
Season with salt and pepper.
Notes
https://diningwithdebbie.net/2018/02/13/fat-tuesday-creole-crawfish-with-smoked-gouda-grits/
DiningWithDebbie.net. All Rights Reserved.