This is such an interesting snack. People don't really know what to make of it. Beans? Are you kidding me?
Yep. And it's made in no time, y'all. Plus, it's definitely tasty…and addictive!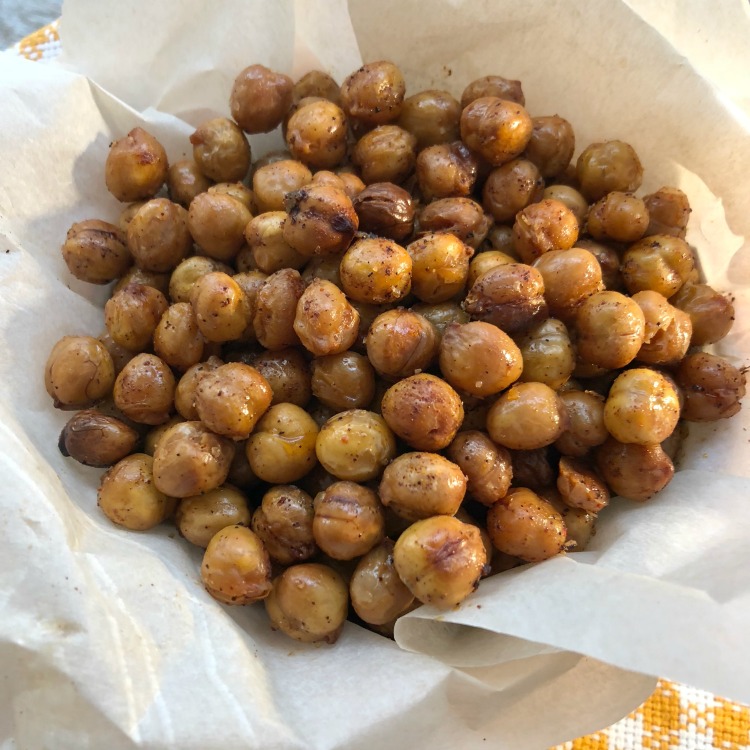 Garbanzos, also known as chickpeas, They are a type of legume that offer a range of health benefits. Chickpeas help to increase a sense of fullness, boost digestion, keep blood sugar levels stable, increase protection against disease and more. Nutritionally, they are is a powerful package of protein, vitamins and minerals.
Chickpeas are a part of the diets of some of the healthiest populations in the world including cuisines from the Middle East, the Mediterranean region and Africa. Second to the soybean, the chickpea is the next most widely grown and eaten bean in the world.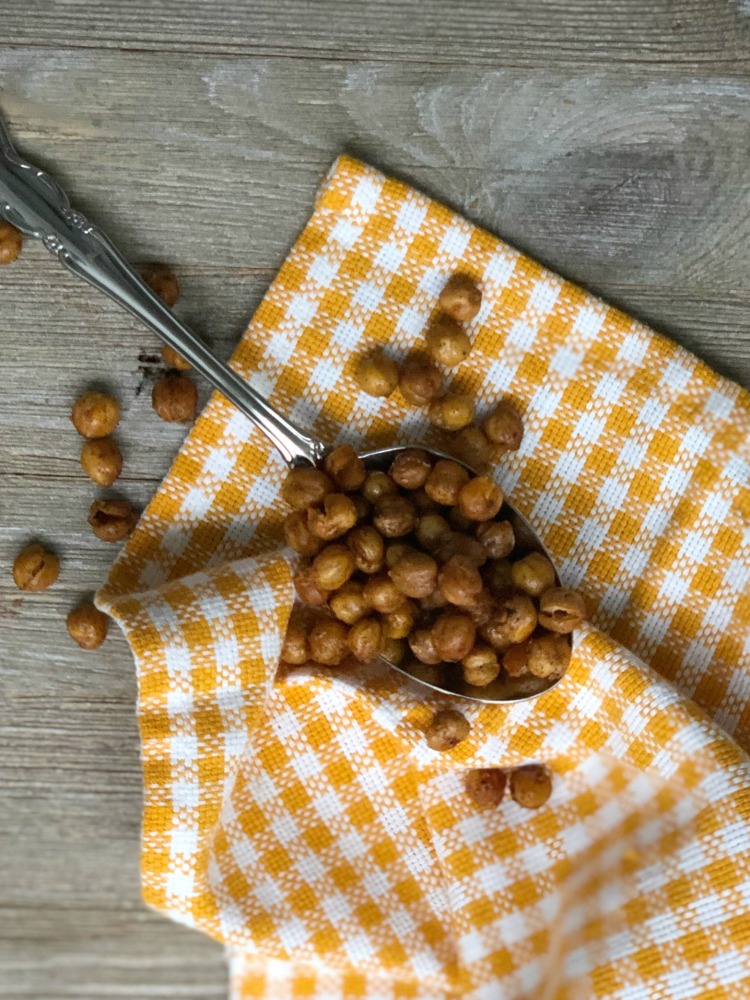 There are two varieties of chickpeas: the "blond" variety which is sold mostly in the Middle East and North America and the black chickpeas (also called Desi) found in India, Pakistan, and Ethiopia. (https://www.verywellfit.com/chickpeas-nutrition-facts-calories-and-health-benefits-4118486) To reduce the sodium in canned chickpeas, drain and rinse thoroughly before using.
Chick Peas Nutrition Facts
Serving Size 1/2 cup canned (121 g)
Per Serving
% Daily Value*
Calories 100
Calories from Fat 13
Total Fat 1.5g
2%
Saturated Fat 0g
0%
Sodium 280mg
12%
Carbohydrates 17g
6%
Dietary Fiber 4g
16%
Sugars 1.9g
Protein 5g
Vitamin A 0% · Vitamin C 0%
Calcium 2% · Iron 6%
*Based on a 2,000 calorie diet
Super Crispy Chickpea Snack
Ingredients
2 15-ounce cans chickpeas
Olive oil
Sea salt
Paprika
Ground chipotle pepper
Ground cumin, optional
Instructions
Preheat the oven to 425°F.
Rinse and drain the chickpeas, then pat them dry. Place in a single layer on a rimmed baking sheet and lightly drizzle with olive oil. Roll chickpeas around to cover with olive oil.
Roast until the chickpeas are dark and crunchy, 30 to 40 minutes.
Remove from the oven, sprinkle to taste with salt, paprika, smoked chipotle and cumin; roast for a about 5-8 more minutes.
Remove from oven; allow the chickpeas to cool before serving.
Store in an airtight container for about 3 days.
https://diningwithdebbie.net/2018/02/09/super-crispy-chickpea-snack/
DiningWithDebbie.net. All Rights Reserved.