This simple Cacio de Pepe (literally cheese and pepper) pasta is one of the most famous Roman dishes, and yet it is one you seldom see on menus in the United States. Although cacio e pepe is a very simple recipe, it is easy to do it all wrong. Tradition holds that the dish was originally eaten by poor Roman shepherds who only carried food that was both easy to cook and likely to keep for a long period of time.
We owe those shepherds a big bucket of thanks!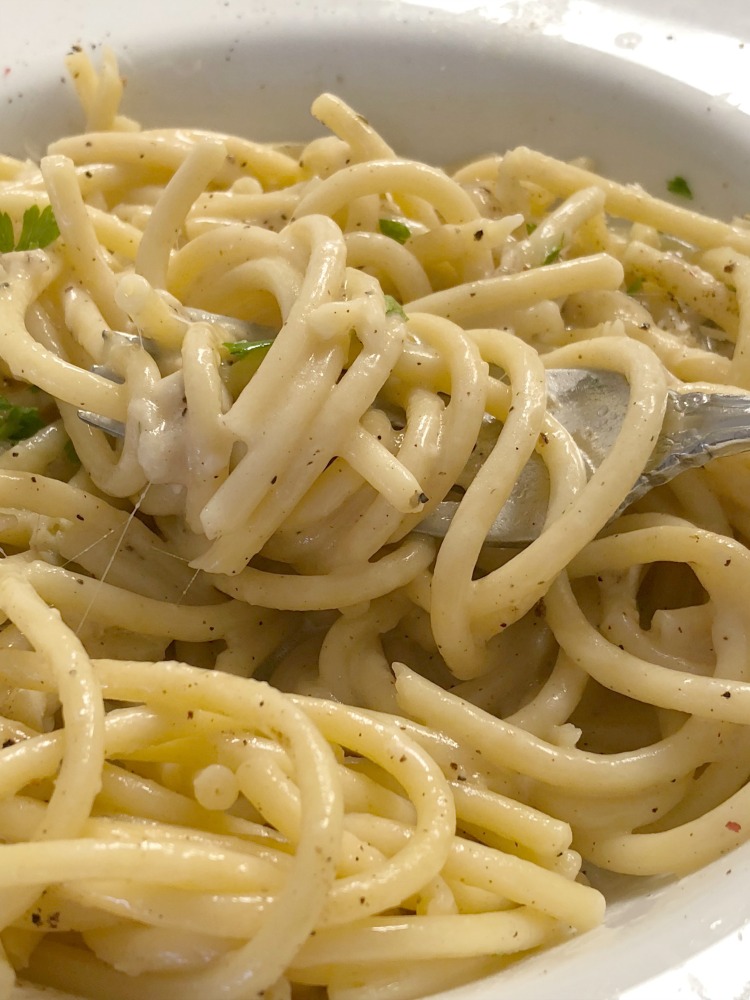 Typically, there are only three ingredients: pasta, cracked black pepper, and pecorino Romano, one of Italy's oldest cheeses. And it must be Italian pecorino Romano — not parmesan. Not American pecorino. The Italian version is usually made in Sardinia from sheep's milk. The American version is usually made from cow's milk. There's a big difference in the way it tastes and in the way it works in this dish. Only true Italian pecorino Romano makes the best cacio de pepe.
It is important that the cheese is neither too young nor too old. If it's too young the sauce might get lumpy, too old and it may become runny. Never ever, never ever ever place the pasta back on the heat after adding the cheese and pepper or you'll have a mess of overcooked pasta and lumpy cheese.
The delicate creamy sauce is the result of an emulsion between the cheese, pepper, and pasta water, and its contact with the hot pasta. HOWEVER…after a number of attempts and less than successful preparations, I now add just a touch of heavy cream and olive oil to the traditional three ingredients. And I may sprinkle it with a dusting of finely minced flat-leaf parsley just because I think it's pretty that way.
While most versions will tell you to use spaghetti or linguine, I actually prefer bucatini. The bucatini is a firmer pasta with a small hole in the middle that seems to capture more of the sauce created by the cheese and pasta water. It's not best with macaroni, rotini or penne type pastas. You need those long strands to make it just right.
Lydia Bastianich I'm not! But I do make a mighty fine cacio de pepe.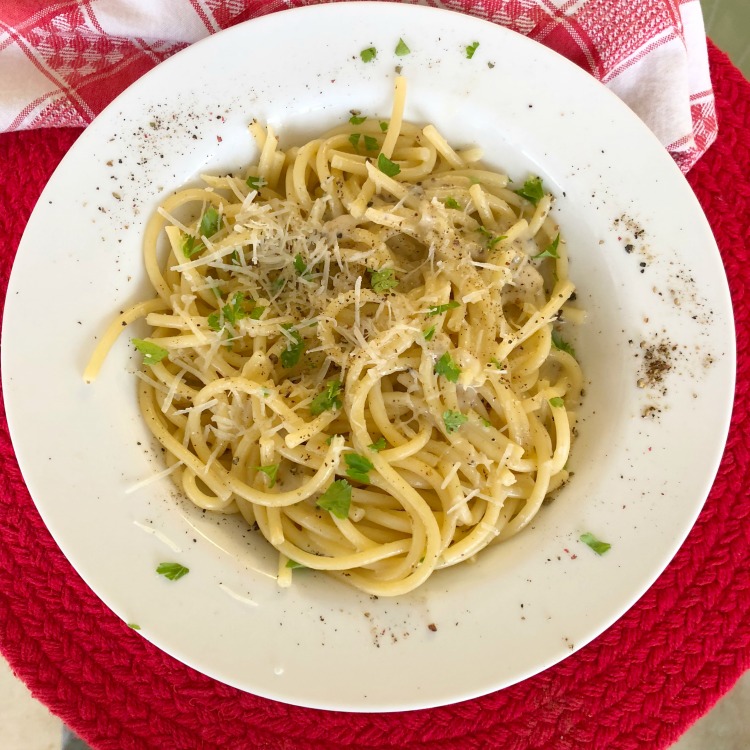 True Italian mac n' cheese, y'all. Simplicity at its very best.
And dinner is ready in 20 minutes!
Cacio de Pepe: Simplicity at Its Best
One of the simplest of all pasta dishes, Cacio de Pepe traces its history back to Roman shepherds who created it as a simple dish that could be made in the fields. It is one of the oldest known pasta dishes.
Ingredients
8 - 10 ounces finely grated Italian Pecorino Romano, divided use
1 pound bucatini (substitute spaghetti or linguine)
1 1/2 teaspoons Kosher salt
2 Tablespoons heavy cream
2 teaspoons garlic infused olive oil*
2 teaspoons freshly cracked black pepper
1/4 cup finely minced fresh flat-leaf parsley
Instructions
In a large saucepan or pasta pot, bring 2 quarts water to a boil. (Do not be tempted to add more water.)
Add salt and pasta; return to a boil. Stir frequently so that the pasta does not stick. Cook to al dente (firm to the tooth).
Prepare remaining ingredients while pasta cooks.
Drain pasta, reserving pasta water.
In a medium bowl, stir 1 cup reserved pasta water into 8 ounces of cheese. Whisk until smooth add additional pasta water 1 teaspoon at a time until quite smooth.
Whisk in cream and oil.
Add freshly cracked black pepper to sauce.
Add pasta to a large, warmed serving bowl or return to pasta pot. Pour sauce over pasta and stir and lift pasta with 2 forks or tongs to coat thoroughly.
Allow pasta to rest 2-3 minutes before plating.
Garnish with additional grated cheese and parsley as desired.
Notes
By reducing the amount of water when cooking the pasta, the water becomes quite starchy which is a key to a creamy cacio de pepe. *I keep infused garlic oil in my frig all of the time. If you don't have that, add 1/2 teaspoon garlic powder to the sauce and whisk well. (optional) The amount of black pepper is up to you. If you are serving this to children, I would significantly reduce the amount of pepper or eliminate it altogether for them.
https://diningwithdebbie.net/2018/02/05/cacio-de-pepe-simplicity-at-its-best/
DiningWithDebbie.net. All Rights Reserved.