Or, in other words, Tasty Taco Soup! Hooray!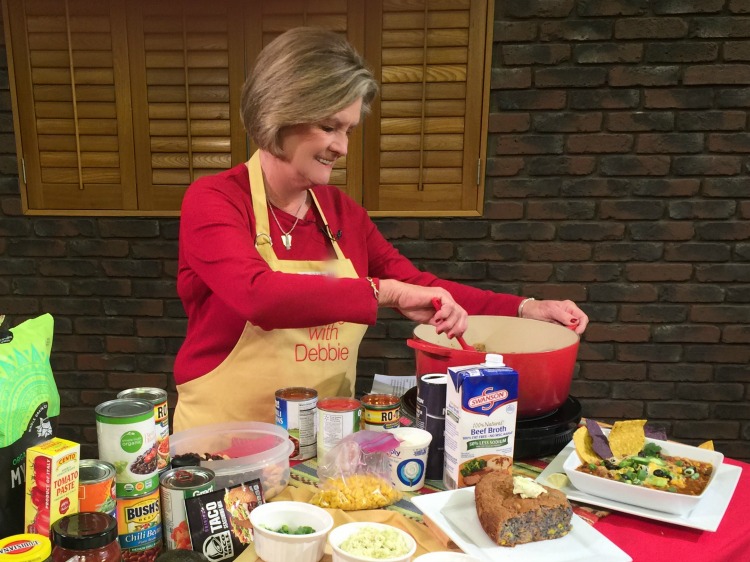 I prepared this soup for one of my segments on THV11 a couple of years ago but never got around posting it on my blog. Since we were enjoying an Arkansas snowmageddon today (less than an inch at our house), I knew we were going to celebrate it with soup. Fortunately, I had all of the ingredients on hand 'cause, ya' know, not only do I not drive on ice, I'm sure the grocery shelves were bare from all of the shoppers who hit them when the weatherman first mentioned the S-word. Just love it when that happens!
As a working wife and mother with a busy family, I learned early on to rely on my slow cooker as a tool for having tasty and nutritious meals on the table so that we were not relying on fast food. Even though I am retired, I still rely on my slow cooker or slow cooking in the oven often. Frankly, I think some dishes just develop a better flavor that way.
My Taco Soup is a variation of that popular one you can find all across the internet. Over the years, as I do with most recipes, I've changed it to suit our tastes and, sometimes, what was available in the pantry. I'm sure you probably do the very same thing, right?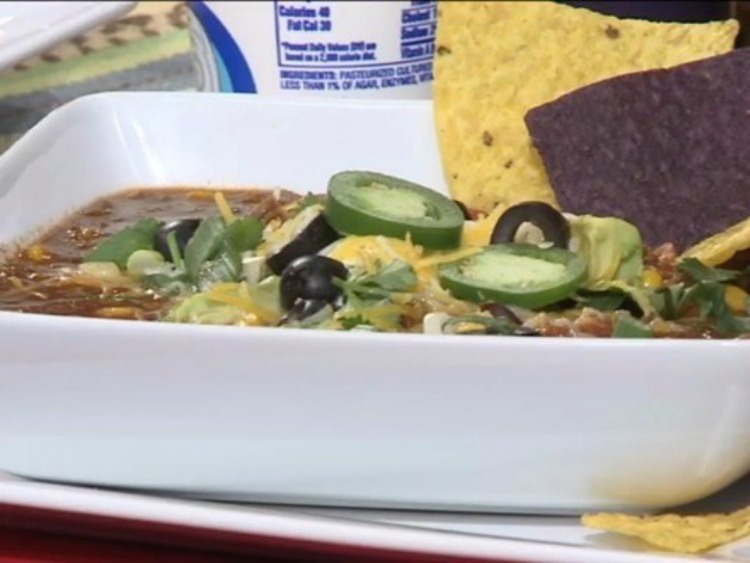 This soup can just as easily be cooked on the stove top as opposed to using a slow cooker if that is what you prefer. It's a nice change of pace from chili while still being easy and nutritious as well. Vary the beans to suit your preference. Omit the spicy tomato juice if you prefer a slightly less tomato strength.
It can be served with just chips or crackers, but I really like serving it with Blue Cornmeal Cornbread. I And if you like things spicy like we do, serve the cornbread with a Jalapeño Compound Butter.
Ingredients
1 pound lean ground beef
1/2 pound hot breakfast sausage
1 cup diced onions
1/2 cup diced bell peppers
1 Tablespoon minced garlic
2 teaspoons toasted cumin seeds
1 teaspoon ground cumin
2 Tablespoons tomato paste (I use tubed, concentrated tomato paste.)
1 teaspoon ground chipotle pepper, optional
1 2-ounce envelope taco seasoning mix (or homemade)
1 tub Knorr's beef bouillon or 1 large beef bouillon cube
1 envelope Hidden Valley Ranch Dressing mix
1 1/2 cups Spicy V-8 Vegetable Juice™ (or tomato juice or water)
1 10-ounce can Rotel™ Mexican tomatoes and green chilies
1 15.5-ounce can no-salt added diced tomatoes
1 15.5-ounce can reduced sodium black beans, rinsed and drained
1 15.5-ounce can chili or ranch-style beans, undrained
1 15.5-ounce can small navy or cannellini beans, drained
1 15.5 ounce can reduced sodium pinto beans, drained (optional)
1 4-ounce can diced green chilies or jalapeño chilies
1/2 - 1 cup sliced green onion, green part only, optional
1 1/2 cups frozen whole kernel corn, slightly thawed
1 jar My Brother's Salsa (house or hot), optional
Salt and pepper
Garnishes: chopped avocado, chopped cilantro, grated sharp Cheddar or Fiesta Blend cheese, sour cream, sliced green onions, sliced raw or pickled jalapeños, tortilla or corn chips.
Instructions
In a large skillet or Dutch oven brown ground beef and sausage until almost done.
Add in diced onions, bell peppers and garlic; sauté 4-5 minutes.
Drain meat mixture in a colander and rinse with warm water; drain thoroughly.
Return the meat mixture to the cooking pot (or slow cooker).
Stir in all remaining ingredients and bring to a slow simmer; allow to cook 45 - 60 minutes.
Add water as needed for desired thickness.
Taste for seasonings and garnish as desired.
Slow Cooker: Cook on LOW 6-8 hours. I prefer to add the corn in during the last hour of cooking when using the slow cooker.
Slow Cooked: At times I place the soup in the uncovered Dutch oven and cook it in a slow oven at 250 degrees for several hours. Stir occasionally and add additional water or beef broth as needed for desired thickness.
Notes
I like to prepare my meat mixture the night before and then place it in the slow cooker the next morning. You can't really overcook this soup, and it gets better the longer it cooks or even for the next day.
https://diningwithdebbie.net/2018/01/17/sopa-sabrosa-taco-con-harina-de-maiz-azul-pan-y-mantequilla-compuesto-jalapeno-ole/
DiningWithDebbie.net. All Rights Reserved.