If you came expecting White Chicken Chili, welp this isn't it. That one's good, but this Slow Cooker Hearty Chicken-Barley Chili is mighty tasty on its own, y'all and it will bring a nice change of pace to your table. It's a nice one to use up leftover chicken or turkey. I typically make it with deli-roasted chicken since I always have some of that leftover.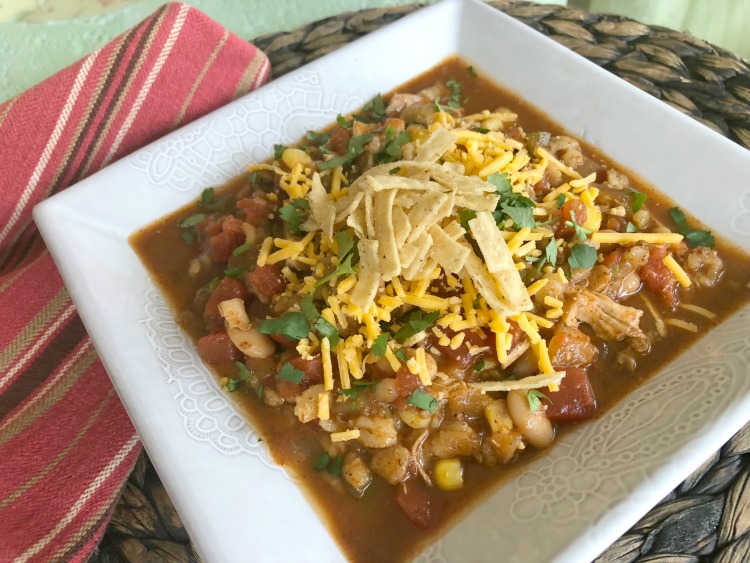 Convenience was part of my plan for this chili. There was the can of Bush's White Chili Beans (not drained), Williams Chili Seasoning, quick cooking barley and frozen whole kernel corn. Those came together with unsalted chicken stock, Rotel Mexican and no salt added diced tomatoes which I ALWAYS have in the pantry. You could easily substitute garbanzo or black beans if you prefer. Actually, I almost added a can of drained black beans but decided against it as the chili was already quite thick.
And, of course, I made use of the slow cooker which made the cooking even easier.
Hubby raved about the broth of the chili. I know he was hungry, but I couldn't keep him from sampling until dinnertime.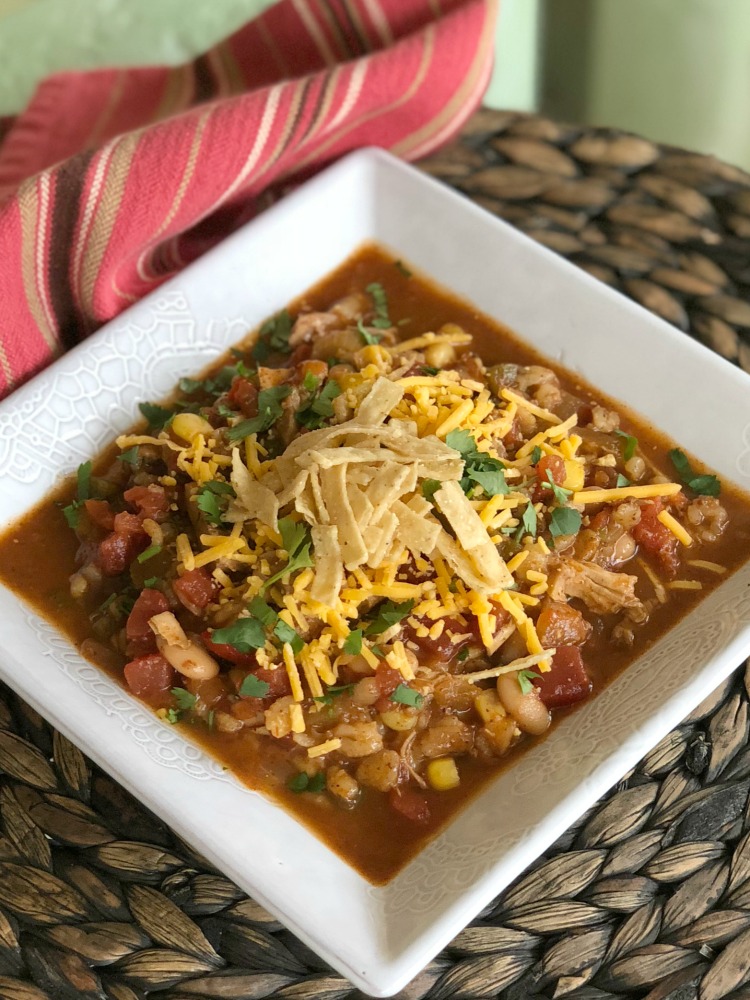 We opted against cornbread as a side and used tortilla chips instead. Garnished with shredded cheese, chopped as desired with chopped avocado and a touch of sour cream, this was definitely a meal in a bowl.
I hope you'll add this to your chili file and give it a try soon.
Hearty Chicken-Barley Chili
Ingredients
1 can Rotel, Mexican variety
1 14.5-ounce can No Salt Added Diced Tomatoes
3/4 cup quick cooking barley, uncooked
4 cups unsalted chicken stock
1 15 1/2-ounce can Bush's Beans White Chili Beans (or black beans)
1 teaspoon cumin
1 1-ounce package Williams Chili Seasoning
3 cups cooked chicken
1 teaspoon chili in adobo*
1 jalapeño, chopped
1 small package Pictsweet seasoning blend
1 1/2 cups frozen whole kernel corn
Grated cheese, chopped cilantro , chopped avocado, tortilla strips, tortilla chips, chopped jalapeño, and/or Mexican Crema, as garnish
Instructions
In the crock of a 5 or 6 quart slow cooker, combine all ingredients except corn. Stir well.
Cook, covered, on LOW 6-8 hours or on HIGH 4-5 hours.
Add whole kernel corn during last hour of cooking.
Taste for seasoning.
Serve topped as desired: cheese, Mexican Crema, chopped avocado, tortilla strips or chips, jalapeno
Notes
*Upon opening, I always take the full can of chilies in adobo and grind them with my blender, Then I just store them in a plastic, covered container until I need them for a dish.
This makes 4-6 servings when served as the full meal.
https://diningwithdebbie.net/2018/01/10/slow-cooker-hearty-chicken-barley-chili/
DiningWithDebbie.net. All Rights Reserved.