By now you know of my love affair with habanero peppers. Habanero chilis are very hot, rated 100,000–350,000 on the Scoville scale., but the heat combined with the tartness of the cranberry juice and sweetness from the sugar make for a delicious combination. If you're a cranberry-orange fan, I suggest you add a teaspoon of orange extract as well.
This is one of the jellies/jams I always make up as gifts during the holidays. Plus…our garden generated a bucketload of habanero and ghost peppers this summer! I've used some of the ghost peppers to make a jam for a friend of mine who likes it hot! hot! hot! That's a little too hot, however, even for me!
One of the easiest ways to use this is as a spread over cream cheese—you know that classic already. You can also blend 2-3 Tablespoons with a log of goat cheese, tasting to suit your preferences. Both of these make super additions to your holiday cheese boards.
I also like to use it on grilled ham (or turkey) and cheese paninis like the one I recently did for Petit Jean Meats as part of a THV11 segment. While I used cranberry-jalapeno jelly for the show, I really prefer this habanero version. You know me and heat! Check out that Grilled Ham, Brie and Apple Sandwich with Spicy Cranberry-Mustard . It's sooooo good, y'all! (PJM did provide the ham.)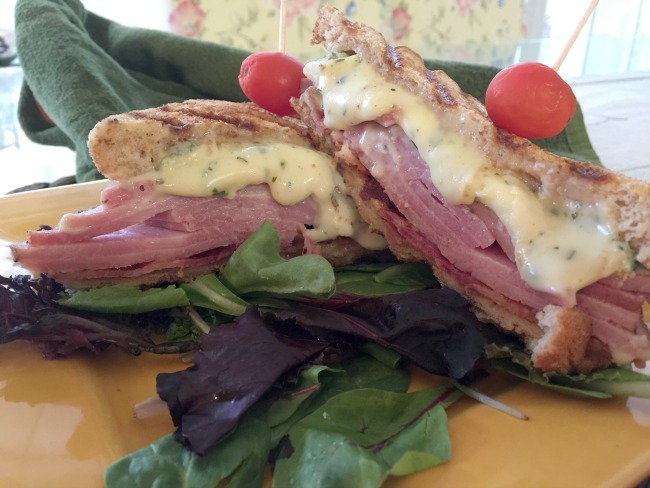 And if you get a late-night while-you-are-hard-at-work hankering for a bite, spread some chunky peanut butter on a Ritz cracker and top it with a bite of this jelly. Hmmm, yeah!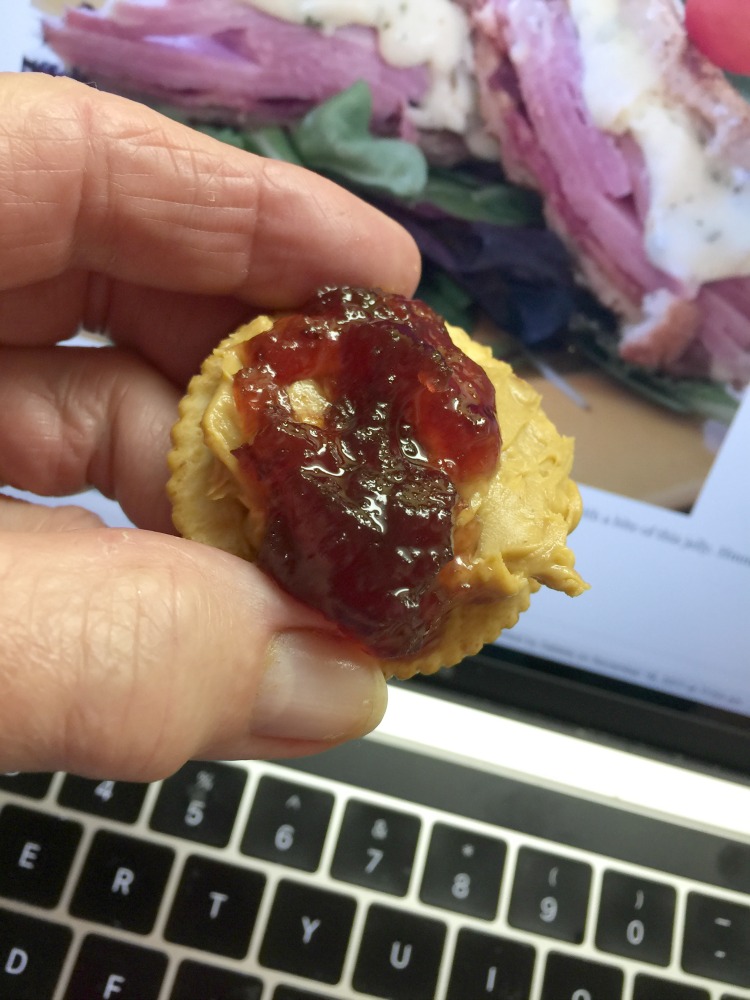 Preserving Winter: Cranberry-Habanero Jelly
Ingredients
7-8 habanero pepper, stems removed (I leave the seeds in.)
1 red bell pepper, seeded and stems, cut in large pieces
32 ounces pure cranberry juice
7 1/2 cups granulated sugar
1/4 cup lemon juice (I used Minute Maid frozen lemon juice.)
1 Tablespoon unsalted butter
2 teaspoons orange extract, optional
2 envelopes liquid pectin (I use Certo.)
Instructions
Prepare the jars and lids. Assemble all jelly-making equipment.
Coarsely chop the red bell pepper. Pulse the bell pepper and habaneros in a food processor.
Mix the peppers, sugar and lemon juice into the juice; stir well. Add butter.
Bring the mixture to a rapid boil, stirring frequently. Reduce heat and allow to slowly boil for 8-10 minutes.
Add in the liquid pectin and bring back to a hard boil for two minutes.
Remove from the heat, add extract, and skim, if needed. (The butter usually keeps it from foaming.)
Pack into sterilized jars, wipe rims with a clean cloth and seal.
Process in a boiling water bath for 10 minutes; cool completely before storing.
Check lids for proper seal.
Notes
This recipe makes 10 half pints. I sometimes add i cup minced fresh cranberries.
Do not walk away from the pot while boiling. I may or may not have some experience with what happens if you do.
https://diningwithdebbie.net/2017/11/20/preserving-winter-cranberry-habanero-jelly/
DiningWithDebbie.net. All Rights Reserved.