Disclosure: I was given an advance copy of Love Welcome Serve to review. All opinions are my own.
There's a giveaway, y'all. (NOW CLOSED)

CONGRATULATIONS TO REAGAN! EMAIL ME YOUR MAILING ADDRESS, ETC.
"Intentional kitcheoning". Coined by Amy Nelson Hannon in her inaugural cookbook, this phrase is at the heart of Love Welcome Serve. It says, "Come. Pull up a place at our table and let's enjoy this time together. Sit and enjoy a meal with my family." And that's just what Amy wants to convey. She feeds people because as she so warmly says in the first few lines of the introduction, "I believe with all of my heart that people who are cooked for feel cared for."
This way of life — of loving, feeding and caring for people — was modeled for Amy through her grandmother, Euna Mae, the namesake for Amy's kitchen specialty store in Springdale, Arkansas. I have to be honest and tell you that I adore this store. After all, y'all, I am a foodie which means I'm drawn to pots and pans, knives and measuring spoons rather than the latest fashion trends. Give me a hand-turned wooden spoon any day.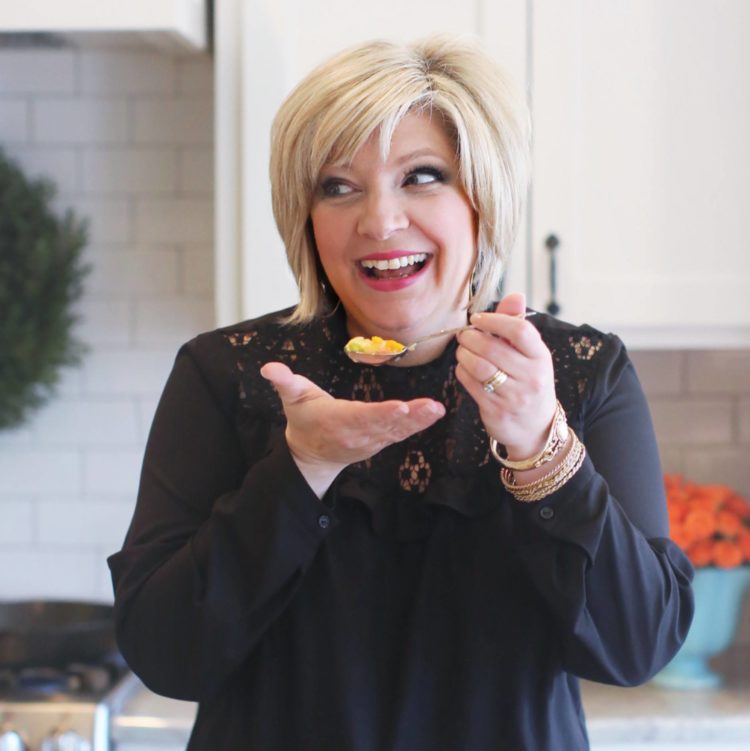 The same quality, design and sincerity displayed in Euna Mae's runs throughout Love Welcome Serve. It's not just a cookbook. It's an invitation to join Amy and her family at the dinner table. In fact, you'll feel so much a part of the Hannon family, you may just find yourself being handed an apron and told to stir a pot or two.
You'll read it cover to cover before you ever try a recipe. You'll want to know Amy's hints, but more importantly, you'll want to learn her stories of being a pastor's wife, a mom of three, and an accidental entrepreneur. She's a natural. She's the real deal. Her mission is to serve you up a whole big heaping of loving, serving and welcoming. And you're gonna' fall in love with this cookbook just as you're gonna' fall in love with Amy Hannon.
Her recipes are ones you and your family will try and enjoy time and again. Trust me. I already have. In my segments on THV, I have shared variations of some we have enjoyed from her Cooking Today segments on KNWA in Northwest Arkansas. (You can find those on youtube.com, HERE.)
In the introduction Amy entitled "My Heart," she shares the story of why she feeds people and her hopes of encouraging you to create memories with those you invite to your table or to whom you share a pot pie at their own. In "A Few Things About a Few Things," she shares some basic tenets—why you really should use REAL lemon juice rather than the pretend stuff and why shredding your own cheese really is important. (You've heard me say the same thing over and over, right?)
Bites That Welcome, the first of the recipe chapters, welcomes readers to open up their homes with some Hannon family-approved treats. Aunt Lori's Cheese Ball and Creamy Chipped Beef Dip are two I plan to try over the holidays. Toasted Coconut and Bacon Popcorn sounds A.M.A.Z.I.N.G, doesn't it? I mean. There's bacon, y'all. Due to my current diet plan, I'll avoid making the Texas Firecrackers because I already know they are absolutely addictive, but you go ahead and eat my share! And make up several batches to share just as Amy would do.
Pickles, Tossed and Chilled, Meats, Mains, and Sturdy Soups follow with such temptations as Lemon Poppy Seed Fried Chicken Salad and Amy's Signature Shrimp and Grits. Sorry Sam. Hubby's smoked pork is just too good to switch to yours. It's a small sacrifice, I know.
You'll find some of my personal favorites in Comforts and Casseroles: Baked Southern Reuben Sandwiches, Kitchen Sink Frittata and Creamy Bacon Spinach Ravioli.
Probably my favorite chapter, and it's hard to pick a favorite, is Serve Alongsides 'cause you know I seriously love making and eating sides. Be sure you check out Sam Hannon's grandmother's Johnson County Biscuits. Can't wait to make those! And in For the Love of Sweets, what's not to love? If you're sweet tooth has a hankering, give Euna Mae's Peach Fried Pies a try. Is there anything more Southern, y'all?
Try the one included here for her White Chicken Chili with Cilantro and Lime or one of the ones we've already come to love: Roaster Red Pepper-Pimento Cheese, Fajita Guacamole Burgers, or Aunt Nance's Jalapeño Corn Casserole.
Yes, I do know Amy personally. However, I was asked to do this review totally independently by the publishing company which had no idea that I knew her. It was total coincidence. Honest. I am absolutely thrilled to do it because this is one quality book. It's beautifully presented–including Amy's own photography and food styling. (If you're a foodie food blogger, you KNOW how difficult that can be.) More than that, however, it's sure to become a treasured member of your library.
It will be one you will use over and over. And you'll be buying copies for those you love. Just as I have already done.
You can do that now, of course. They are available online through Euna Mae's and Amazon. Don't just take my word for it. Order yours today. You can thank me later.
.
Amy Nelson Hannon: White Chicken Chili with Cilantro and Lime
Ingredients
2 Tablespoons olive oil
2 cups chopped yellow onion
5 garlic cloves, chopped
1 Tablespoon dried oregano
2 teaspoons ground cumin
1 teaspoon ground ginger
3 cups chicken stock
1/2 cup dry white wine or additional chicken stock
1 bay leaf, broken in half
3 cups shredded cooked chicken
3 14-ounce cans whie beans, rinsed and drained
3 Jalapeño peppers, minced
4 cups grated Monterey Jack cheese
1/2 teaspoon ground black pepper
salt
Juice of 3 limes
3 Tablespoons chopped fresh cilantro, plus more for topping
Original toppings: chopped fresh tomatoes, chopped green onions, sliced avocado, sour cream, shredded Monterey Jack cheese
Instructions
Heat the olive oil in a large, heavy pot or Dutch oven over medium heat.
Add onion and saute until tender and just starting to get color.
Add the garlic, oregano, cumin and ginger. Cook for another minute.
Stir continuously so the garlic doesn't burn.
Add the stock, wine (if using) and bay leaf.
Cook 5 minutes, or until somewhat reduced.
Stir in the chicken, beans and jalapeños.
Simmer for 10 minutes, stirring occasionally.
Turn the heat down to low and add the cheese, a little at a time, stirring until melted.
Add the pepper and taste; add salt if needed.
Stir in the lime juice and chopped cilantro and simmer for 5 minutes.
Remove the bay leaf halves before serving with all your favorite toppings.
Notes
A few shortcuts can make this recipe an even bigger winner: Use deli rotisserie chicken and chopped jalapeños from a jar. Resist the urge to buy pre-shredded cheese and just shred your own. It'll melt beautifully into the stock for the best chili ever!
https://diningwithdebbie.net/2017/11/11/amy-nelson-hannon-love-welcome-serve-giveaway/
DiningWithDebbie.net. All Rights Reserved.
Intentional kitcheoning. Amy's heart. She wants you to gather your people around the table. Share a meal together. Cook together. Pray together. Love together. And do the same for others you know and those you need to know.
Thanks Hachette Book Group for giving me the honor and pleasure of sharing the joy of this cookbook with my readers, friends and family. It was a a real pleasure.
Find my version of Amy's Grilled Chicken Stacks I did for THV11 This Morning HERE.
Now for the really good news — I'm giving away a copy of Amy's Love Welcome Serve so you can enjoy a copy on me. Like I said, I'm confident it will become one of your kitchen treasures. ENTER the giveaway by leaving a comment below on why you'd like to receive a copy. You can be entered a second time by commenting on my Dining With Debbie Facebook page letting me know which of Amy's recipes on her blog or from her Cooking Today show you are anxious to try or have already tried.
Sharing this Tweet earns you a 3rd entry. Be sure to leave me a comment telling me you shared.
[Tweet "It's a #GIVEAWAY! 4 @AmyNelsonHannon's Love Welcome Serve cookbook. Enter @ https://diningwithdebbie.net/2017/11/11/amy-nelson-hannon-love-welcome-serve-giveaway/]
The winner will be chosen randomly and announced on November 18, 2017.