You're gonna' love this Creole Linguine with Shrimp and Crawfish that I brought to THV11 This Morning for our Mardi Gras celebration. It's spicy, but not too much. It's creamy, but not too heavy. It's a one-pot, mouthful of deliciousness.
You've gotta' try it!
Even before Hubby and I made our way to New Orleans on our honeymoon a bunch of years ago, I was drawn to the flavors of New Orleans. Spicy. Somewhat hot. Bold flavor.
Creole. Cajun. What's the difference?
Cajun cooking can be compared to soul cooking. It came out of the country. Crawfish, catfish. boudin, alligator. Red beans and rice. Sunday dinner at Grandma's.
Creole cooking on the other hand is "city" cooking. We're gonna' thrown in some shrimp, oysters and crabs. And probably some okra to boot. If cream's available, it's definitely going in the pot. Christmas dinner at Grandma's. At the dining room table kind of meal.
Jambalaya? Cajun cooking probably won't throw in those tomatoes. Creole cooking–they're in the pot!
Creole cooking blends French, Spanish, Indian, Caribbean, Portuguese, Greek, West African, Amerindian, German, Italian and Irish . It's a fancy melting pot. Some say it's "high brow."
This infographic is a good general guideline.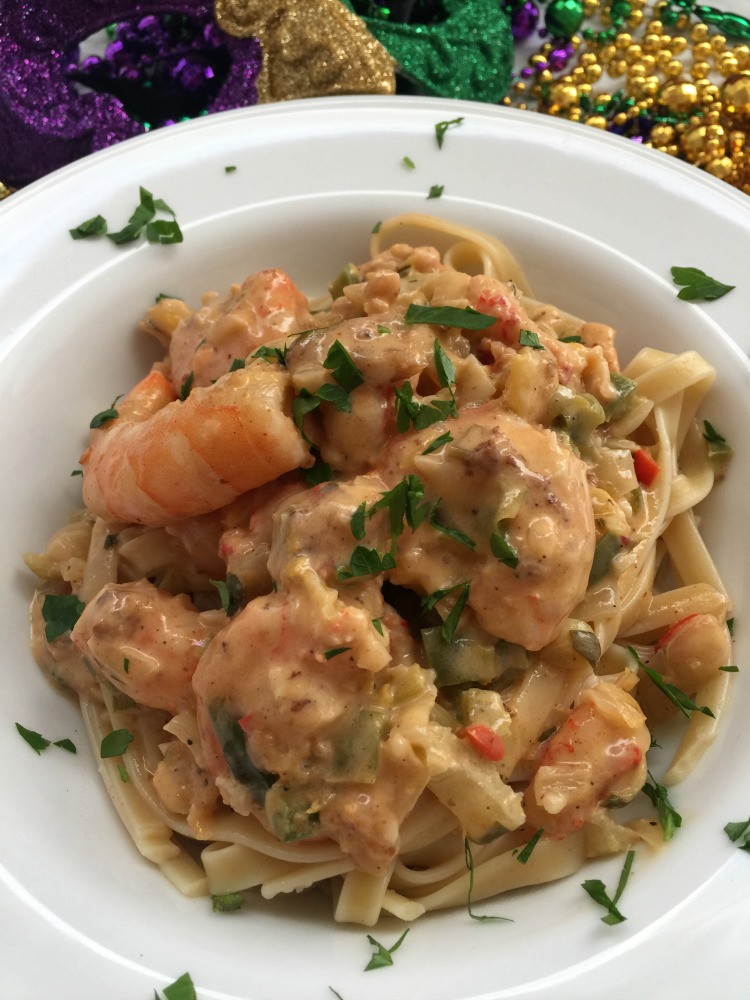 I suppose this Creole Linguine with Shrimp and Crawfish must fall somewhere in the middle of Creole and Cajun. Who really cares?
The important thing is just to make it and eat it!
Laissez les bons temps rouler! is a Cajun expression meaning "Let the good times roll!"
Creole Linguine with Shrimp and Crawfish
Ingredients
1 pound linguine, prepared according to package directions
2 Tablespoons unsalted butter
2 Tablespoons olive oil,plus more for dressing linguine
10-12 ounces large shrimp, peeled and deveined
1/2 cup chopped red onion
1/2 cup chopped red bell pepper
1/2 cup chopped yellow bell pepper
3/4 cup chopped green bell pepper
3/4 cup chopped celery
1 clove garlic, minced
1 tablespoon chopped fresh thyme
1/3 cup minced fresh parsley
1 teaspoon kosher salt
1 teaspoon freshly cracked black pepper
2 teaspoons Creole seasoning
3/4 teaspoon crushed fresh red pepper flakes
3/4 cup chopped green onions (green parts only)
10 ounces crawfish tails, thawed
2 cups heavy cream
3/4 cup freshly shredded Swiss cheese
1/2 cup freshly grated parmesan cheese
1 tablespoon chopped fresh basil
Instructions
Prepare linguine to al dente according to package directions; toss with a bit of olive oil and set aside.
In a large skillet or Dutch oven, heat butter and 2 Tablespoon olive oil over medium-high heat. Add shrimp and brown on both sides; remove and set aside on paper towels.
Sauté onion, bell peppers and celery in skillet until vegetables are tender.
Add garlic, stirring until fragrant.
Add thyme, parsley, salt, black pepper, Creole seasoning, red pepper flakes, green onions, crawfish tails and cream. Simmer over medium-high heat until cream begins to thicken, about 8 - 10 minutes.
Return shrimp to skillet; add in cheeses. Stir continuously until cheese is melted throughout and sauce is thickened.
Add linguine to sauce mixture, tossing well to combine.
Service garnished with fresh basil.
https://diningwithdebbie.net/2017/02/28/creole-linguine-with-shrimp-and-crawfish/
DiningWithDebbie.net. All Rights Reserved.