Way back last February when I was prepping for my All About the Cherries segment on THV 11 This Morning, I managed to pack away several pounds of dark sweet cherries in the freezer. The real chest freezer. Not the one that was going on weatherwise in Arkansas which ultimately kept me away from the studio and the preparation of this Trio of Cherries Jubilee — a triple treat of cherry deliciousness.
I don't know why folks shy away from making Cherries Jubilee. It is such a simple, yet tasty, little dessert and a classy one at that. Want to impress the family or that special friend, then serve this up complete with the flair of the flame (of course!).
So anyway…since THIS February we are weather confused, I decided to use up that stockpile of cherries (I know….) and surprise my cherry-loving Hubby with this fancied-up dessert.
You don't have to tell him how easy it is, ya' know. It'll be our little secret if that works for you.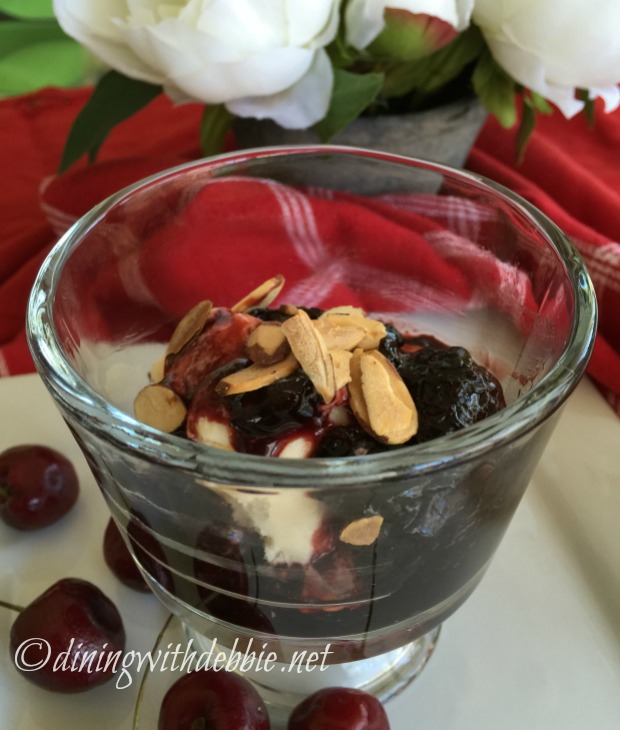 I suppose this could actually be a Four-Cherry Cherries Jubilee, but Trio of Cherries Jubilee sounds like a great name for a rock group…and an awesome dessert.
Trio of Cherries Jubilee
2015-03-30 20:23:36
Serves 6
Ingredients
1 pound frozen dark sweet cherries, thawed and drained
1/4 cup dried cherries
1/4 cup orange juice
2 cups plus 2 Tablespoons tart cherry juice
1/4 cup brown sugar
pinch salt
1 Tablespoon cornstarch
1 teaspoon vanilla extract
1/4 teaspoon cherry extract
1/4 to 1/3 cup rum, brandy, bourbon or kirsch (to taste), optional
1/2 cup toasted slivered almonds, optional as garnish
Instructions
Drain the cherries in a sieve over a bowl, reserving juice if desired. (This can be used as part of the 2 cups tart cherry juice, but I prefer 100% natural tart cherry juice.
In a large heavy skillet over medium heat, mix 2 cups tart cherry juice, dried cherries and orange juice, brown sugar and salt together until the sugar is dissolved.
Reduce to approximately 1 ½ cups, stirring frequently, about 12-15 minutes. Stir in vanilla and cherry extracts..
Whisk together the cornstarch and 2 tablespoons cherry juice. Whisk into the cherry sauce. Add the drained cherries. Simmer until thickened.
Remove the pan from the heat and pour in the alcohol. Carefully ignite with a long match and gently shake the pan until the flame is extinguished. Let cool slightly while spooning ice cream into serving dishes.
Spoon the cherries and sauce over the ice cream; garnish with slivered almonds and serve immediately.
Notes
While it makes for a fun presentation, I seldom flame the cherries jubilee. There's very little change in taste that occurs if you choose to skip it. If you're trying to impress your dinner guests, go for it!
One scoop of ice cream plus sauce is plenty for me.
Dining With Debbie https://diningwithdebbie.net/
#letsbreakbread