Update Note: Pauline now lives most of the time in NYC where she moved, in part, to fulfill her volunteer ministry with The Bowery Mission. Her legacy continues:
That's my friend, Pauline, with three of her four children: Claudette, John and Justin. Only Reed, the oldest, is not pictured. I introduced you to Pauline's
parents
a little while back. They were terrific people and so is their daughter.
I doubt that Pauline has ever met a stranger. She must be the friendliest person I have ever known. She is a lover of people, places, ideas and adventures. Mostly, she is just natural. Naturally smart. Naturally talented. Naturally natural. She is what she is – no pretense. Honest…reliable…curious…and fun! She's one of those people that you will swear you have known pretty much all of your life even though you may have just met her.
Several years ago Pauline and her husband, Jim, began inviting their friends (a multitude of those) to their home for lunch just before school started. It was an informal gathering, a time of good food and pleasant conversation. Pauline carries on that tradition even though Jim passed away recently. Always a drop-in, people would come early and many would stay late.

Over time, attendees just adopted a job to help out. Hubby began washing the dishes the first time he attended. He still does even though now Pauline has an automatic dishwasher. (She said she never wanted one while her kids were growing up. The time spent doing the dishes was her time to visit with them. ) Others pitch in to resupply the dishes and the food. Pauline visits. This is her time to make you feel like you are the guest of honor and this party has been prepared just for you. It's just one of those things you don't willingly miss. It's tradition. It's Southern grace in its truest sense.
Pinto beans, fresh homegrown tomatoes, brisket so tender is was falling apart, and
Mr. Reed rolls.
(THE BEST EVER!) That was the menu then and it was this summer as well. Simple but so good. Serve yourself from the pots and plates on the stove and find a seat. It may be at a table in the bedroom or a seat in the dining room. It doesn't matter where. There's great company anywhere you choose to dine.
Did I mention the pie? While no one will pass up the beans and rolls, the star attraction for which EVERYONE comes is Miss Pauline's coconut pie. It is homemade, melt-in-your-mouth perfection! I've always meant to ask her exactly how many she makes for her luncheon, but have just never gotten around to doing so. It doesn't matter; there's always plenty. Hubby likes to hang around washing dishes long enough to grab a second piece before returning to the office for the day. He's sneaky that way.
Probably not as sneaky as Doc Bourns though. Doc will come early to eat, return to his office, and come back just as the kitchen is closing in order to feast on yet another piece. I don't blame him at all. It's just that good.
Everybody loves Pauline!
I love tradition. Oh, yeah. I love her coconut pie, too:) Try it for yourself. It's her original recipe. I will warn you, though, mine just never quite measures up to hers.
Her original recipe first appeared in our local Benton Junior Auxiliary cookbook when it was published in 1980. She was so gracious to allow us to have it. But, of course, you knew she would do that. (Pauline's on the cover by the way.) Do yourself a favor and make this pie.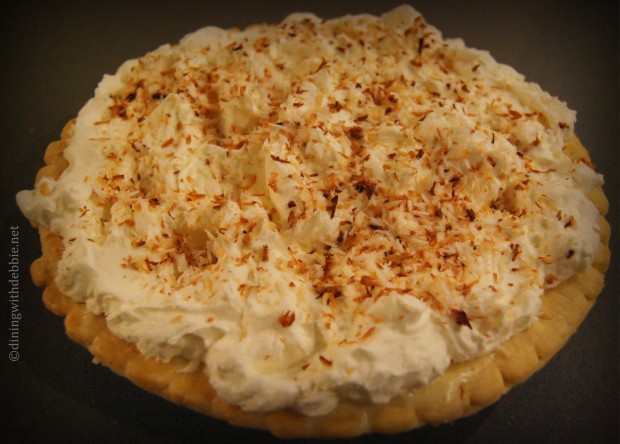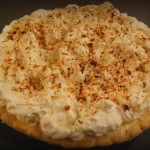 Pauline Bethel's Coconut Pie
2014-02-02 15:26:26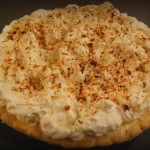 Serves 8
Ingredients
1 envelope Knox unflavored gelatin
3 tablespoons cold water
2/3 cup sugar
1/4 teaspoon salt
3 tablespoons cornstarch
2 cups milk
3 egg yolks, beaten
2 tablespoons butter
1 teaspoon vanilla
3 egg whites
1/4 teaspoon cream of tartar
6 tablespoons sugar
1 cup moist shredded coconut
1 9-inch pastry pie shell, baked
1/2 pint whipping cream, whipped
1/4 cup coconut, toasted
Instructions
Soften gelatin in cold water. Set aside. Blend 2/3 cup sugar, salt and cornstarch in saucepan. Gradually stir in milk. Cook over medium heat until mixture boils. boil 1 minute. Remove from heat. Stir some of the hot mixture into the egg yolks (temper), then add to remaining hot mixture. Boil one minute, stirring constantly. Remove from heat and pour through a strainer. Blend into mixture, the butter, vanilla and softened gelatin.
Create a meringue by beating the egg whites until foamy adding in the cream of tartar and gradually adding in the 6 tablespoons of sugar.
Pour small amounts of the hot mixture into the meringue until thoroughly blended. Fold in one cup of the coconut.
Pour into the baked pie shell. Top with whipped cream and toasted coconut. Refrigerate.
Dining With Debbie https://diningwithdebbie.net/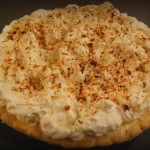 My Never Fail Pie Crust
2014-02-02 15:36:05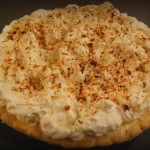 Ingredients
2 cups shortening
4 cups flour
1 1/2 teaspoons salt
1 teaspoon baking powder, sifted into flour
juice of one lemon
1 egg
1/2 cup cold water
Instructions
Mix dry ingredients together. combine one-half of the shortening and one-half of the dry ingredients. Blend well with a pastry blender or knives. Add remaining shortening and dry ingredients.
Combine lemon juice, beaten egg and water; pour over dough. Mix well but do not over mix as the pastry will become tough.
Notes
This makes a soft dough but it is easy to handle on a well-floured board. It freezes very well. It will make three large (10-inch) pie crusts.
Dining With Debbie https://diningwithdebbie.net/
Linked to:
Foodie Friday
Friday Feasts