I came across this idea while working on a THV11 This morning segment on Ancient Grains and knew it would be one I would definitely want to try. Freekeh is one of those super nutritious grains you really should try. I know you love your quinoa, but, y'all, it's time for you to try something new.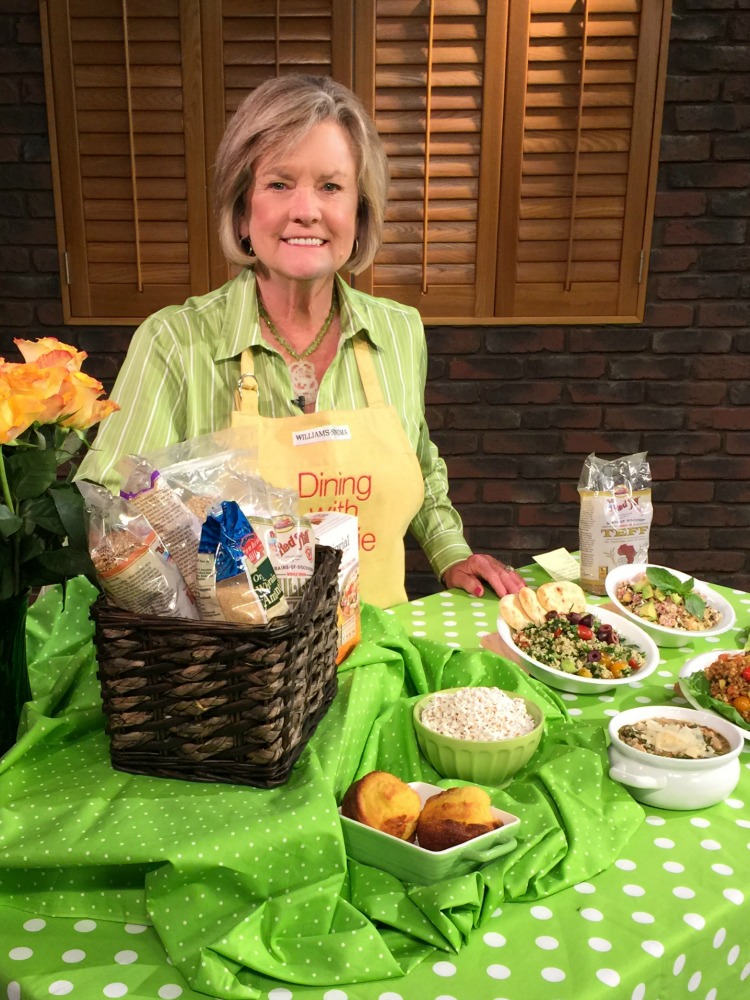 You know that old saying, "everything old is new again?" While that doesn't apply to me, unfortunately, is does apply to freekeh which is really ancient but it's so generally unknown as to be new. Make sense?
Of course, people in the Middle East have been feasting on it for ages. History traces freekeh back to ancient Egypt and in Lebanon, Jordan and SyriaYou know that healthy diet thing they have going on? The one your doctor has been encouraging you to try? Yeah, that one.
Freekeh (prounounced free-kah meaning "to rub") is wheat so it's not gluten free.Freekeh is not an actual grain; there is no such thing as a freekeh plant. It is wheat that is harvested while it is young and green. Once harvested, the freekeh is roasted and the burned chaff and straw are rubbed off. Because the grain is too young and moist to burn, you're left with a firm, slightly chewy grain with a distinct flavor that's earthy and slightly smoky. Since the grains are harvested while young, they retain the maximum nutritional value, not to mention the best flavor and texture.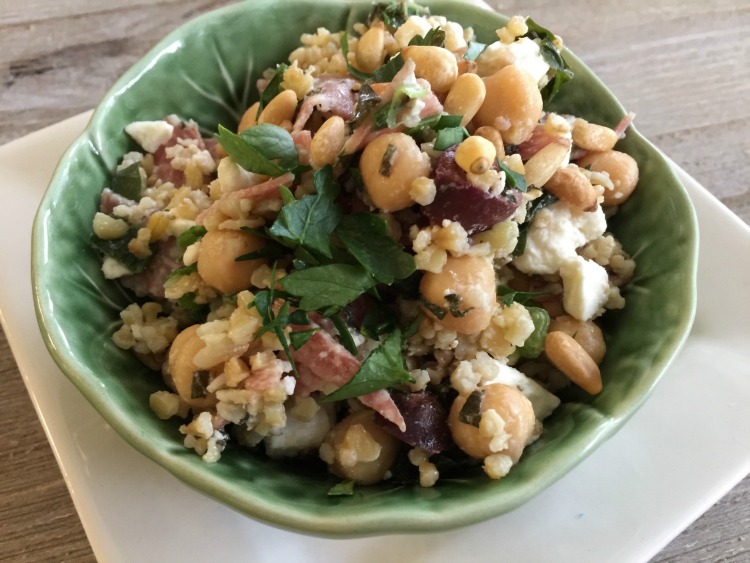 If you're interested in weight loss, freekeh is a good dietary choice. It is low in fat and high in protein and fiber. Per serving, freekeh has more protein and twice as much fiber as quinoa. It's high in iron, calcium and zinc and like a prebiotic, it promotes the growth of good bacteria in your digestive system. Plus, it ranks low on the glygemic index, making it a good choice for diabetics or those managing their sugar level.
It cooks up in about 25 minutes, and it's light, like coarse bulgur (cracked wheat typically used in tabbouleh), which it resembles, except that the color is darker and greener. Cracked freekeh, which is what we typically find in our markets, is tastier and easier to work with than whole freekeh. Next time you make tabbouleh, try replacing the bulgur with freekeh.
I used salami but you could certainly omit it or substitute some good Petit Jean Hickory Smoked Ham if you prefer. Don't omit the mint, however. It just gives the salad that extra pizzaz of flavor that you do not want to miss.
This is a great salad (or light meal) for your family picnics, potlucks or family reunions. It's tasty served cold or at room temperature and will hold up well in the heat of a hot summer's day.
Freekeh and Garbanzo Salad
Ingredients
1/2 cup uncooked freekeh, prepared according to package directions
1 15-ounce can garbanzo beans, drained and rinsed
2-3 ounces thinly sliced salami or Petit Jean Hickory Smoked Ham
1 cup thinly sliced celery, optional
4-5 scallions, finely chopped
1/2 cup thinly sliced fresh mint
1/2 cup minced fresh flat-leaf parsley
1 teaspoon minced garlic
1 Tablespoon garlic-infused olive oil (substitute extra virgin olive oil)
1 avocado, halved, seeded peeled and cubed
3 ounces feta, cubed
Instructions
Prepare freekeh according to package directions, drain in a sieve and rinse under cold water. Drain well on paper towels.
In a large bowl, combine the remainder of the ingredients except the olive oil.
Stir freekeh into the garbanzo mixture. Drizzle with olive oil, tossing to coat.
Season to taste with salt and pepper.
Chill, covered, up to 4 hours.
To prepare ahead and refrigerate, do not add avocado until shortly before serving.
https://diningwithdebbie.net/2017/05/11/freekeh-and-garbanzo-salad/
DiningWithDebbie.net. All Rights Reserved.