You may have guessed it by now, but I'm enamored of everything Irish. It's a fascination I've held since first learning about St. Patrick's Day as a little girl. I'm told there's a little Scotch-Irish in my ancestry so maybe the genes kicked in on my toward the Irish side.
Colcannon is, for the most part, considered a poor man's dish. You can't get any simpler than potatoes and cabbage. And lots of butter. Lots.
I never said it was dietetic, y'all.
And you can't make a little of it either.
So like my Nonnie who dearly loved potato pancakes made from leftover mashed potatoes, I began experimenting with leftover colcannon.
These little mouthfuls of pure pleasure, also known as Colcannon Fritters, are the result.
Serve them as an appetizer with Russian Dressing (irony, I know) or your favorite horseradish sauce. They also make a great side dish with grilled steak or chicken.
Erin go bragh, y'all.
While you're celebrating all things Irish, check out my #sponsored post on Irish in Arkansas for OnlyinArk.com.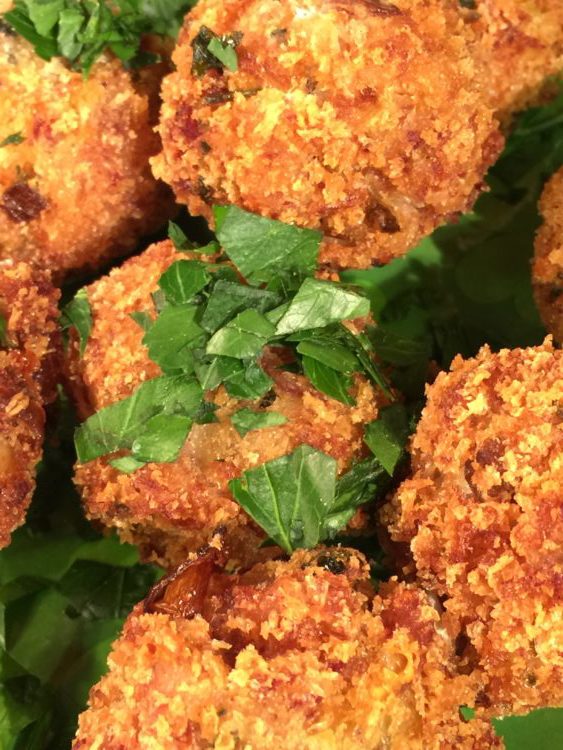 Colcannon Fritters with Russian Dressing
Ingredients
Russian Dressing

2 teaspoons onion powder
1 cup mayonnaise
1/4 cup Heinz chili sauce
3-4 teaspoons bottled horseradish
1 teaspoon hot sauce
1 teaspoon Worcestershire sauce
1/4 teaspoon sweet paprika
Fine sea salt
Colcannon Fritters

2 cups leftover colcannon or mashed potatoes
2/3 cup finely chopped corned beef
1 Tablespoon olive oil
3 cups finely shredded green cabbage (see note), optional
2 leeks, white parts only, finely chopped
2 green onions, sliced
2 cloves garlic, finely minced
1/2 teaspoon smoked paprika
2/3 cup shredded Irish Cheddar or Swiss cheese
1/3 cup sauerkraut, drained well (squeeze dry in paper towels)
2 eggs, lightly beaten
2 Tablespoons water, if needed
2 Tablespoons flour, if neede
1 1/2 cups panko crumbs
Riceland Rice Bran Oil
Instructions
Russian Dressing

In a small bowl, whisk together all ingredients until smooth. Refrigerate until serving.
Colcannon Fritters

Allow leftover colcannon or mashed potatoes to come to room temperature or warm slightly in the microwave.
In a large skillet or Dutch oven, heat olive oil over medium-high heat.
Add shredded cabbage, leeks and green onions and cook, stirring frequently, until the cabbage is wilted and the leeks and onions are transparent.
Reduce heat to medium and add in garlic; cook 2-3 minutes stirring frequently. Sprinkle in smoked paprika.
Stir in leftover potatoes and corned beef, stirring well to combine. Warm over medium-low heat; set aside to cool slightly.
Add in Irish Cheddar, sauerkraut and lightly beaten eggs. Mix well to combine.
Add water only if needed to bring potato mixture to a thinner consistency or flour if a thicker consistency is needed.
Place potato mixture in a bowl, cover and refrigerate until chilled, about 2-3 hours.
Place panko in a shallow bowl.
Using a small cookie scoop, roll fritters into small balls and then in panko. Place on a cookie sheet and allow to chill in the refrigerator until ready to cook. (at least 1-2 hours)
When ready to cook, heat oil in a deep skillet or fryer to 375-400.
Drop fritters in a few at a time and cook until browned. Drain on paper towels and serve immediately.
You may want to test the first 1 or 2 to be sure they are hot in the middle. Adjust cooking times and temps as needed.
Notes
Don't try to make the fritters any larger. They won't heat in the center before being too brown. Fritters can be made ahead and frozen. Allow to thaw before frying.
https://diningwithdebbie.net/2017/03/19/colcannon-fritters-with-russian-dressing/
DiningWithDebbie.net. All Rights Reserved.