This is one of the earliest "fancy" dishes I first tried out on Hubby shortly after we married. Needless to say, he was skeptical–perhaps extremely so. Cauliflower to a meat and potatoes man? But it worked.
He liked it!
I've made it countless times over the years, but like many recipes, it got lost along the way. I had not made it for quite a long time until this week when I was trying to come up with a side dish to serve alongside some salmon Hubs was grilling. Since we've been working really hard to go low carb, I needed to avoid my usual favs — pasta and rice.
With bunches of broccoli and cauliflower in the fridge, I considered my options. We'd already had broccoli and cheese earlier in the week, so I didn't want to repeat that. I've about worn out roasted veggies for a while. I thought about cauliflower risotto but didn't want to trek to the grocery for parmesan — which for some unfathomable reason, I didn't have in the fridge.
Then I remembered this frosted cauliflower. Menu made.
You can prepare it ahead and refrigerate until ready to bake. So simple and so good.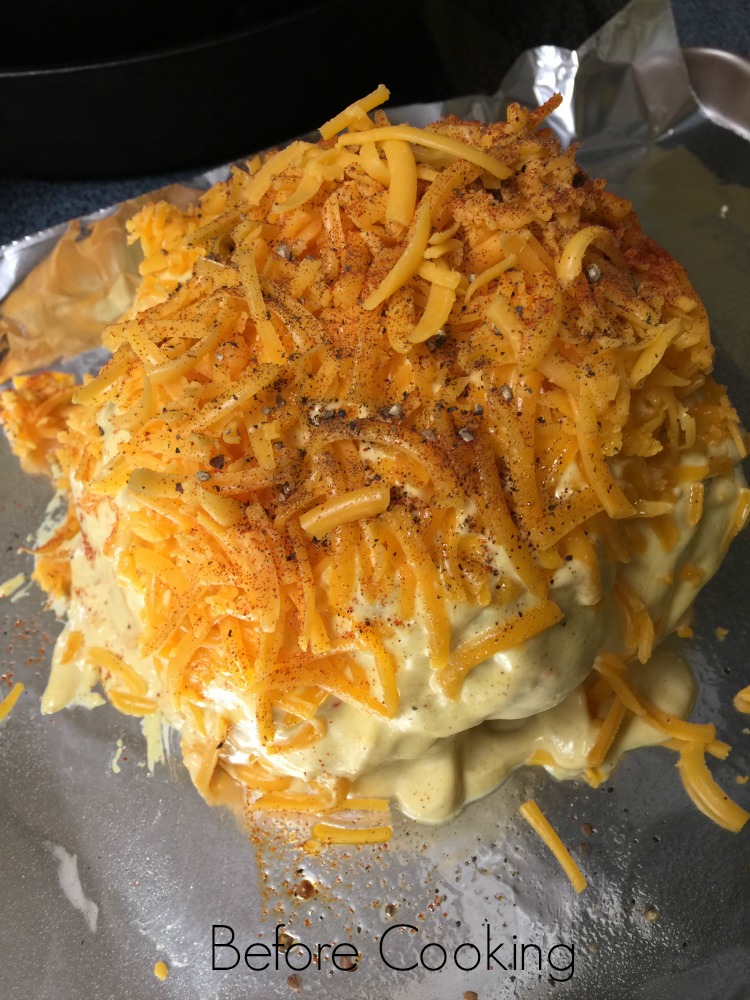 The original idea for this came from my old, old Better Homes and Gardens cookbook which I received as a wedding present a century ago — or at least a half century ago. I've varied it over the years as to cheeses and added spices, but the elements are essentially the same.
If you are a cauliflower lover like I am, you're gonna' love this!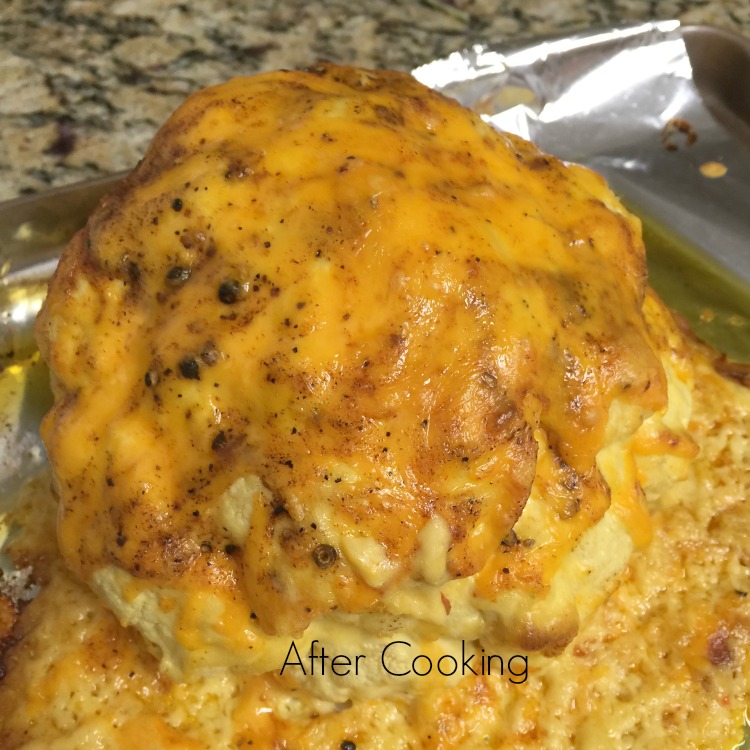 Low-Carb Cheesy Frosted Cauliflower
Ingredients
1 medium head cauliflower, trimmed
1/2 cup mayonnaise with olive oil (slightly less)
1 Tablespoon mustard (try spicy, southwestern or even sriracha for a different taste)
3/4 cup grated extra sharp cheddar cheese
freshly cracked black pepper
dash paprika -- hot works nicely (I sometimes sub ground chipotle pepper.)
Instructions
Preheat over to 375 degrees.
Place cauliflower head on a microwave-safe plate. Microwave 3 minutes at 100%. Check for tenderness.
Microwave in 2-3 minutes increments until cauliflower is tender (approximately 8-10 minutes). Move to a foil-lined shallow baking dish; cool slightly.
Mx mayonnaise and mustard. Spread on cauliflower as if frosting a cake.
Sprinkle cheese over the top pressing slightly.
Sprinkle with paprika and fresh cracked black pepper.
Bake 10-15 minutes or until cheese is melted and is slightly toasted.
https://diningwithdebbie.net/2016/11/26/cheesy-frosted-cauliflower-low-carb/
DiningWithDebbie.net. All Rights Reserved.