I am so excited about this week's session on THV11 this morning. Not only are we celebrating Memorial Day with picnic foods, my friends at Riceland Foods and Petit Jean Meats are offering a giveaway that will make your holiday picnic and festivities absolutely terrific. You'll want to be sure and turn in so you'll know how to enter that.
Memorial Day is the official kickoff to summer in our area, and the weather is FINALLY warming up It's been a rainy and late spring so my garden and flowers are late coming into their summer growth. I'm trying to enjoy the rain and the cooler temps, however, because I know how really hot our Arkansas summers can become. And truth be told, our lake house area in the northwest corner of the state could definitely use the rain.
Just don't rain on our Memorial Day holiday, please:)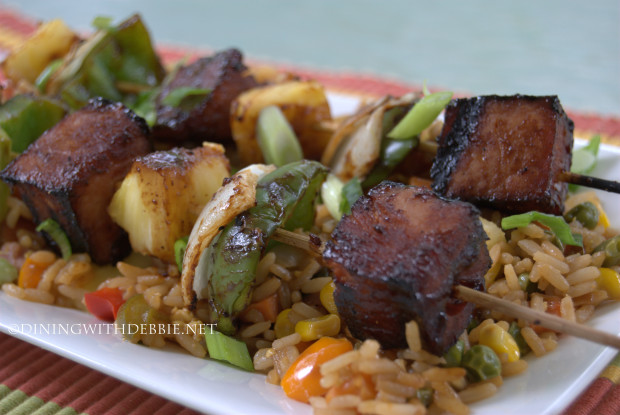 Hubby and I will be serving up some fancied up Petit Jean Meats Grillers and hot dogs along with Sriracha Ham Kabobs and Asian Ham Kabobs on my Ham, Pineapple and Stir Fried Rice. In addition, watch for Marinated Vegetable Rice Salad and Corn and Rice Dip from Riceland Foods rice salads that are perfect for dinner on the lawn or picnic on the boat. And, yes, there will be dessert! Red White and Blue Cupcakes made with rice and all-purpose flours and topped with Arkansas blueberry and goat cheese frosting — perfect for your patriotic summer tables:)
Did you catch the last segment on strawberries?