#CBCHIHULY
I've long been a fan of Dale Chihuly's glass artistry so I was thrilled when Crystal Bridges announced some time ago that it would be bringing an exhibit of his work. Last Saturday, Hubs and I attended a member's preview of the new indoor-outdoor exhibit entitled Chihuly: In the Garden + in the Forest. I'm delighted to share some of that with you.
Dale Chihuly was born in 1941 in Tacoma, Washington. He draws much of his inspiration from the Pacific Northwest, especially Native American art forms. He is considered a pioneer in his field having developed a process which differs significantly from traditional glass blowing. According to the Crystal Bridges Chihuly guide, " He (Chihuly) blends complex combinations of texture, shape, and color into exhilarating exhibitions of light and form."
His career spans 5 decades from the 1960s when he blew his first small glass bubble. While he no longer blows glass himself, he does oversee the pieces created in his studio. His works have been displayed all over the world and are included in more than 250 museums. The Crystal Bridges exhibit of more than 300 pieces also includes many of Chihuly's drawings of glass objects and videos of pieces being created by master glassblowers in his Boathouse studio in Seattle.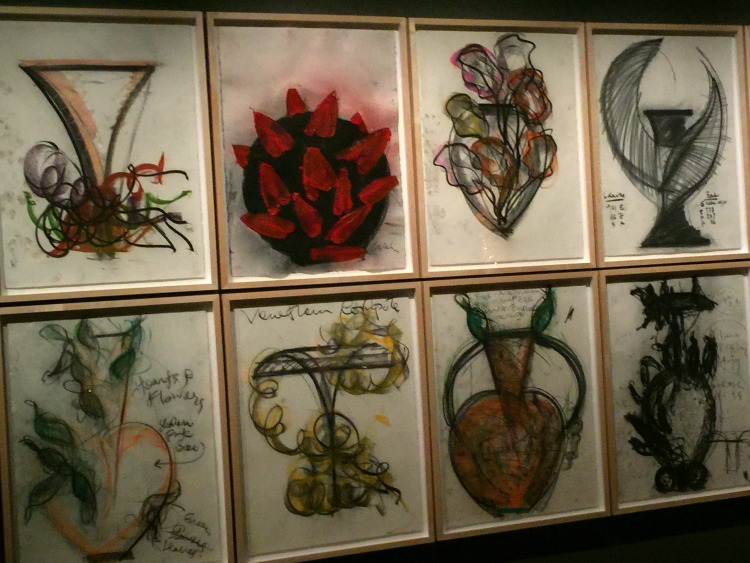 The exhibit will open to the public on June 2 with the indoor portion closing on August 14. The outdoor exhibit will remain open until November 13. This is definitely an exhibit to put on your must-see list. Admission to Crystal Bridges is free, but tickets to Chihuly are $20 for nonmembers. Children 18 and under are admitted without charge.
One of his earliest pieces, Weaving with Fused Glass created in 1965, is included in this indoor and outdoor exhibit. While as an art student, Chihuly was challenged by a professor to include an unusual material into a fiber woven piece. He chose to melt small pieces of glass to fuse with the fiber. This was Chihuly's first discovery of glass as a material.
WEAVING WITH FUSED GLASS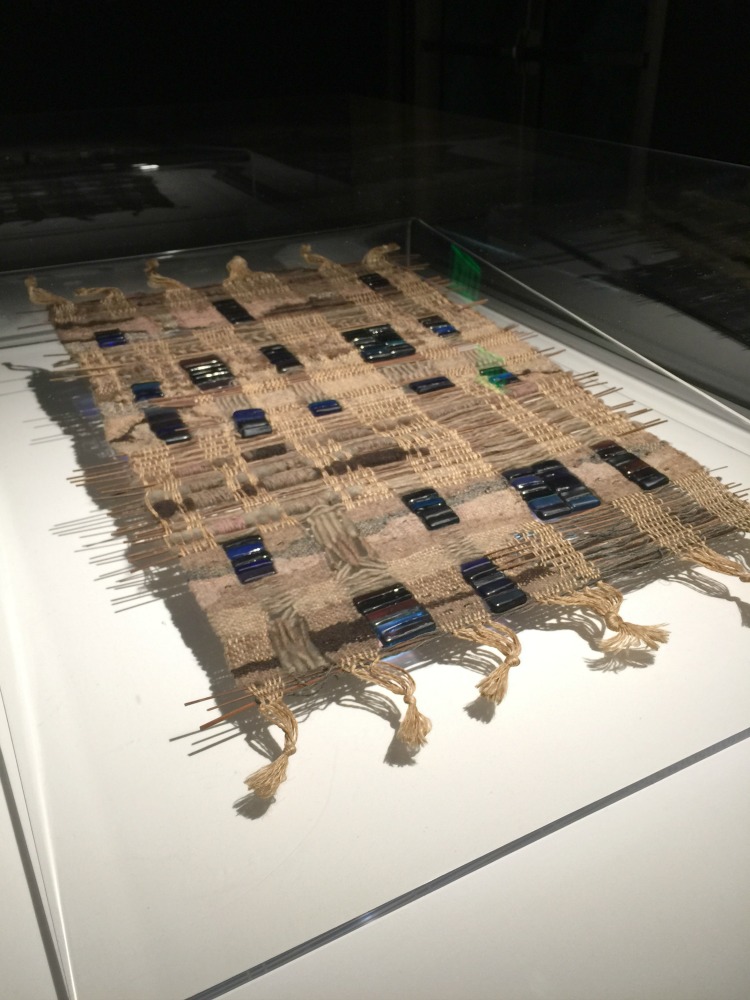 The exhibit also includes some of Chihuly's collection of Pendletons, commercially produced American Indian blankets. Featured weavings include robes, shawls and blankets.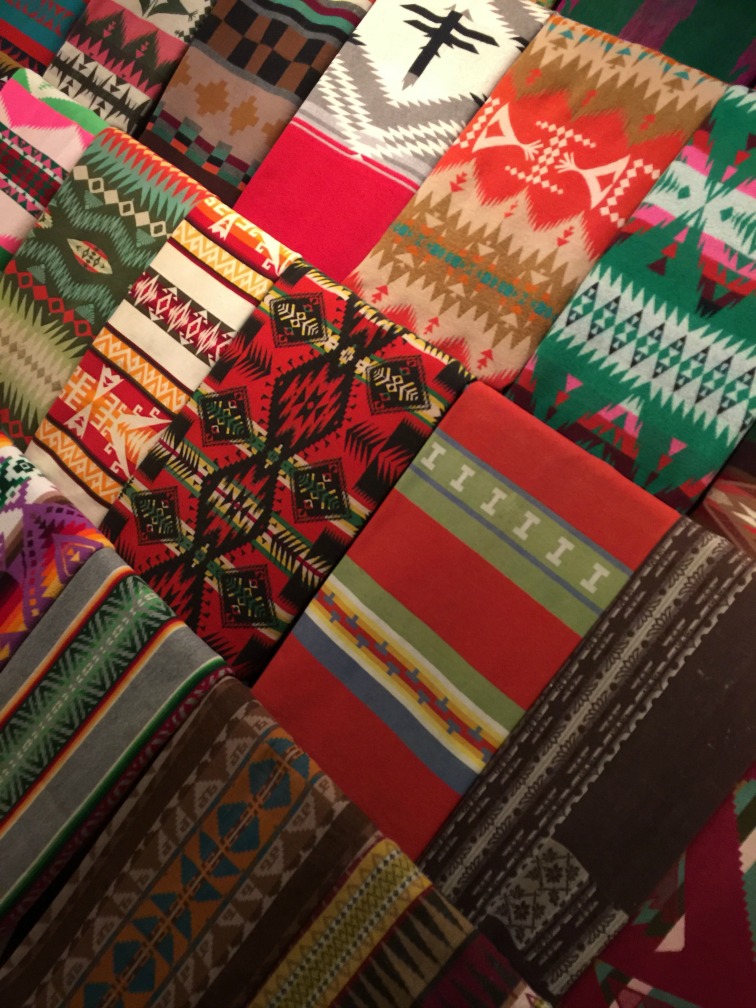 We chose to begin our tour indoors.
CYLINDERS
"I think of the Cylinders as drawings [in glass]. I chose the cylindrical shape as a neutral format for the drawings…" – Chihuly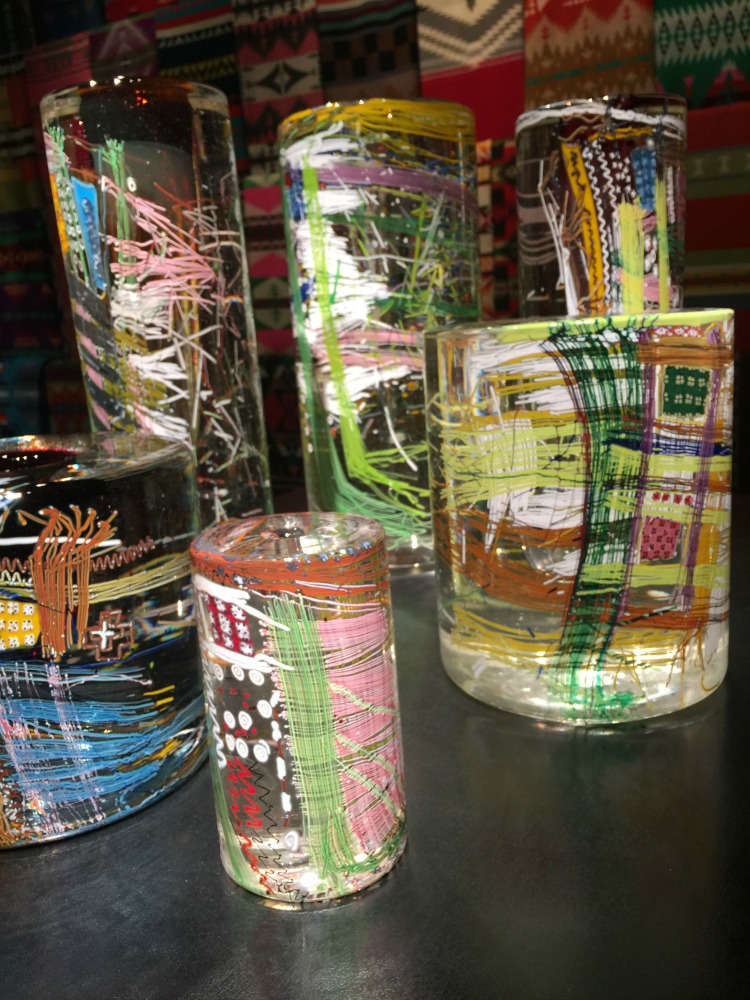 ROTOLO
"Working on my new series, Rotolo, rekindled my excitement for working with clear glass. I was really amazed by the complexity and brilliance of the form, which started from a simple coil." –Chihuly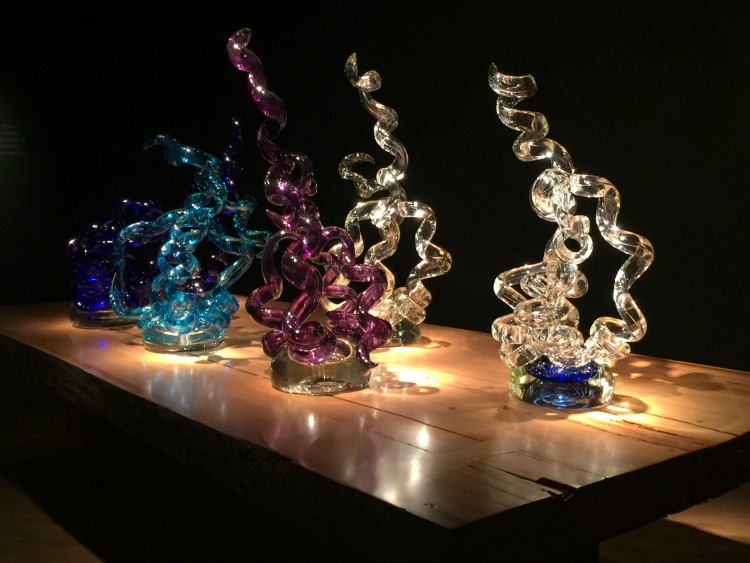 WINTER BRILLIANCE
Absolutely stunning! Originally created as a holiday window piece for Barney's in New York, Winter Brilliance is a ever-changing, colorfully lighted piece set to Debussy's La Mer.
chihuly winter brilliance movie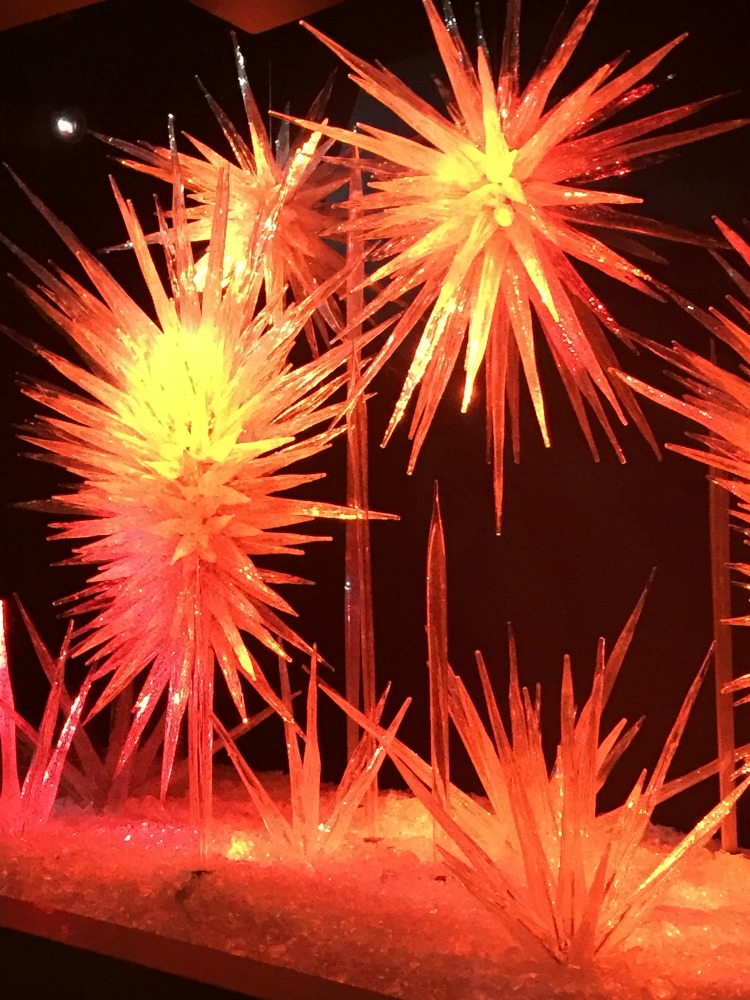 TABAC BASKETS
Chihuly was inspired by traditional Indian baskets, their forms having become slumped and asymmetrical over time, to created his collection of blown glass Tabac Baskets.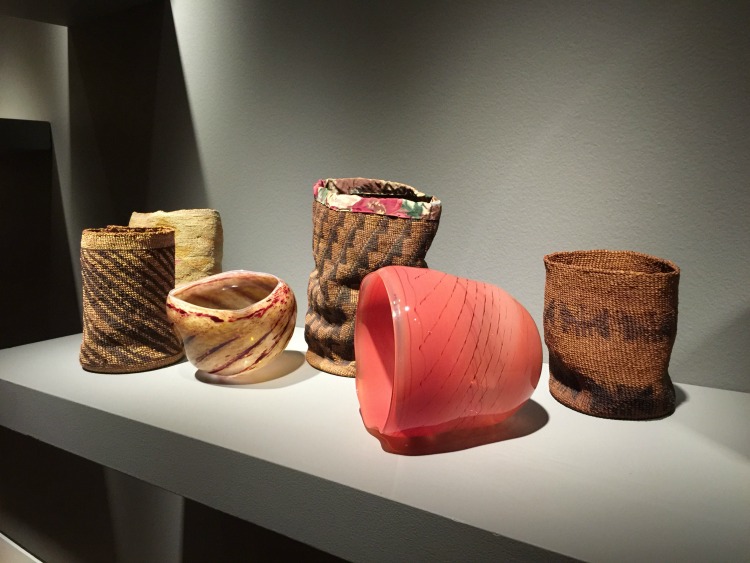 PERSIANS
"I just liked the name 'Persian.' It conjured up the Near East, Byzantine, Far East, Venice – all the history, trades, smells and senses. It was an exotic name to me, so I just called them Persians." –Chihuly The Persians are always arranged in several inventive ways including the cascading formation Chihuly created for the Crystal Bridges exhibit.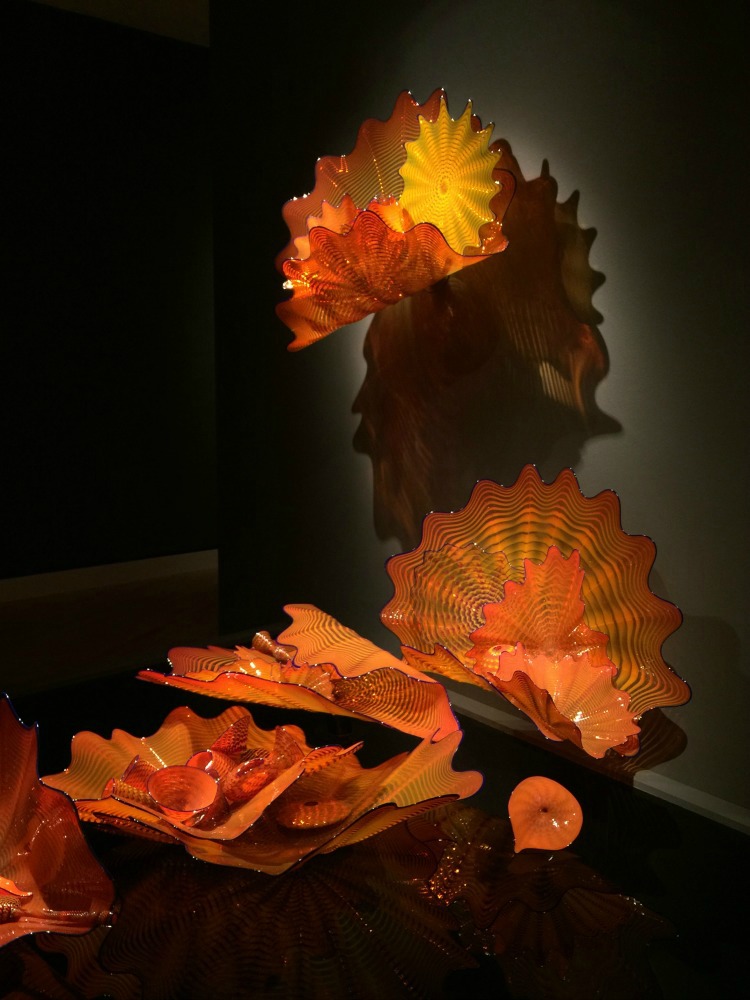 If you're so inclined to purchase an early birthday present for me, I'll be happy to receive this piece. You can pick that up in the gift gallery outside of the indoor exhibit. Thanks so much.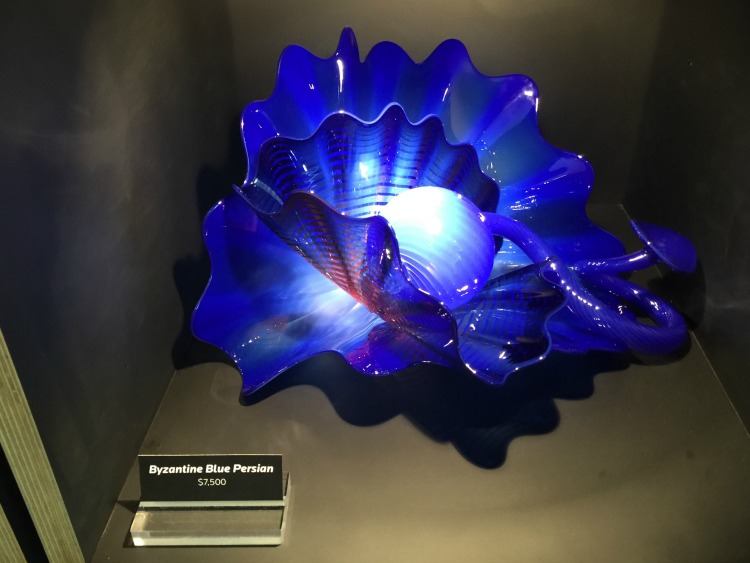 VENETIANS
"Chihuly began the Venetian series with Lino Tagliapietra as an homage to Italian Art Deco vases he saw on a trip to Venice. He loved the aesthetic and symmetry of the vases; however, the artworks quickly lost their symmetry and became bolder and brighter." http://www.chihuly.com/artwork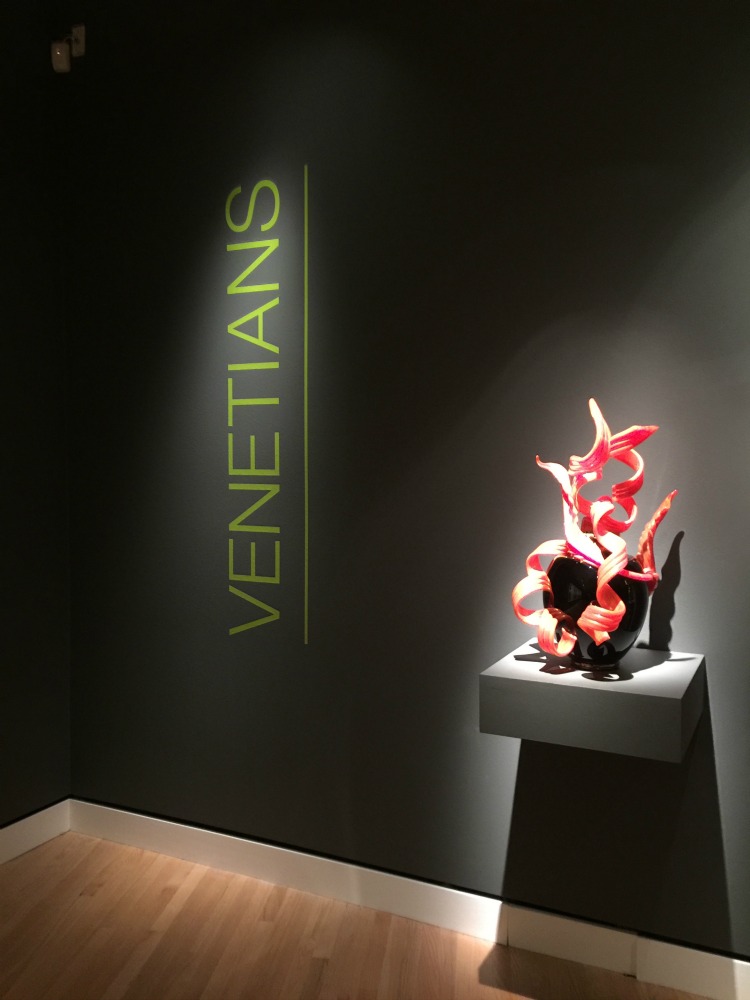 And there's even more.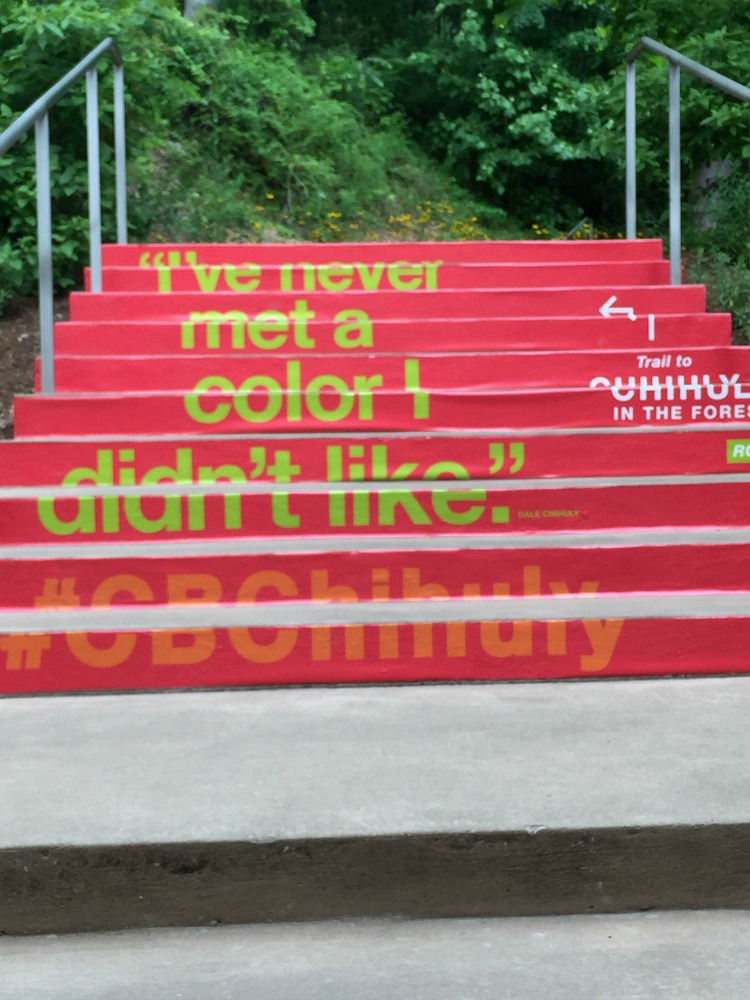 Moving outdoors into the forest exhibit, you can choose one of several routes. Those are clearly mapped for you on the Chihuly/Crystal Bridges guidebook and throughout the museum and grounds.
Truly, as noted in the guide, Chihuly in this exhibit is "pushing the boundaries and scale of glass art further than ever before. Inspired by all aspects of the natural world, Chihuly's garden forms evoke mystery and wonder as they emerge, for the first time from a rugged natural forest setting."
We plan to go again to view the outdoor lighted forms in the evening. I'll definitely be exploring the entire exhibit again and again before the indoor section leaves in August. Even if you make a special trip, I strongly encourage you to go see this breathtaking exhibit.
Note: This was not a sponsored post.