It's hard to beat pork tenderloin for a quick meal on the grill. Plus, there are so many, many ways it can be prepared that we never tire of it. Since there are just the two of us at home on a regular basis, I generally halve a tenderloin for this recipe. But, leftovers are good as well if you want to prepare a whole one.
This preparation does require a time for marinating, but other than that, it's extremely easy. I served it up with some Chinese cole slaw, roasted long beans and grilled pineapple. Grilled corn on the cob would be a nice addition and could be cooked along side the tenderloin. Or, how about some grilled zucchini and yellow squash?
Either way you go, you are sure to enjoy this Teriyaki Pork Tenderloin. Let me know when you give it a try.
I'm so looking forward to grilling season. How about you?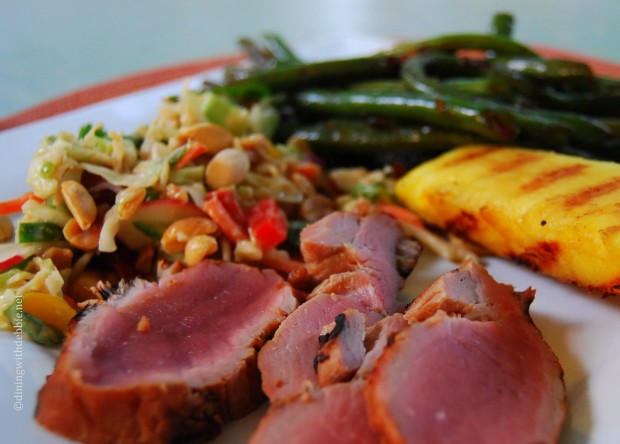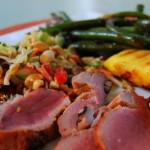 Teriyaki Pork Tenderloin
2014-06-02 20:19:22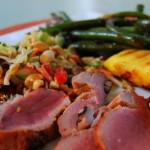 Serves 8
Ingredients
32 ounces pork tenderloin
1/2 cup soy sauce
1 teaspoon red pepper flakes (or 1 teaspoon chili paste)
1 teaspoon Chinese mustard
1 teaspoon finely grated fresh ginger
1/2 teaspoon fennel seed, crushed
1/4 - 1/2 teaspoon ground anise
1/3 cup dark brown sugar
2 Tablespoons rice vinegar
4 garlic cloves, finely minced
4 green onion, thinly sliced
2 Tablespoons sesame oil
Instructions
Mix all of the marinade ingredients together and place in a large Ziploc bag or plastic container.
Add the pork tenderloin and spoon marinade over all.
Allow the tenderloin to marinate several hours or overnight, turning the tenderloin several times to coat.
Grill until medium rare or your preference.
Allow the tenderloins to rest for about 5-8 minutes prior to slicing. Slice crosswise on the diagonal.
Notes
We prefer our pork tenderloin on the rare side. Yes, it is okay to eat rare pork these days. It doesn't take much to overcook pork which is not a good thing.
Adapted from Food.com
Adapted from Food.com
Dining With Debbie http://diningwithdebbie.net/