Making this Guinness Orange Dark Chocolate Cake was definitely a labor of love, but it was also a real thing of beauty. I was so pleased with the way it tasted and the way it turned out.
Don't be scared off by the time and effort involved. It sounds more complicated than it really is. Plus, you'll be so proud of this special dessert you will be able to share (and show off) with your family and friends. They're gonna' think you are a baking genius.
Promise.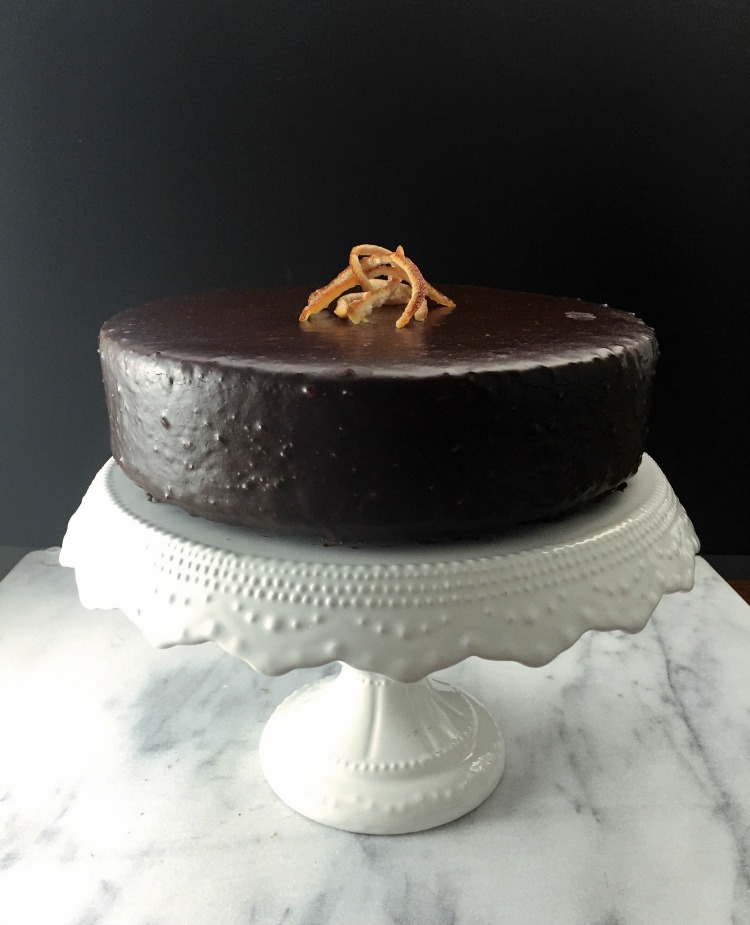 It does require a springform pan. It just doesn't work otherwise. Trust me. I may or may not have first-hand knowledge about that.
Oh. And don't skip the Guinness. You're being a wee bit Irish, ya' know.
If you've never candied orange peel before, you're going to discover how easy that is to do. If you've never made a ganache before, you're going to wonder why you haven't once I show you the easiest ever way to do that. And you're gonna' do both of those for this special dessert.
'Cause you're fancy like that. Yes, you are.
Let's do this! #ErinGoBragh!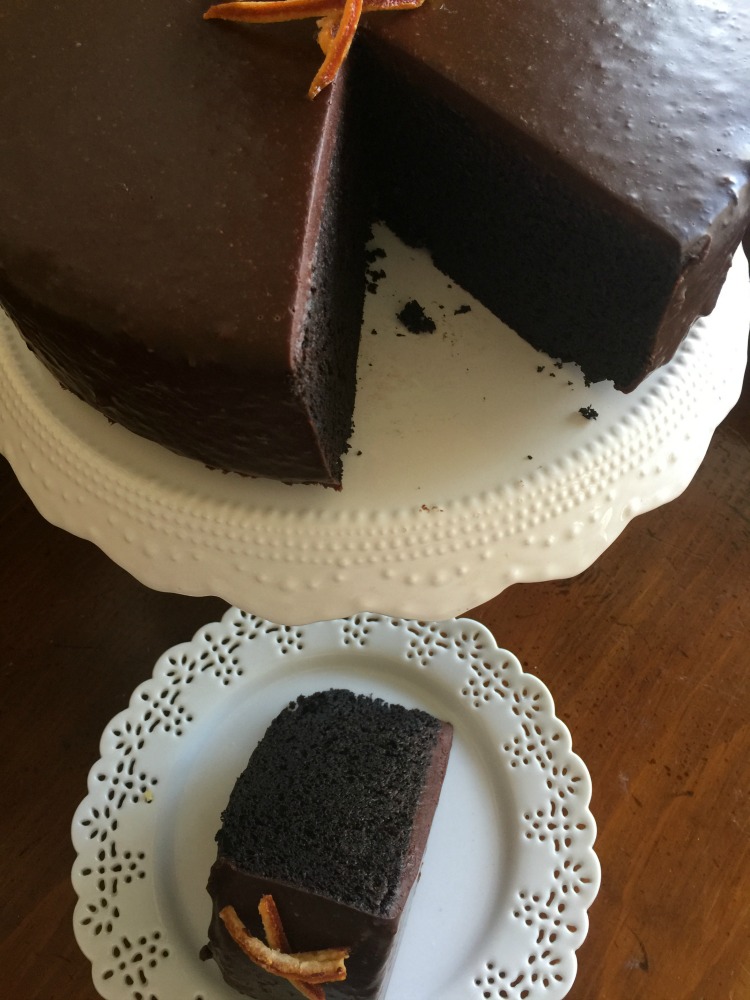 Guinness Orange Dark Chocolate Cake
Ingredients
Candied Orange Peel

3 navel oranges
1 1/2 cups sugar
1 cup water
Cake

Unsalted butter to butter pan
Parchment paper
9-inchSpringform pan
1 cup Guinness stout
10 Tablespoons unsalted butter
3/4 cup unsweetened dark cocoa
2 cups superfine sugar (grind sugar in a food processor)
3/4 cup Greek yogurt or sour cream
2 large eggs at room temperature
1 teaspoon orange extract
1 Tablespoon vanilla extract
fine zest of 1 orange
2 1/2 teaspoons baking soda
2 cups sifted all-purpose flour (Yes, sift it.)
.
Ganache

1 cup heavy cream
7 ounces Lindt Excellence Intense Orange Dark Chocolate, chopped
1 ounce dark chocolate chips
pinch salt
Instructions
Candied Orange Peel

(Prepare at least the day before baking the cake.)
Rinse the oranges. Cut a sliver off the top and bottom of each orange. Score the peel into quarters.
Remove the skin (pith included) and cut each quarter into thin strips.
Place orange peel strips n a medium saucepan and cover with water; bring to a boil.
Drain the water; repeat 2 times.
Mix sugar with 1 cup water. Pour into a medium saucepan and bring to a simmer; continue to cook 7-9 minutes.
Add the peel and cook for 45 - 60 minutes of just until the peels are translucent. Adjust heat as needed to maintain the simmer.
Avoid stirring as this will cause crystallization to occur. Make sure peels are covered in water throughout.
Drain, reserving syrup for another use. (Try using it to sweeten your tea.).
Place peeling strips on a wire rack to dry completely, at least 4-5 hours, preferably overnight.
Store in an airtight container.
Cake

Preheat oven to 350 degrees.
Generously butter a 9-inch springform pan; line the bottom with parchment paper.
In a large saucepan, combine Guinness stout and 10 Tablespoons unsalted butter. Heat over medium heat until butter is melted.
Remove from heat; add cocoa and sugar; whisk thoroughly to blend.
In a small bowl, whisk eggs, yogurt or sour cream, orange and vanilla extracts, orange zest and baking soda.
Beat in flour until smooth. (I use my hand mixer at this point.)
Pour into prepared pan. Tap pan on counter 2- 3 times to release air bubbles. Place springform pan on a baking sheet.
Bake until firm, bout 45 - 60 minutes.
Cool completely in the pan on a wire rack.
Ganache

In a small saucepan, bring cream just to a boil. Remove from heat and stir in chopped chocolate and chocolate chips chips and salt; stir until smooth.
Cool to room temperature.
To finish cake

Remove cake from springform pan and place on a wire rack.
Spread ganache evenly over top and sides of cake allowing excess to from top over the sides.
Allow ganache to dry completely before moving cake to a serving plate.
Garnish with candied orange slices (There will be extras. Freeze for later use.)
Notes
The Lindt Intense Orange Dark Chocolate has pieces of orange and almond slivers. Your ganache will not be perfectly smooth as a result, but it will be absolutely delicious!
https://diningwithdebbie.net/2017/03/08/guinness-orange-dark-chocolate-cake/
DiningWithDebbie.net. All Rights Reserved.