We are soup, stew and chili lovers at our house. Seldom a week goes by that I don't fix at least one version, especially during the fall and winter months. With January being National Soup Month, I decided to focus on that for my THV11 segments with chili varieties being the first. You can watch for those on the 10th and 24th at 6:15 a.m. I'll also post a link to those segments as I get them.
I figure when people say "chili" they are likely talking about beef chili. However, I've also made it with a combo of beef and pork like I do when I fix My Almost Famous Chili. Sometimes it's chicken, turkey and just veggies. I've also made it with venison, bison and elk, but I don't have access to those very often.
What's your favorite?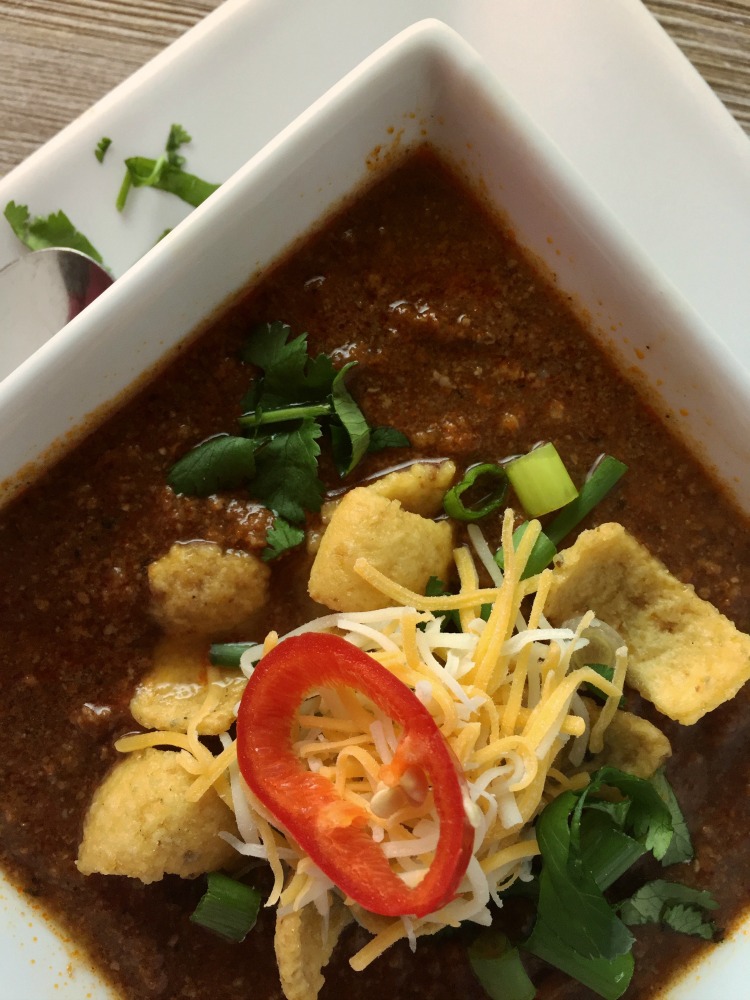 This truly is The Very Best Chili. It's my go-to version whenever we are looking to stay in from the cold and huddle up, but I've been known to make it during warmer months as well. We do like it spicy, so you'll have to tame that if you don't like the heat. Plus, it makes a huge pot but you can easily cut it in half. I usually just share with a neighbor or put some in the freezer for later.
We aren't really beans in our beef chili people, but add those in if you prefer. Nor are we chunky beef chili people. I use my immersion blender to smooth it out blending in those peppers and onion quite well. You won't ever get a noticeable bite of pepper or onion in my version. We just like the consistency so much better than chunky chili.
If I have some on hand, I'll throw in 4 of Rhoda's Famous Tamales, but it's not an issue if I don't have those. I also use crumbled corn tortillas or chips as a thickener. I think they add that authentic, deep flavor that you just can't get from anything else.
I've always been a Williams Chili Seasoning gal. It's what my mom used so it's what my palate is accustomed to I suppose. However, I also include a can of Rotel Chili Fixin's™ along with a couple of varieties of their green chilies and tomatoes. The hot variety and the Mexican variety are what I typically add.
I've judged a few chili cook offs in my day. While there are always some tasty entries…y'all you just wouldn't believe some of the ones I've seen. Now if you want to load your chili down with brown sugar and/or molasses, go ahead. That's just not me. Who am I to criticize your tastes? Just don't go expecting me to award you the blue ribbon in the cook off!
Oh, and I absolutely refuse to eat your chili if it's possum or coon. Or even armadillo—my Uncle Edward tried to slip that by me one time. Of course, he lived in Texas for most of his life so that tells you something!
My plans for the 10th include this Very Best Beef Chili, my Spicy Smoked Chicken Chili originally developed for Taste Arkansas and a vegetable version which pops up on the blog this week. I hope you'll be able to join me for the live show. If not, catch it on the video link.
What about you? When it comes to chili, what's in yours?
Thanks for stopping by.
The Very Best Chili, Y'all
Ingredients
4 pounds ground beef round
1 onion, coarsely chopped
1 poblano, seeded and coarsely chopped
1 jalapeno, stem removed (I leave the seeds in.)
1 Tablespoon chipotle in adobo (see note)
1 14.5- ounce can Rotel Chili Fixins™
1 envelope Williams Chili Seasoning (for 2 pounds meat)
1 14.5- ounce can Rotel™ Hot
1 14.5 - ounce can Rote™l Mexican variety.
4 cups Spicy Hot V-8 Juice™ (may need more)
2 cups beef bouillon
1 large Knorr beef bouillon cube
1 1/2 cups crushed tortilla chips (or more to thicken)
salt and pepper to taste
Instructions
Crumble ground beef into slow cooker insert. Add remaining ingredients . Do not brown the meat.
Cook on HIGH 4 hours or LOW 6 hours. (These are minimum times. I've cooked mine all day on LOW.)
Using an immersion blender, blend chili to desired smoothness.
Adjust seasonings to taste.
Notes
Sour cream Diced onion Diced tomato Diced avocado Chopped cilantro Shredded cheddar Cheese Warmed tortillas Corn Chips Fresh jalapenos
https://diningwithdebbie.net/2017/01/10/the-very-best-chili-yall-slow-cooker/
DiningWithDebbie.net. All Rights Reserved.