I really don't know why, but I've always had an affinity for all things Irish. And bread. So it makes perfect sense to me that I would especially favor this traditional Irish Soda Bread, doesn't it?
It is especially good served along with an Guinness Irish Beef Stew or Irish Lamb Stew. But you can do like I most often do and just slather it with a splurge of some softened Irish butter. I don't overindulge, but you can bet your shamrocks that I'll be snacking down on a slice or two come St. Patrick's Day.
You are welcome to join me.
I sometimes cheat just a tad and make this in my bread machine, but I wanted you to see a traditional round loaf. Plus, it does get a little crustier when cooked in the oven. Another trick I like to use is to cook it on my pizza stone, but you certainly don't have to have one in order to bake this bread.
It is best eaten fresh within a day or two at the most. That's usually not a problem at our house, however, since it tends to be gone by the first day anyway.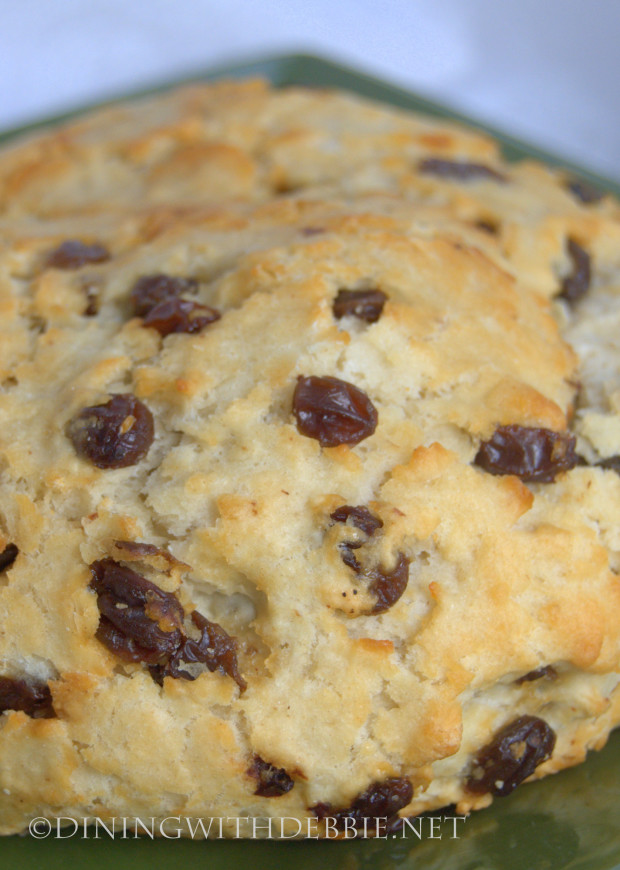 Irish Soda Bread
2015-03-08 18:53:55
Serves 8
Ingredients
3 1/2 cups all purpose flour
1 1/4 teaspoon baking soda
1 teaspoons salt
1 1/2 cups low-fat buttermilk, plus 1 tablespoon
4 tablespoons melted unsalted butter
3/4 cup dried cranberries or raisins
1 tablespoon caraway seeds
Instructions
Preheat the oven to 425 degrees.
Whisk together flour, baking soda and salt in a large bowl until blended.
Stir in the buttermilk, butter, cranberries or raisins and caraway seeds until a loose dough forms.
Lightly flour a work surface.
Knead the dough on the floured surface for about one minutes until a smooth ball is formed.
Shape into a round loaf, about 2 inches high. Place on baking sheet and using a sharp knife make deep X across the top of the loaf, from edge to edge, if desired. (I usually forget to do this.)
Brush the top with the remaining 1 tablespoon buttermilk.
Bake for 30 minutes; lower the heat to 400 degrees F and continue baking for 10 minutes more, until golden brown.
Cool completely on a wire rack.
Dining With Debbie http://diningwithdebbie.net/
Irish Soda Bread Muffins

Pistachio Irish Cream Cak
e
Colcannon and Colcannon Croquettes

Irish Beef Stew

Irish Cream Bundt Cake

Homemade Irish Cream Liqueur