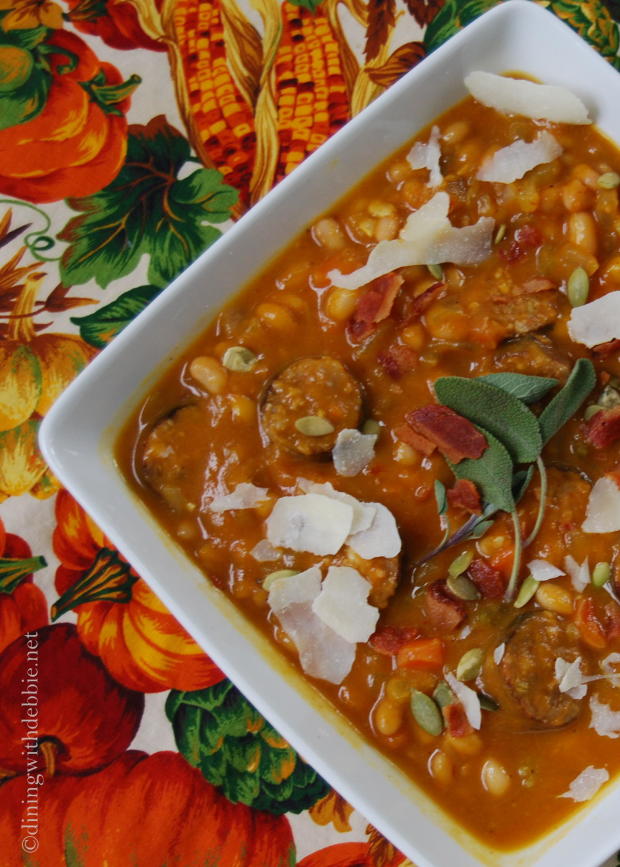 Don't say no to pumpkin soup. Especially when it's made with hearty Italian sausage and navy beans enhanced with the flavor and aroma of sage. Ya'll this stuff is so tasty. I just know you're going to love it as much as we do.
You should have smelled my kitchen as it was simmering on the stove. It was one of those gray days. You know the one where the whole world seems dressed in gray with a cloak of fine mist hanging out ALL. THEL. DAY. Yep. That kind of day.
Those gray days as I call them just call for something warm and inviting on the dinner table, don't they? Plus, it always cheers me up to get a pot of something hearty and filling going so that I can, if need be, tend to it off and on all day.
This soup doesn't need a lot of extra attention, but it will make you smile each time you give it a stir. Inhale the aroma of the pumpkin and sage and your mouth will be all set for a full-blown taste of autumn.
It just says, "fall ya'll."
And those leftovers? IF you have any soup left over from dinner, heat it up for lunch the next day. The flavors of the sausage, pumpkin and sage just develop even more. In fact, this is one of those soups that just begs to be made the day before. Isn't that always a good thing during the busy holiday season?
This is also a good one for the slow cooker if you don't need the "stir therapy" for a gray day.
Pumpkin Soup with Italian Sausage, Navy Beans and Sage
2014-11-07 09:34:48
Ingredients
3 cups chicken or vegetable stock
2 bay leaves
4 sprigs thyme
2 Tablespoons butter
1 onion, diced
2 stalks celery, diced
2 Tablespoons garlic, minced
3 carrots, peeled and cubed
4 cups canned pumpkin puree (not pie mix)
2 15.5-ounce cans navy beans, drained and rinsed
3-4 Italian sausage links (we prefer hot), browned, cooked and sliced into thin rounds
2 teaspoons dried Italian seasonings, crushed
1 chipotle pepper in adobo, chopped
5-6 sage leaves, chopped
crisp pancetta or bacon as garnish
salt and pepper
Instructions
Steep the bay leaves and thyme in the chicken stock for approximately 20 minutes; strain and discard herbs, reserving the stock.
In a large soup pot, add the butter, onion, celery and carrots and cook over medium heat until the vegetables are tender.
Add the garlic and cook just until fragrant.
Whisk together the stock and pumpkin puree and add to the soup pot; Stir in the navy beans, sausage, chipotle pepper, sage and Italian seasoning blend.
Slow simmer for 45 minutes to 1 hour to develop the flavors.
Season with salt and pepper; garnish and serve with a crusty bread or cornbread.
Notes
The flavor of this soup actually improves overnight.
Adapted from The Local Palate
Adapted from The Local Palate
Dining With Debbie http://diningwithdebbie.net/