Disclosure: I received a copy of Southern Living's Comfort Food Made Easy and a container of Lou Ana Coconut Oil for this review. All opinions are my own.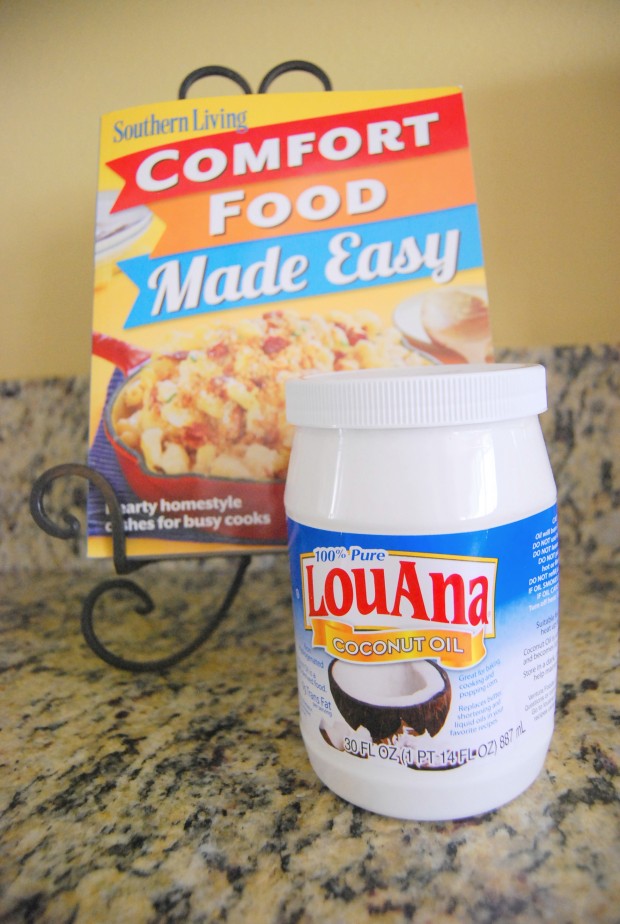 I'm a Southern girl who grew up on Southern Living Magazine. It remains a steady source of deliciousness and gorgeousness in my home today – rather like the idea that if I read it enough some of it was sure to magically make my home and garden look just like the dreamy pictures I poured over with each new issue. So when I was asked to review a new Southern Living cookbook and a sponsoring product, coconut oil from Lou Ana, I jumped on the chance. I already own a number of SL cookbooks and have been a steady user of Lou Ana coconut oil for quite some time. Easy peasy. Or so I thought.
Somehow life, family, and a little excursion with the grands kept me at bay and I didn't get to the review as quickly as I wanted. But the wait is over. I've prepared several of the dishes from the cookbook and utilized the coconut oil as often as I could. I prefer to actually and as thoroughly as I can, use the products I am asked to review.
Honestly, I wasn't overly impressed with Comfort Food Made Easy when it first arrived. You know I love cookbooks and read them in much the same way that most people read novels So another "how to," "easy and quick" cookbook just didn't appeal to me as one I would buy for myself. But I trusted Southern Living's reputation for quality and decided to give it a real try. It kind of grew on me the more I used it and it did live up to its promise of providing tasty and simple recipes that would appeal to both the novice and the experienced cook.
I remember all too well those rushed afternoons after work when I needed to get a meal on the table before ballgames, teacher conferences, music lessons, or other items that crowd the family calendar. The chapter on "Slow Cooked Meals to Savor" features several slow-cooker meals that I would definitely use. Several, such as the braised short ribs, barbecued brisket and chile verde, weren't especially new to me, but they are those dinner-time staples that we all rely on and that our families love.
Two of the dishes from the "30-minute Favorites" section that we really enjoyed were the Fried Egg Sandwiches, a breakfast for dinner meal for us, and the Brown-Sugar Waffles, which I turned into a quick and easy dessert" after making the waffles ahead and freezing them. I don't see me making the "Fried Okra Tacos," however, but you might choose to do so. I want that fried okra to dance around my plate with some fresh purple hull peas and summer heirloom tomatoes and probably the "Roasted Sweet Potatoes" found on page 228. I told you I was a Southern girl! I'd love to know if you give those tacos a try.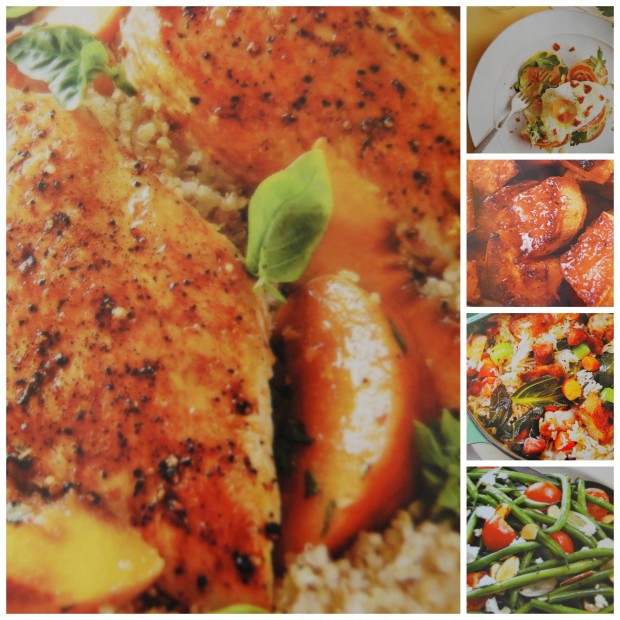 Photo Source: Comfort Food Made Easy
I'm really looking forward to making the "Oven-Baked Pilau with Chicken and Collards" which is the next recipe Hubby chose for me to prepare. It not only has eye-appeal, it's chock full of flavors with smoked sausage, chicken thighs, collards and rice. It's another one that can be prepared in an hour or less and is a full meal in one pot. I'm also intrigued by the "Chicken Crepes with Swiss Cheese Sauce" which I just know has tons of flavor and I love that it uses prepared egg roll wrappers as the crepes.
From the "No-Cook Wonders" section, the "Cucumber Salad with Tomatoes" has become a favorite with us. While it is very similar to the cucumber and onion salad I routinely make during the summer when our cucumbers are prolific in the garden, it doesn't use all of the granulated sugar included in that one. I did use replace the English cucumber with small pickling cucumbers because that's our preference, but I don't think it made a substantial taste difference. It made a perfect side dish for the homemade grilled pizza we prepared and is sure to become a staple in our menu rotation.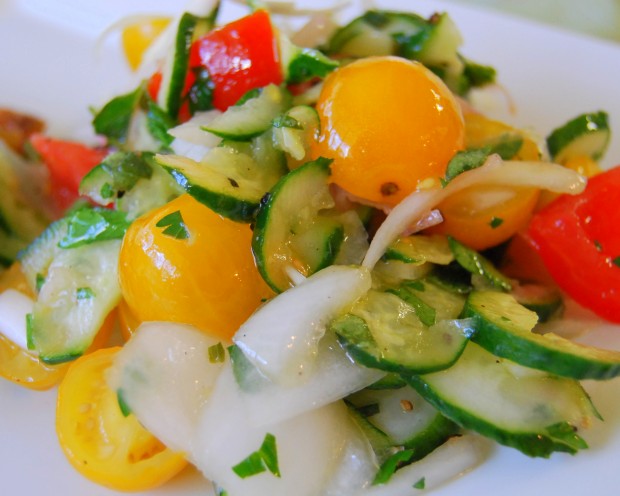 The cookbook claims to offer "hearty homestyle dishes for busy cooks" which I believe it does. It would be an excellent choice for a novice or less experienced cook, a new bride perhaps? Personally, it is probably not one I would have selected for my library simply because I was already quite familiar with many of the recipes that were included, so many of which I make without consulting a recipe. But that's just me.
It's an Oxmoor House publication edited by Susan Ray and is available in paperback for $21.95.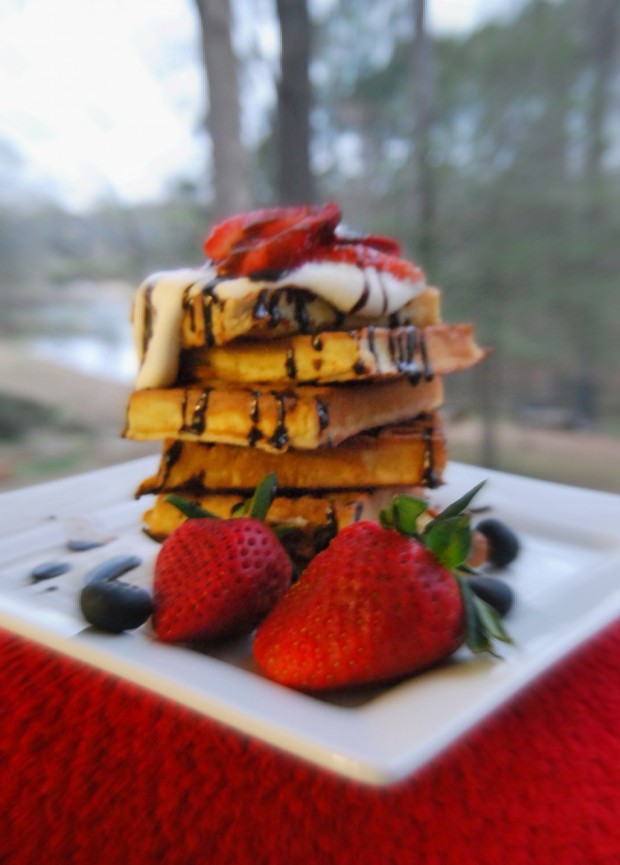 Lou Ana Coconut Oil
Whenever I could, I substituted Lou Ana Coconut oil for the butter or oil in the preparation of the recipes from this cookbook and they all worked well. I especially liked it in the "Brown Sugar Waffles" that I adapted in the strawberry – coconut "shortcake" version shown here. I also used it in a Coconut-Pecan-Chocolate Chip Pie that I'll be sharing on the next couple of weeks in a post that will also include even more uses for the coconut oil. I have to let you in on a little secret though, one of my absolute favorite ways to use coconut oil is as a skin cream! You probably already knew what a difference it makes, but for someone who suffers with dry skin, it was a beautiful revelation. Have you ever looked at those South Pacific beauties and their gorgeous skin? How do you think they got that? I just know it had to be all of that coconut meat, coconut water and coconut oil, don't you think?