By Paige (Lorrabeth) Wolven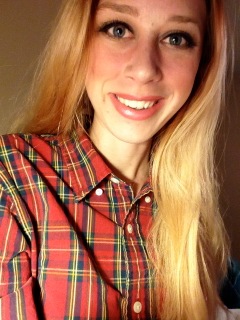 Paige, whose middle name is lorrabeth, loves to hear live music, experiment in the kitchen, and explore her neighborhood. She has been baking gluten free for a year, and loves pie.
Follow Paige on twitter at @lorrabethblog
I'm so excited to be sharing this recipe with you on Debbie's blog! I'm on a mission to bake a pie a month for the entirety of 2014. It's only April, and I've been doing pretty well – if you count these adorable hand pies! They were so easy, fun, and delicious that I thought it would be fun to share the recipe! This is my first attempt, and making them got me really excited about all of the different fillings and shapes they could have. This recipe only makes about four or five slightly large hand pies, so it's perfect for a first attempt, a small gathering, or just dessert and breakfast the next day!
I've been gluten free for a year now, and have learned a lot through trial and error. Pie crust was one of the first things that I made with gluten free flour, and the results have always been favorable. When I started baking without wheat flour, I didn't want to be limited to only "gluten free" recipes, which call for any odd measurement of a slew of flours, starches, and other powdery things. Instead I set out to find an all purpose flour substitute, and use my regular cook books to bake just the way I always have. I mix my own gluten free flour, but if you're just starting out I recommend trying Bob's Red Mill's gluten-free flour, which you can buy at most grocery stores now.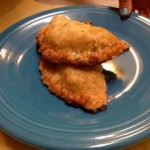 Paige's Cherry Hand Pies
2014-03-05 20:26:07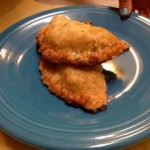 Ingredients
1 single crust pie dough
1 can (15 oz) red tart cherries in water
1/4 cup plus 1 tablespoon. sugar
1 tablespoon. cornstarch
1 pinch of cinnamon
1 shake of salt
1 egg white, lightly beaten
Instructions
•Make pie dough using your favorite recipe. We use America's Test Kitchen's Traditional Single-Crust Pie Dough, substituting an all purpose gluten-free flour mix in for the all-purpose flour.
•
Pastry
Roll the dough into golf ball sized balls, flatten them with your palm slightly and shape the edges to keep the discs circular
Roll flat with a rolling pin and refrigerate between sheets of parchment paper for 30 minutes, or until firm.
Let them rest at room temperature for about 5 minutes after they have set.
Preheat the oven to 400 degrees.
Filling
For the filling: drain the cherries in a strainer, shaking often for about 30 minutes
In a medium bowl, stir 1/4 cup of the sugar, the cornstarch, cinnamon, and salt.
Add the drained cherries and stir until they are coated.
Spoon a small amount of filling into the center of each disc of dough and carefully fold them in half.
Pinch the edges together, or press with a fork to seal. Brush the egg white over the tops of the dough, and sprinkle with the remaining tablespoon of sugar.
Bake on parchment covered baking sheets for 15-20 minutes or until golden brown.
Enjoy warm from the oven, or cooled; with a fork, or with your hands!
Notes
We're really excited to make these again with different fillings and to try different shapes.
So have fun, experiment, and let us know how they turn out!
Dining With Debbie http://diningwithdebbie.net/