I have a love-hate relationship with blackberries. My Nonnie and Pa knew the best "secret" places to find and pick wild blackberries so when I was growing up, picking those berries became a summer ritual for the three of us.
While I loved eating those berries straight from the vine, I sure didn't like the process I had to go through to get them. I sure wish I had a photo of me all set and ready to head out to pick blackberries. I must've been a real sight to behold.
First of all, I had to wear a long-sleeved shirt and long pants. And gloves. Y'all this was summer. In Arkansas. Usually late June or early July — we're talking 90-100 degrees easily. I was pretty much wet from sweat prior to ever heading out! Then there was this sulfur concoction that Pa insisted on slathering on all of us. From head to toe.
Arkansas. In the summer. We're not just talking HOT. We're talking chiggers. And snakes.
Can you say M.I.S.E.R.A.B.L.E?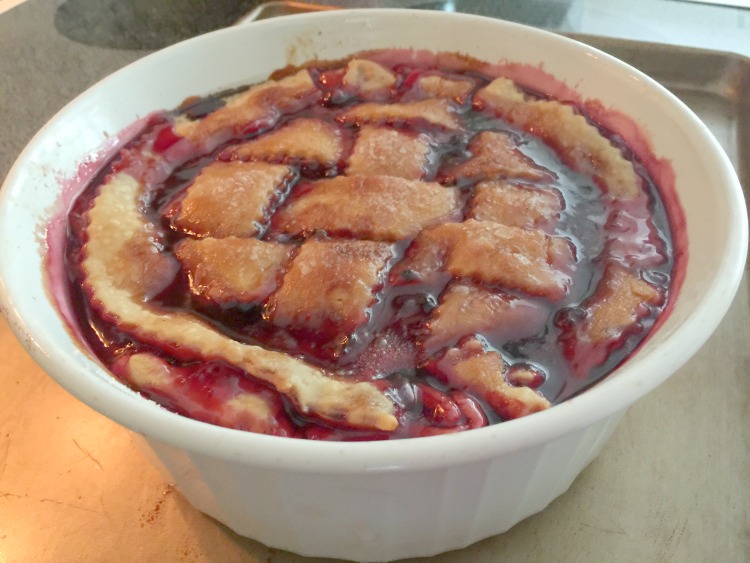 The only thing that made all of that worthwhile was Nonnie's absolutely delectable blackberry cobbler. She and I had a preference for the dough dumplings she always sneaked into the cobbler juice. I still follow her example by cutting up pieces of raw pie crust and stirring them into the cobbler liquid before putting on the lattice crust.
Oh, and I always got to eat my fill of those deep purple, almost black orbs of deliciousness straight from the pickin' bucket.
While I don't have access to those wild berries today, I can fill up on really nice ones from the farmers market. Honestly, they just don't seem as sweet as the wild ones I remember from my childhood.
Isn't that the way it always is?
This is a really close reproduction of Nonnie's cobbler. Hers would have fed 10-12 people, though, cause she never fed just a few.
Old Fashioned Blackberry Cobbler
Ingredients
1 cup water
11/2 cups sugar
Fine zest of 1 lemon zest
2 1/2 cups blackberries
1 1/2 tablespoons fresh lemon juice
6 Tablespoons unsalted butter
granulated sugar
Instructions
Prepare dough for a 2-crust pie. Try my [Never-Fail Pie Crust [http://diningwithdebbie.net/2009/12/26/sugar-doll-award-and-vails-never-fail-pie-crust/]. This actually
Preheat oven to 350 degrees.
Line a 2-quart baking container with 1 crust; reserve the remaining one to make the lattice top crust. If you prefer, you can cover the top with a solid sheet of pastry crust rather than the lattice one.
In a medium saucepan, bring water and sugar to a boil. Boil rapidly for 5 minutes.
Add in lemon zest and blackberries. Reduce heat and simmer until blackberries soften and sauce thickens.
Add in lemon juice and 4 Tablespoons butter. Stir well to combine. Continue to cook until sauce reaches 220 degrees or is quite thick.
Pour berry mixture into prepared cobbler dish. Top with preferred crust. (I like to drop small dumplings into the cobbler before topping.)
Dot top with remaining 2 Tablespoons of butter that has been cubed.
Sprinkle all over with granulated sugar.
Set cobbler dish on cookie sheet to protect oven from possible boil overs.
Bake for 50-60 minutes at 350 degrees.
Serve warm with vanilla ice cream, whipped cream or heavy cream.
https://diningwithdebbie.net/2017/08/18/old-fashioned-blackberry-cobbler/
DiningWithDebbie.net. All Rights Reserved.