Make this Independence Day celebration or your next summer party an extra-special event. Grill up a bunch of Petit Jean Meats hot dogs, franks or Grillers and allow your guests to use their creativity to kick their dogs up to the next level. Set up a wide variety of condiments — mustards of various heat and hues, Mexican crema, tzaziki, basil pesto, kicked up ketchup, and maybe some chipotle mayo — whatever suits your fancy.
Start with that pickle relish — either dill or sweet — but don't stop there. Set out bowls of jalapeno, chopped onion, chopped cilantro, chili, cucumber, cheeses of all kinds — have fun and try something new and different.
Preparation:
Preparing a hot dog is largely a matter of taste and tradition. Boiling them to death and zapping them in a microwave should never be part of your preparation, however. Hot dogs, franks and Grillers are already precooked so you do not need to overdo the cooking. You are primarily heating them through to bring out the great flavors that are already there.
Instead, here are a couple of the ways I do it.
First, heat a pan of water just to boiling. Drop in the desired number of hot dogs and remove the pan from the heat. Cover and let stand 5-6 minutes. Remove hot dogs and drain well on paper towels.
Nonstick Skillet:
Pour in a tablespoon of olive oil and heat skillet over medium-high heat. Add hots dogs to skillet, turning periodically to heat through and crisp.
Grill:
Place warmed hot dogs over indirect heat on the grill. Allow to crisp, turning frequently. I like to achieve light grill marks, but do not cook the hot dogs until they shrivel. Grilling gives you those great grill marks that make hot dogs taste like summer — and plumpness, because an overcooked, wrinkled hot dog is just not a good look on any bun.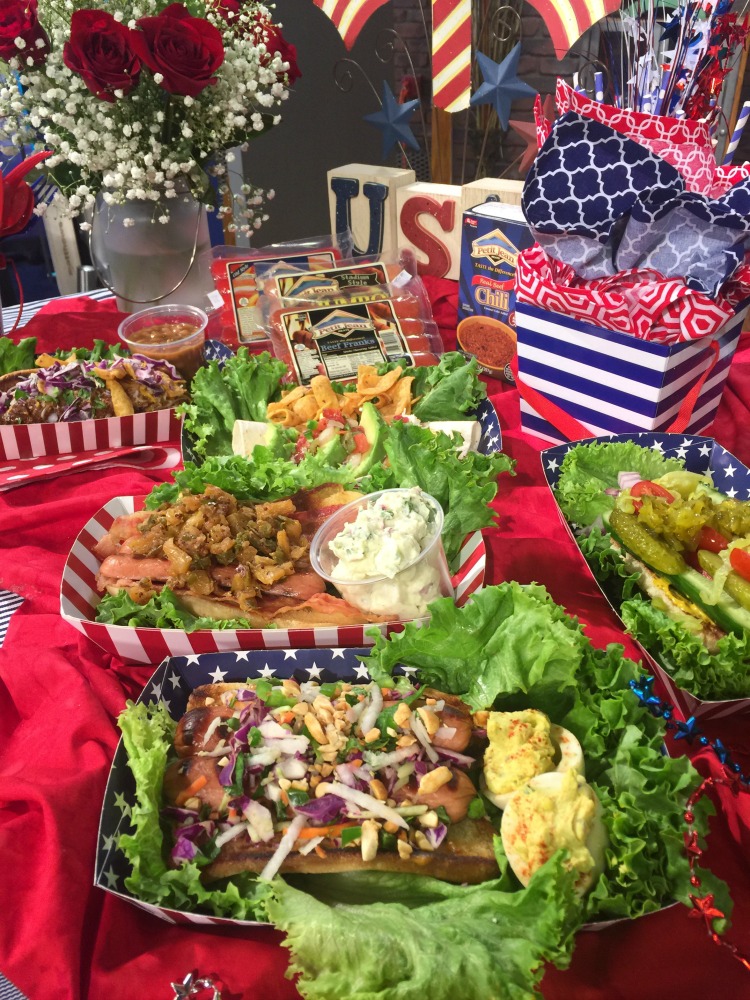 Give these a try:
Greek Hot Dog:

Spread toasted bun or a piece of pita bread with tzatziki sauce (purchased or homemade). Top with a Petit Jean Meats Jumbo Griller, thinly cut English cucumber slices, crumbled feta, Kalamata olives and chopped cherry tomatoes.

Mexican Hot Dog

: Spread Chipotle-Crema or

Chipotle-Lime Dipping Sauce

on a toasted bun or flour tortilla. Top with prepared Petit Jean Meats hot dog or Griller, Top with cojita cheese, chopped avocado and pico de gallo. Garnish with a drizzle of crema and a sprinkle of chopped cilantro, if desired.

Chicago Dragged Through the Dogs:

Serve boiled Petit Jean Meats Hot Dogs on poppy-seed buns with dill pickle and cucumber spears, sliced tomatoes, sweet pickle relish, pickled peppers, diced onion and yellow mustard. Sprinkle with celery salt.

Caprese Dog:

Cut a crusty, toasted demi-baguette in half and slice it down the side (or use your favorite hot dog roll or bun). Tuck in a Petit Jean Meats Jumbo Griller and fresh basil leaves, then top with balsamic ketchup, halved fresh ciliegine mozzarella, halved cherry tomatoes, salt and pepper.

Spicy Thai Hot Dog:

Spread buns with a thick layer of purchased or homemade Thai peanut sauce, then top with Petit Jean Meats Beef Franks. Spoon on Asian slaw, and garnish with chopped cilantro, peanuts and jalapeño.

Hawaiian Dog:

Line a toasted, whole wheat hot dog bun with warmed Canadian Bacon slices or cooked Petit Jean Hickory Smoked Bacon slices. Top with a Petit Jean Meats hot dog or Griller and pineapple-mustard relish.
To get that recipe for Pineapple-Mustard Relish, head on over to the THV11 This Morning segment where I shared even more ideas for gourmet hot dogs.