I'm not sure there's anything more Southern than sweet tea. I mean r.e.a.l.l.y. r.e.a.l.l.y sweet tea. The kind my grandmas made every single day until they were no longer able. And if you were raised in the South, you know the kind of tea I mean.
My Nonnie and Mamaw both brewed their tea from tea leaves. Well, Nonnie finally came around to using tea bags but Mamaw never did. And nothing would do for either one of them except Lipton Tea. If either one ever even knew of any other brand, I couldn't say. Both brewed their tea in pretty much the same way.
Strong and sweet. Did I tell you it was really sweet?
That's what I grew up with, not knowing any better, I suppose.
And probably nothing was more refreshing on those blisteringly hot summer days in Arkansas when our only air conditioning was either a breezy window fan or, later, a single window unit that was to serve the whole house. Nobody but nobody had central air when I was early elementary age.
Anyway…there was always tea. A big, ginormous pitcher of it always sitting on the counter or in the icebox. (You may not have a clue as to what as icebox is. Let's just say it was an early, early refrigerator. Probably a Frigidaire.)
Both of my grans probably poured a half pitcher of sugar to mix with their tea. At least it seemed so to me, and I didn't think anything of it at the time. The tea was brewed strong — and I do mean strong. Most of the time, you couldn't see through it. It was added hot to the sugar and mixed with either cold water or ice until the sugar dissolved.
The words "unsweetened" and "sweetener" probably never crossed their lips.
While I don't sweeten my tea—at least not with cane sugar—I still like my tea strong. That almost-colored water that is sometimes served in restaurants is a real disgrace, y'all. And I'm one to sweetly complain about it. It doesn't do much good, but I still voice my opinion and just ask them to bring me a glass of water instead.
Imagine.
I prefer a good black tea for my iced tea, and I typically use Luzianne. I'm not opposed to Lipton, however. I'm not a tea "snob," and I mean that in a good way. Some of you will have much more refined palates than I when it comes to your brew, I know. I'd love to get your recommendations.
And I don't drink decaffeinated tea typically anymore either. I've cut way, way back on my caffeine intake so I like that little burst of energy I get from my afternoon glass while sitting on the porch with my feet propped up.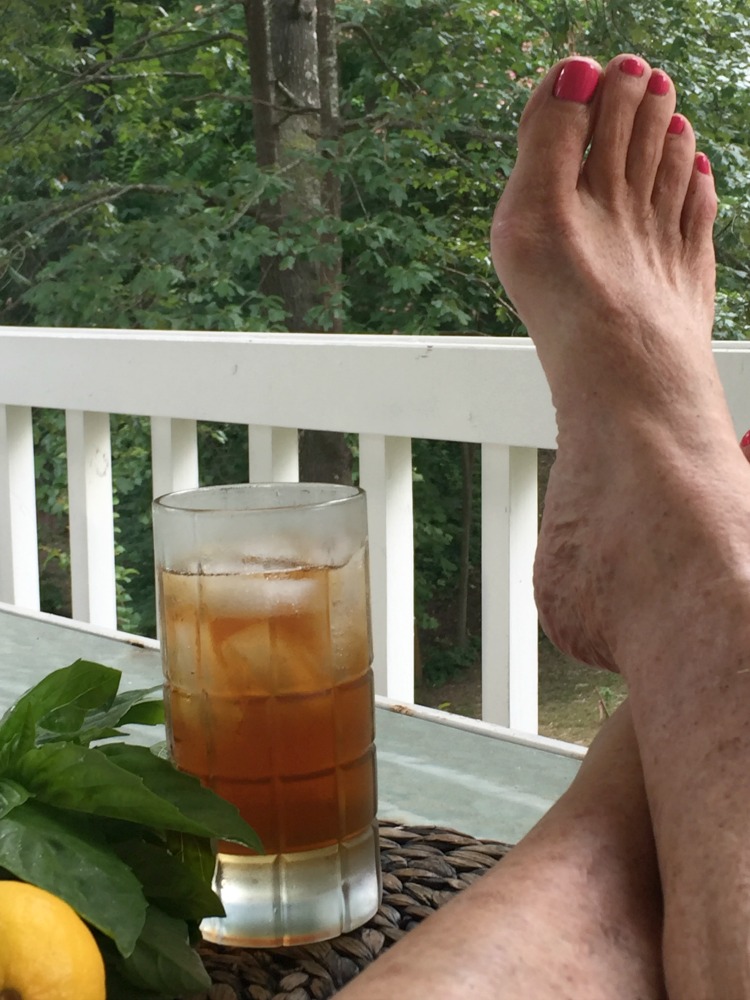 Call it my meditation time.
I don't ever have a problem with my tea becoming cloudy (a good characteristic of Luzianne), but I've read that you can avoid that happening by adding in the slightest bit — maybe an 1/8th of a teaspoon — of baking soda in the mixture.
I've not tried that myself. Let me know if you do.
If I do need to make a sweetened tea, I prefer to use a simple syrup rather than granulated sugar. Using a simple syrup insures an even distribution of the sweetness throughout your tea. This time of the year with all of my herbs growing full steam, I like to flavor that simple syrup with my "herb of the day." I'm especially partial to lemon balm, basil, lavender and mint. Not all at the same time, of course.
I keep the simple syrup in the refrigerator for those desiring to sweeten their tea. The amount used is an individual preference. I suggest starting with a quarter cup to 8 ounces and go from their to suit your taste.
I also make fruit teas with peach, raspberries and watermelon being a few of my favs. I'll tell you how to do those in the next installment of "as the tea turns."
What about you? Are you an iced tea drinker? Sweet or unsweet? Flavored or no?
Lemon? Me? I seldom use lemon, and I never use lemon in a restaurant. It's a little quirk I have.
So here's the basics of what I do to make a truly refreshing Southern Sweet Tea.
Kitchen Basics: Sweet Southern Iced Tea
Ingredients
Simple Syrup

1 cup granulated sugar
1 cup water
1 cup basil leaves (mint, lemon balm), optional
Brewed Tea

8 - 10 cups of water (distilled or bottled makes a clearer, tastier tea)
2 family-sized tea bags
Instructions
Simple Syrup

In a small saucepan, bring sugar and water to a boil.
Reduce heat to a simmer until the sugar is dissolved, about 3 - 5 minutes.
Remove from the heat, add herbs if using, and let cool completely.
Strain herb leaves. Pour syrup into jars, cover and refrigerate until use.
Brewed Tea

In a medium saucepan, bring water to boiling.
Add tea bags, cover and set aside to cool completely.
If desired, add additional water until desired strength is achieved. Remember...there will be ice.
Notes
This may seem overly simplistic to you because it is. I think the key to a really good glass of tea is to brew it strong, let it cool completely and avoid refrigerating it if possible.
You can certainly choose to sweeten the whole pitcher if you like, but when you do, use simple syrup. I'll think you'll be pleasantly pleased.
If you prefer using loose tea, please do. I'm all about the simple.
https://diningwithdebbie.net/2017/06/19/kitchen-basics-simple-sweet-southern-iced-tea/
DiningWithDebbie.net. All Rights Reserved.