Spelt is a species of wheat (some will say that spelt is a close relative of wheat) that was a very important crop in ancient and medieval times, but now it is only commonly grown in Europe. It's been around in the United States since the 1890s, but it was replaced in the 20th century by bread wheat. Spelt is making a comeback, however, as its nutritional value is being recognized.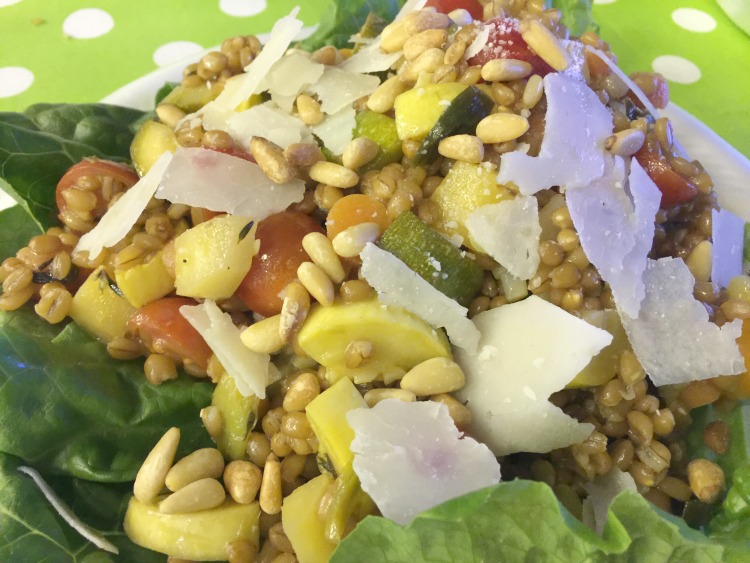 Resembling orzo, whole grain spelt is, of course, high in starch but it is also high in fiber similar to whole wheat. It has a low glycemic index, making it a good option for those who need to regulate blood sugar. Spelt is not a good choice for those people who are gluten intolerant.
I like that spelt grain retains its shape giving it a nice, chewy texture in a dish. It has a somewhat nuttiness to it that we enjoy as well. It can be substituted fairly well in recipes calling for rice or pasta. Spelt is actually one of the easiest of the ancient grains to cook.
Having recently fallen in serious like with sorghum syrup again, I'm making several variations of sorghum vinaigrette so it seemed a natural choice for this Spelt Salad. I think it marries perfectly with the heartiness of the grain and vegetables.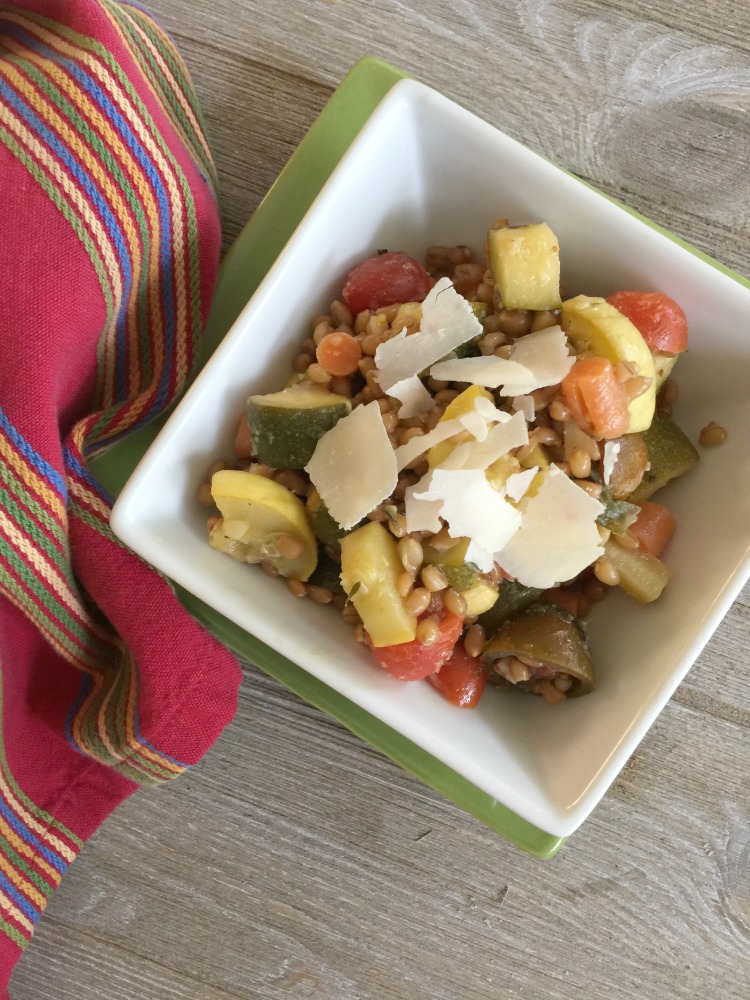 This salad works really well for your summer picnics when you don't want to take a chance on a mayonnaise or other dairy-based dressing. It keeps very well several days in the refrigerator. While it's a terrific side dish, it works equally as well as a light lunch or dinner.
If you've gotten the idea that there's more to grains than rice and quinoa, good for you! Perhaps you're ready to move on to freekeh or spelt. You'll be glad you did. Promise.
Spelt Salad with Lemony Sorghum Vinaigrette
Ingredients
1 1/2 cups uncooked spelt
4 Tablespoons olive oil
2 cups chopped carrots
2 medium zucchini or yellow squash, quartered lengthwise and cut into 1/2-inch pieces (or a combination)
6 green onions, cut into 1-inch pieces
1 cup halved cherry tomatoes, optional
1/3 cup fresh lemon juice
fine zest of 1 lemon
1 Tablespoon chopped fresh rosemary
1 Tablespoon sorghum syrup (substitute honey)
1/2 teaspoon salt
1/2 tsp black pepper
1/2 cup chopped, toasted walnuts, pistachios or pine nuts
2 ounces Parmigiano-Reggiano cheese, shaved
Instructions
Combine spelt and enough water to cover by 2 inches. Bring to a boil; reduce heat and simmer, covered about 1 hour or until tender.
Drain well; place in a large bowl.
In a large skillet, heat 1 Tablespoon of the olive oil over medium heat. Add carrots; cook about 2 minutes.
Add zucchini or squash and green onions; cook and stir for about 6 minutes just until vegetables are tender.
Add vegetables to spelt and stir. Stir in halved cherry tomatoes
In a Mason jar, combine lemon juice, zest, rosemary, honey or sorghum syrup, salt and pepper with the remaining 3 Tablespoons olive oil. Cover and shake vigorously.
Pour over spelt mixture, tossing to combine.
Serve topped with walnuts, pistachios or pine nuts and cheese.
https://diningwithdebbie.net/2017/05/15/spelt-salad-with-lemony-sorghum-vinaigrette/
DiningWithDebbie.net. All Rights Reserved.