What's the greatest invention of this century?
No. Not the cell phone. Although, it has changed our world, hasn't it. Now you can NEVER get away from your job. Or your kids. Or your parents.
Heck. It's not even the computer which I'm using right now to write this little diddy of a blog (huh???) post (double huh???).
I'm here to tell ya' the greatest invention of this century is the deli rotissiere chicken.
Don't judge.
I can easily whip up 3 meals for Hubs and me with just one of these guys. And that's not even eating it "as is." I mean. How boring would that be?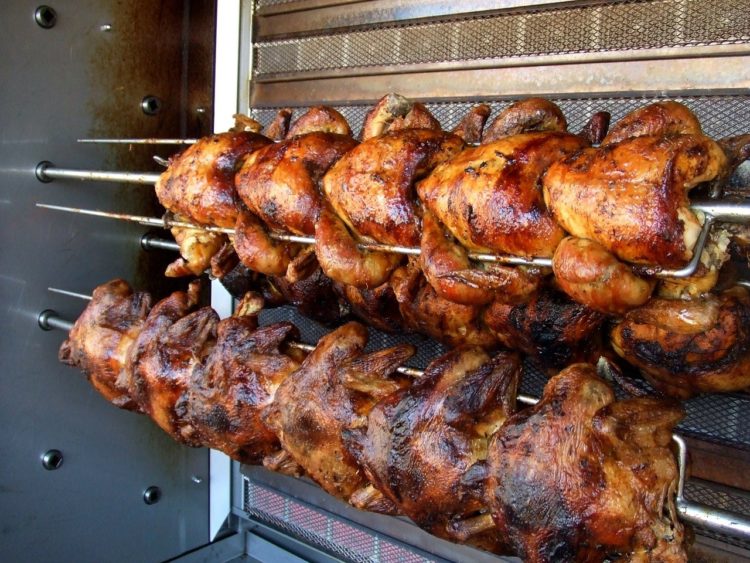 Let's start with salads. Which is exactly what I did this week for my THV11 This Morning TV segment: Helen Corbitt's Chicken Salad (decadent but oh my goodness delicious, Blueberry, Strawberry, Chicken Salad with Blueberry Vinaigrette, and this absolutely yummy Hearty Chicken Greek Salad with Feta Vinaigrette.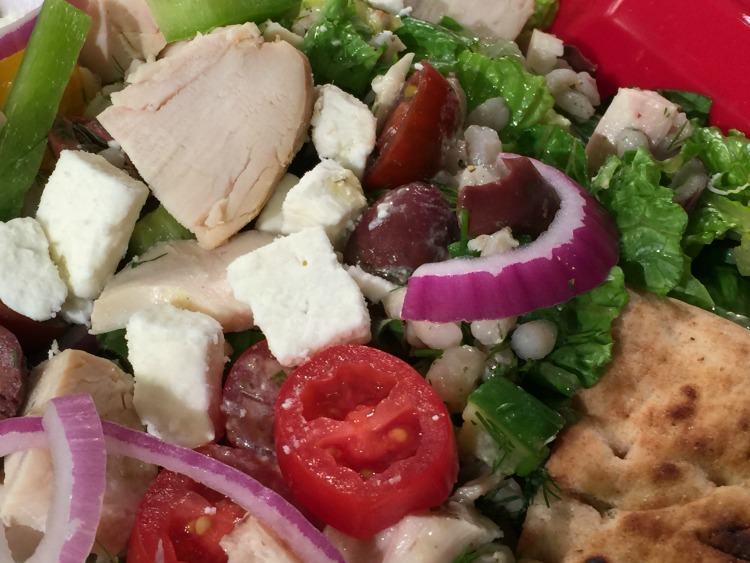 Don't you want to jump right in the middle of this and yell "Opa!"?
This is a full-meal salad for us. I love the intense flavor going on here and the nuttiness of the pearled barley. And what's super-uber nice is that it is really, truly healthy. I call that a big win-win.
And that Feta Vinaigrette. Well, it deserves a super big YUM!
You're not throwing away that chicken carcass are you? Throw that baby in the pressure cooker or slow cooker and whip up a batch of really flavorful broth. You've just saved yourself a dollar and change. I like to remove most of the chicken fat prior to freezing the broth for a later use. You can do that by straining and then refrigerating the freshly-made broth until the fat rises to the top, removing it, then freezing. Or you can throw in a batch of ice cubes into the cooled broth to solidify the fat. Carefully remove the ice cubes from the broth — you'll get quite a bit of the fat but not as much as you will with the refrigerator method,.
Know what? I still have enough chicken left from the ones I used for this THV11 segment that I'll get at least 2 more meals out of it. We recently had chicken noodle soup and chicken and dumplings so those are out as options. I made chicken puffy tacos for dinner last week — still have some of that left so I won't make it again this week. Chicken and Dressing? Chicken and Rice Soup?
Nah. The weather's warming to the 80s this week which puts me out of the soup mood. And definitely out of the Chicken and Dressing mood.
I'm thinking I should just package it for the freezer and have it handy for some busy summer days ahead. There's a whole bunch of ideas floating around in my head—
What about you? What would you make with the leftover chicken? There's plenty so don't worry about having enough.
Looking forward to what you have to share.
In the meantime, go buy a rotissiere chicken and make this salad! You'll think better on a full stomach.
Hearty Chicken Greek Salad with Feta Vinagrette
Ingredients
Salad

1 cup pearled barley, prepared according to package directions
2 roasted chicken breasts, cubed
2 small cucumbers, cubed
1/3 cup minced fresh dill
1/2 cup fresh oregano leaves
3/4 cup Kalamata olives, pitted and halved
1/2 small red onion, thinly sliced with large rings cut in half
1 green bell pepper, seeded and cut into thin strips, halved
1 cup halved grape tomatoes
2 heads romaine, chopped (3 if small)
1 cup feta cheese crumbles
Dressing

1/4 cup red wine vinegar
1/4 cup fresh lemon juice
1/2 cup extra virgin olive oil
1 teaspoon dried oregano
1/2 teaspoon salt (or to taste)
1/2 teaspoon freshly cracked black pepper (or to taste)
1 large shallot, minced
1/2 cup feta cheese crumbles
1/4 cup minced fresh parsley
2 oil-packed anchovy fillets
Instructions
Salad

In a medium saucepan, cook the barley in salted water (or chicken broth) according to package directions. Rinse cooked barley under cold water and spread to dry on paper towels; set aside.
Prepare remaining salad ingredients and toss with barley in a large salad bowl. Chill.
Dressing

In a blender, puree dressing ingredients. Toss with salad.
Adjust seasonings to taste.
https://diningwithdebbie.net/2017/04/28/hearty-chicken-greek-salad-with-feta-vinagrette/
DiningWithDebbie.net. All Rights Reserved.