Spring has finally arrived (I hope!) in Arkansas. Our strawberries are just finding their way into the local markets, and they'll be finding their way into lots of dishes at our house. This Blueberry, Strawberry and Chicken Salad uses my Blueberry-Basil Vinegar that I love, love. (The blueberry pickles it makes are super added to your salad.)
With the warmer days of spring and summer approaching, this salad makes perfect sense for your quick and filling lunches or dinners. I use deli chicken most of the time, but you could certainly use grilled or leftover roasted chicken instead. The combination of blueberries and strawberries pairs perfectly with the goat cheese. I threw in some raspberries and gooseberries I had on hand because…well, why not! This salad is definitely flexible. Instead of goat cheese, it also works well with shaved Parmesan.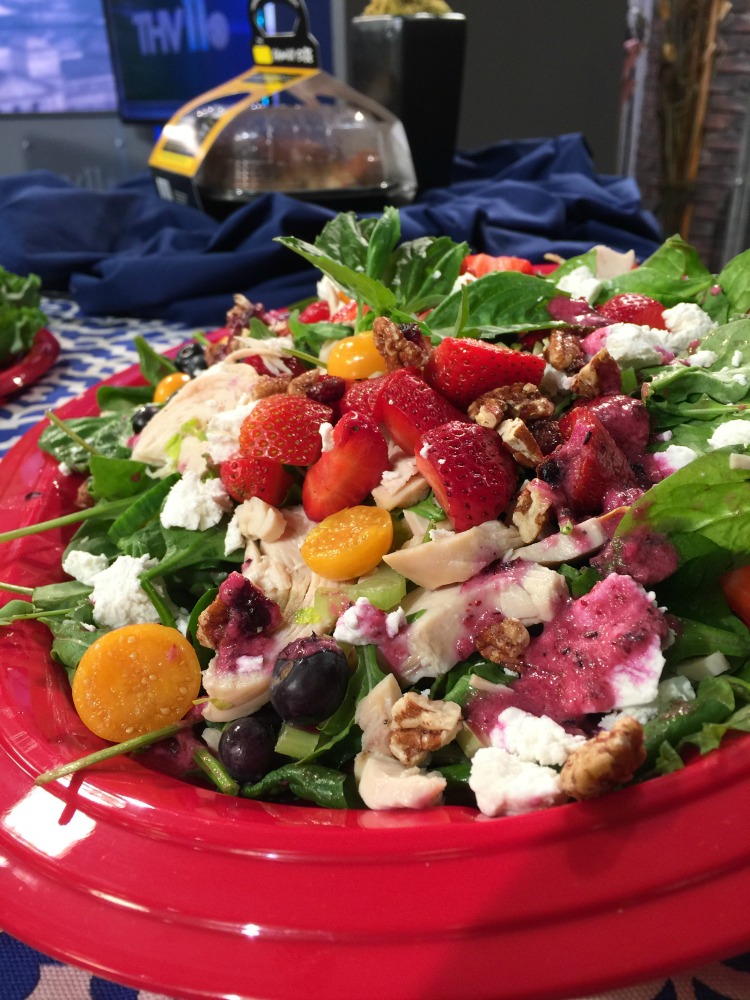 This Blueberry, Strawberry and Chicken Salad was a featured on this week's THV11 segment. I used deli chicken to prepare three entree salads that are simple yet elegant as well.
You might show this recipe to your husband and children. It would be a great dish for them to prepare for you for Mother's Day, wouldn't it?
Blueberry, Strawberry and Chicken Salad with Blueberry Vinaigrette
Ingredients
Salad

3 deli or grilled chicken breasts, sliced
1 1/2 cup fresh blueberries
1 1/2 cups sliced fresh strawberries
1 cup raspberries and/or gooseberries, optional
8 cups arugula-spinach spring mix
1 cup thinly sliced celery, optional
salt and pepper to taste
4 - 6 ounces goat cheese, crumbled
1 cup coarsely chopped glazed pecans
Blueberry Vinaigrette

Vinegar
8 ounces white or apple cider vinegar
1 cup fresh blueberries
1 1/2-2 cups fresh Genovese or Fluffy Ruffles Purple Basil
Vinaigrette
1/2 cup fresh blueberries
1/2 cup blueberry jam or jelly
1/4 cup blueberry-basil vinegar
1/4 cup freshly squeezed lemon juice (or Minute Maid Frozen Lemon Juice)*
2 Tablespoons minced shallots
2 Tablespoons Riceland Rice Bran Oil or Wayne Plantation Sunflower Oil
1/2 teaspoon orange, lemon or lime zest
Kosher salt
Freshly cracked black pepper
Instructions
Salad

Slice chicken breasts thinly across the grain; set aside
Place greens in a large salad bowl. Toss with a generous drizzle of blueberry vinaigrette.
Add in blueberries, strawberries, raspberries and gooseberries (is using); toss with greens.
Add salt and pepper to taste.
Garnish with goat cheese and chopped glazed pecans.
Blueberry Vinaigrette

Find the Blueberry-Basil Vinegar Here
Notes
Allow the Blueberry Vinaigrette to come to room temperature and shake well before using. I like to dress the greens first since the vinaigrette will turn the chicken blue as well otherwise:)
https://diningwithdebbie.net/2017/04/25/blueberry-strawberry-and-chicken-salad-with-blueberry-vinaigrette/
DiningWithDebbie.net. All Rights Reserved.