I'm pretty much in a rut when it comes to what I order at P.F. Chang's. I really do try to consider other options, but if I'm headed there, it's probably because I'm craving lettuce wraps, stir-fried rice or these garlic noodles. Yes, I can make all of these at home, but sometimes it's late, I'm tired, I just want someone else to do the cooking.
You know. You've been there yourself.
Some time ago, I started playing around with ideas for creating the garlic noodles at home (Did you know they have actually taken these off the menu? I ask for them anyway, y'all.) and have come up with a version that really is close. Well, it's close enough to satisfy my garlic noodle cravings anyway. Hubby says they taste just like the restaurant version to him.
I'm okay with that.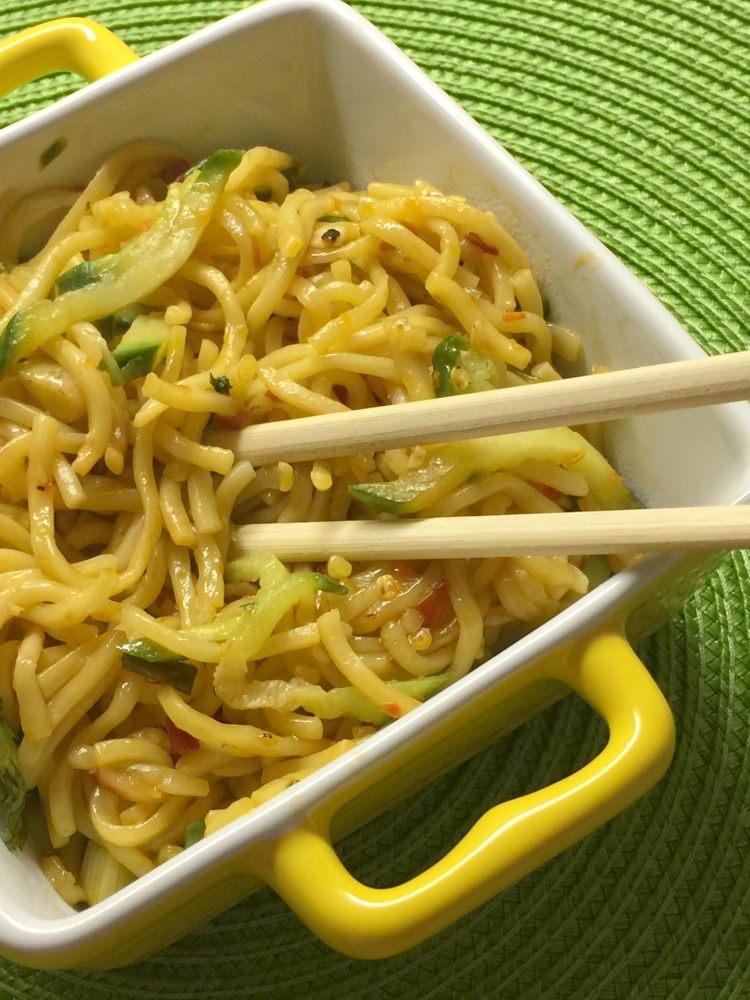 There's an excellent web site I frequently go to when I'm needing some guidance with Chinese food and ingredients. The Woks of Life is quite extensive and seems to be authoritative. Since I'm not in the hotbed of Chinatown anywhere close, this is has become my favorite resource when plying my Asian cooking skills. Check it out: HERE
Let me encourage you to use the ingredients I have listed and don't try substituting something else. Those slight variations in flavor will make a huge difference in the dish. Many of the ingredients are readily available in our local markets now. If you can't find a local source for the shaoxing wine, it is available to order online.
Are you are P.F. Chang's garlic noodle fan? Try making these and let me know if it meets your approval.
My Spicy Take on P.F. Chang's Garlic Noodles
Ingredients
1 pound thin spaghetti*
1 tablespoon Riceland Rice Bran oil
1 Tablespoon garlic, minced
2 teaspoons granulated sugar
2 teaspoons rice wine vinegar
3/4 cup chicken broth
1 1/2 - 2 teaspoons red pepper flakes
1 teaspoon sugar
2 teaspoons shaoxing wine
2 teaspoons oyster sauce
1/2 teaspoon salt
1 teaspoon cornstarch
1/2 teaspoon sesame oil
2 mini cucumbers, julienned (or half of an English cucumber)
1/2 cup minced cilantro, as garnish
Instructions
Noodles

Cook the pasta slightly less than it says on the package; drain and set aside.
In a large wok or skillet on medium, heat the oil on medium high.
Cook the garlic just until fragrant; watch carefully so as not to burn.
Add in the 2 teaspoons granulated sugar and rice wine vinegar; stir thoroughly.
With tongs, toss the noodles with the garlic/oil mixture.
Remove the noodles from the pan and set aside while making the sauce.
Sauce

In the same wok or skillet over medium-high heat, add chicken broth, red pepper flakes, 1 teaspoon sugar, shaoxing wine, oyster sauce, salt, cornstarch and sesame oil.
Turn the heat to high, stirring sauce to combine ingredients; allow it to thicken in the pan for about half a minute.
Add noodles to sauce and stir fry until the sauce is absorbed.
To julienne the cucumbers cut them into small, thin strips with a mandoline slicer or by hand.
Garnish noodles with cilantro and cucumbers.
Notes
*If you can get fresh Chinese noodles, do so. They are so worth it!
https://diningwithdebbie.net/2017/04/19/my-spicy-take-on-p-f-changs-garlic-noodles/
DiningWithDebbie.net. All Rights Reserved.