Puffy Tacos take Taco Tuesday to new heights. They're light and crunchy, fun to make and even more fun to fill with your choice of fillings. I've chosen to use a classic picadillo, a Latin American stew of beef, tomatoes, peppers, onions and seasonings, but you're only limited by your imagination and creativity. Once of my favorites is actually and veggie one made with Hubbard or butternut squash and kale. Sweet potato can also be used.
If you've ever been to San Antonio, you'll recognize these guys. Puffy Tacos are pretty much the standard among the Riverwalk restaurants. They are so popular in the area that the mascot for the San Antonio Missions baseball team is Henry the Puffy Taco!
The taco shells are easily made using masa harina. I'm not in a location where fresh masa is readily available. If you are, you can certainly use that. Honestly, the dough is so easy to make, you'll probably just stick with that. I think the shells puff more if the dough is prepared just a short time before frying.
The picadillo can certainly be prepared ahead of time and reheated. In fact, I think the flavors improve over time.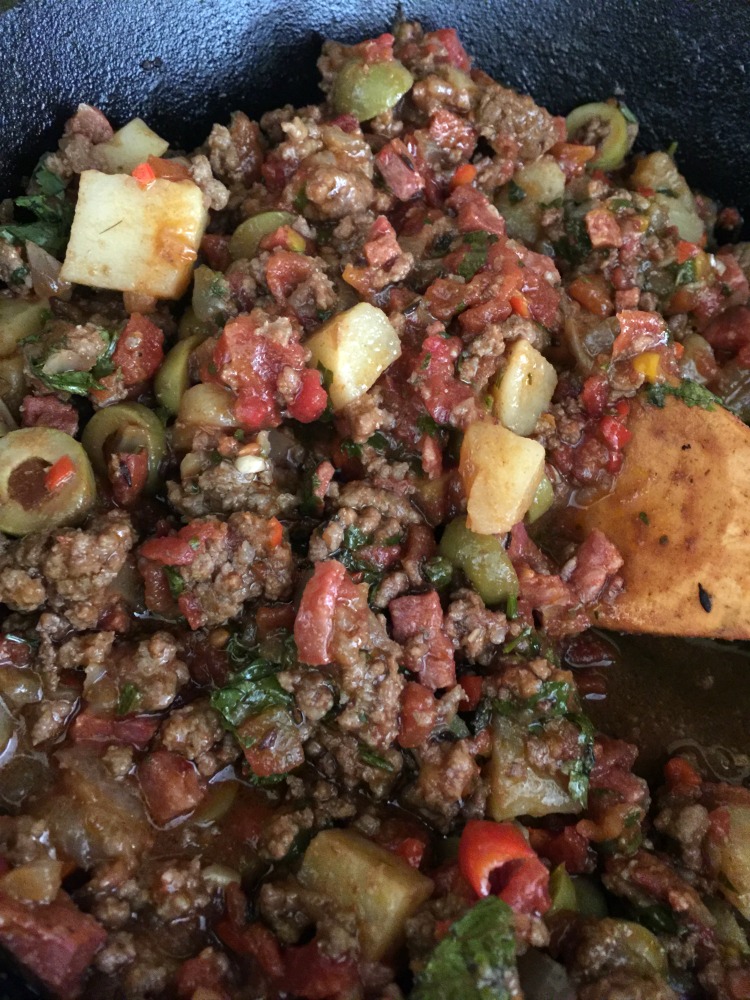 It may take a little practice before you get the shells like you want them. These will not be like the more familiar boxed taco shells, but I just know you are going to love the taste and texture.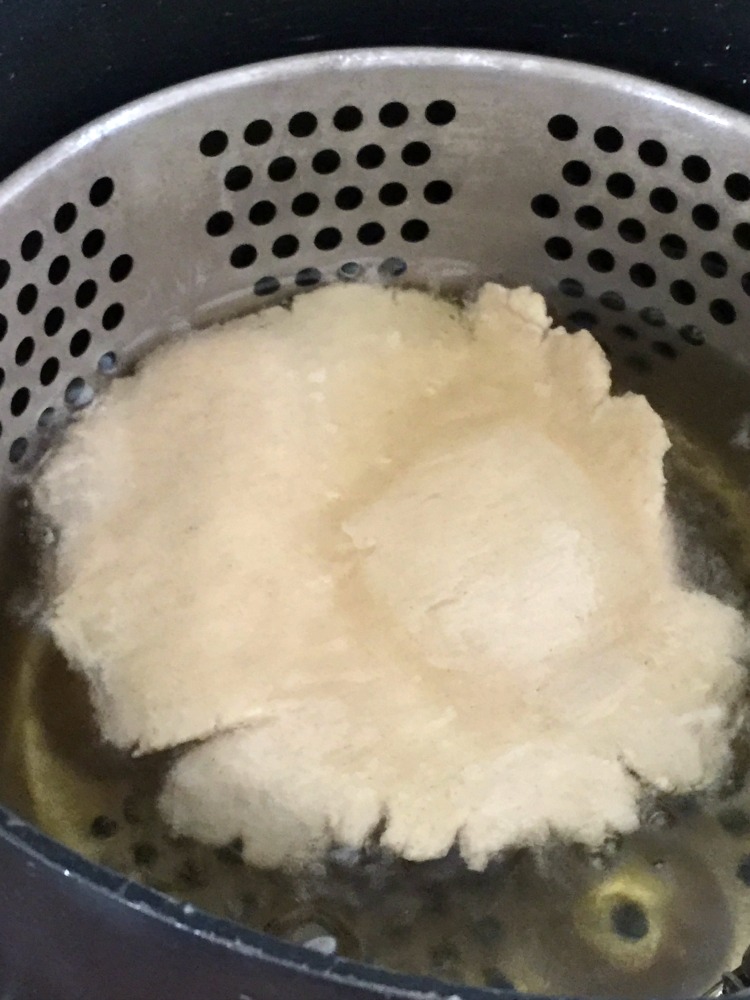 You get the little crunchy crispiness of the outside with the tender chewiness of the inside. If you're having trouble folding them, just let them puff up in a flat shape and then crack the "bubble" to make space for your filling. Either way, these are incredibly delicious.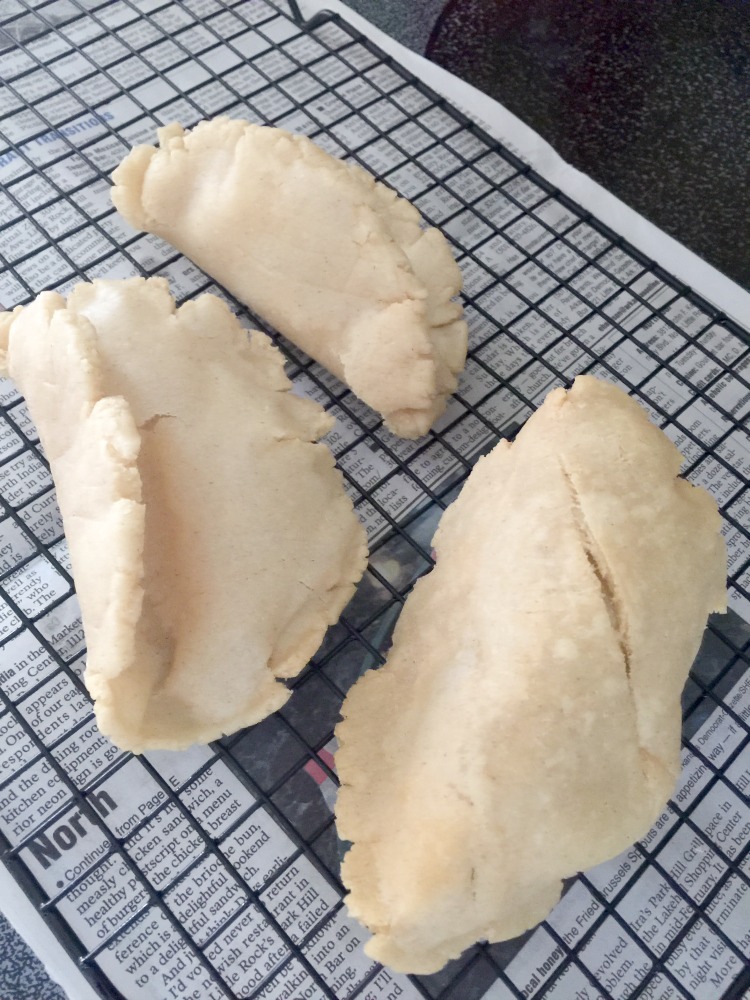 Pass around bowls of shredded lettuce, shredded cheese, avocado, radishes, tomatoes, pico de gallo, sour cream — whatever your family loves as toppings. If you want a little more heat since this picadillo isn't really spicy, chop up some fresh jalapeños if you like.
Isn't it time you tossed the box? The taco kit box, I mean.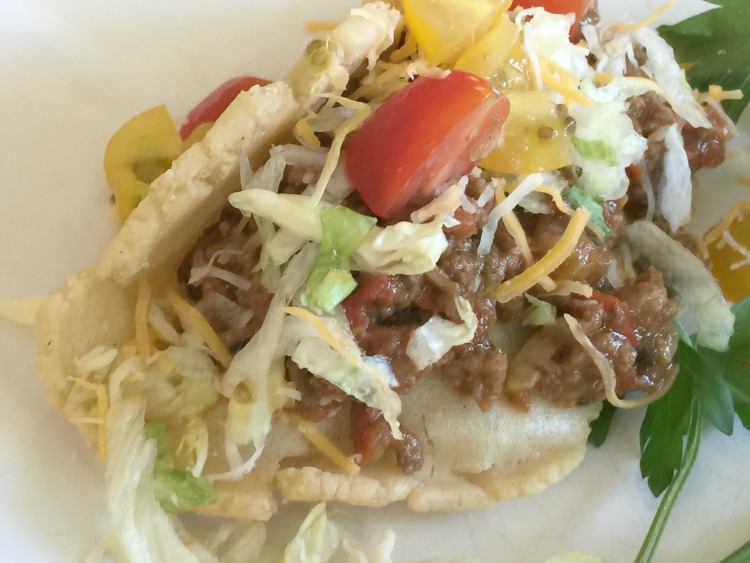 Why not make Taco Tuesday fun at your house with these mouthfuls of Latin America.
San Antonio Puffy Tacos with Picadillo
Ingredients
Picadillo

2 Tablespoons extra-virgin olive oil
1 teaspoon cumin seeds
1 pound lean ground beef
1 yellow onion, chopped fine
1 small green bell pepper, stemmed, seeded and chopped fine
1 russet potato (about 6 ounces), peeled and cut into 1/4-inch cubes
3 garlic cloves, minced
1 1/2 teaspoons ground cumin
1 cup diced hard chorizo
2 Tablespoons Wondra or masa harina
1/3 cup sliced pitted green olives, optional
1/4 cup raisins, optional
1 bay leaf
pinch of cloves
1 teaspoon ground chipotle pepper (or less)
1 teaspoon chili powder
1/4 cup Worcestershire sauce
1 14.5-ounce can diced tomatoes
1/3 cup minced cilantro
Puffy Tacos

2 cups masa harina
1 teaspoon salt
1 1/4 cups warm (not hot) water (May need a tad bit more water).
Riceland Rice Bran oil for frying (about 2 quarts)
Optional Toppings

Shredded lettuce
Shredded cheese
Diced tomatoes
Diced avocados
Pico de gallo
Sliced jalapeños
Taco sauce
Instructions
Picadillo

In a large cast iron skillet, heat oil over medium-high heat. Add cumin seeds and toast just until fragrant.
Add in ground beef and brown; drain excess oil. Return ground beef to skillet.
Add in onion and green pepper; cook 4-5 minutes; add in potato and stir well to combine. Allow potato to cook until slightly tender.
Add garlic, cumin and chorizo; heat through.
Stir in 2 Tablespoons Wondra or masa harina. Add in olives, raisins (if using), cumin, bay leaf, cloves, chipotle pepper, chili powder, Worcestershire sauce, and diced tomatoes.
Season with salt and pepper to taste.
Allow to simmer until potatoes are cooked through; keep warm while preparing tacos.
Shortly before serving, stir in minced cilantro.
Puffy Tacos

Prepare the dough shortly before frying.
In a medium bowl, mix masa harina and salt together. Stir in lukewarm water with a rubber spatula. (Do not use hot or cold water.)
Knead dough until it comes together completely. It will still be soft and tacky but not sticky. Cover with a damp cloth and allow to rest about 5 minutes.
Divide dough into 12 equal portions. Roll each portion into a smooth ball about the size of a golf ball. Keep dough covered with a damp cloth.
Bring oil to 375 degrees.
Split a gallon-size ziplock bag along both side. Place 1 dough ball at a time between the two plastic pieces. Using a clear pie plate, mash dough ball into a 6-inch circle.
Remove tortilla from plastic and drop into fryer. Fry until the tortilla puffs up, about 15 seconds. Using 2 metal spatulas, flip the tortilla, pressing down in the center with 1 spatula to form a taco shape. Keep the tortilla submerged in the hot oil.
Use the 2nd spatula to keep the tortilla open about 1 1/2-2inches.
Place cooked taco shell on a wire rack to drain. Sprinkle with salt.
Repeat with remaining dough balls.
To serve

Divide picadillo evenly among the taco shells. Serve immediately topped with choice of shredded lettuce, cheese, tomato, avocado, Tabaso or taco serve, pico de gallo.
https://diningwithdebbie.net/2017/04/09/san-antonio-puffy-tacos-with-picadillo/
DiningWithDebbie.net. All Rights Reserved.
As an option, you can take fresh corn tortillas and fry them up. They will puff although not quite as much as your freshly made ones.
Picadillo may also be served along side Cilantro Lime Rice for a quick and easy dinnertime entree.
Tune in to THV11 This Morning this Tuesday at 6:15 AM. I'll be making these Puffy Tacos with Picadillo. Your mouth's gonna' water. Promise.