This Decadent Chocolate Peanut Butter Pie was the star of the show on a recent THV11 This Morning segment. I bet you can guess why.
There are never enough reasons NOT to make this pie. Oh my goodness, y'all. It's amazingly delicious.
And decadent.
But who cares?
Don't you deserve a little decadence in your life?
This is a variation on my No Bake Peanut Butter Pie (see the link in the recipe), but it has the addition of a creamy and rich dark chocolate ganache. It's topped off with Reese's Mini Peanut Butter Cups and a good sprinkling of honey roasted peanuts. I even added in some of the White Chocolate Reese's Peanut Butter Cups which are delicious if you can find them.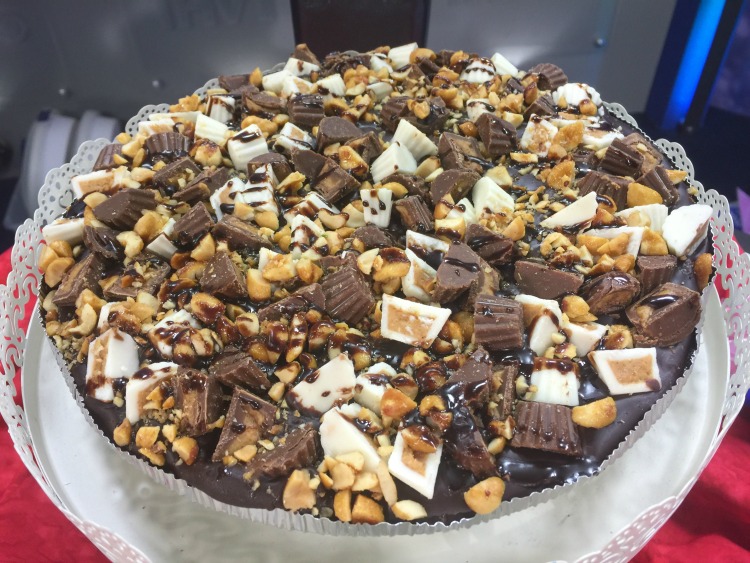 Take this to any family or friend gathering. It'll be the star of your show as well.
Every single time. Promise.
Chocolate Peanut Butter Pie
Ingredients
Variation

Mini Reese's Cups, halved
Honey Roasted Peanuts, chopped
Prepared dark chocolate syrup, if desired.
Dark Chocolate Ganache

1 1/2 cups dark chocolate chips
1/2 cup heavy cream
.
Instructions
Dark Chocolate Ganache

Place chocolate chips in a medium heat-proof bowl.
in a small saucepan or a microwaveable glass bowl, heat the heavy cream just to boiling.
Pour the cream over the chocolate chips; allow to stand for 1-2 minutes.
Whisk until smooth. Cool to room temperature.
Pour over pie filling and smooth.
Variation

Top filling with Dark Chocolate Ganache. Garnish with halved Mini Reese's Cups and chopped Honey Roasted Peanuts. Drizzle with dark chocolate syrup, if desired. Freeze until 1/2 hour before serving.
https://diningwithdebbie.net/2017/04/03/decadent-chocolate-peanut-butter-pie/
DiningWithDebbie.net. All Rights Reserved.