Mardi Gras may be over for 2017, but we can still celebrate the food, can't we? I call this New Orleans Muffuletta Pasta Salad since the word "muffuletta" is synonymous with New Orleans as far as I am concerned.
What's nice about this salad is that it make a W.H.O.L.E. bunch and keeps for days in the frig. I love that it combines the colors of Mardi Gras, and that the red cabbage even colors the farfalle somewhat. Using the mini farfalle is better than using the larger ones, in my opinion. They are the perfect size to fit my mouth. Plus, the texture is more tender I think. You could really use rotini or penne as well, but aren't these little minis just the cutest?
Oh, the colors! Traditionally, Mardi Gras colors are purple, green and gold representing the ideas of justice, faith and power. In 1892, Rex, the King of Carnival krewe, chose these colors and they've been used ever since. I've read far more complicated reasons, but my simple mind just stays with this widely accepted version, y'all.
Did you know that Louisiana is the only state in the U.S. that has declared Mardi Gras (Fat Tuesday) as an official holiday? Since we all seem to jump on the Mardi Gras bandwagon, I think we should petition to have it set aside as a national holiday myself. What do you think?
Still hungry? Give these cutie-pie Mini Muffulettas a try. They'll make you smile just lookin' at 'em.
I'm already looking forward to Mardi Gras 2018 on February 13! The calendar gurus need to know bloggers need more time between New Years, Mardi Gras and Valentines. What's up with that??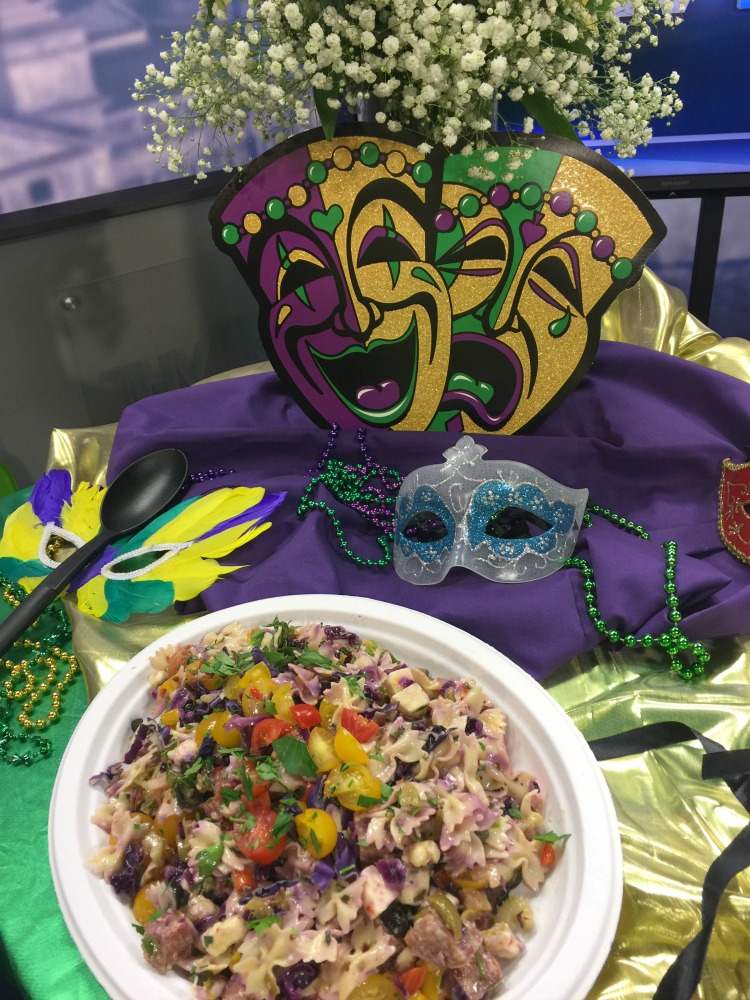 New Orleans Muffaletta Pasta Salad
A perfect Mardi Gras celebration salad that's good any time!
Ingredients
3 cups mini farfalle
1 cup cubed pepperoni
1 cup cubed gopressata
1 cup cubed Genoa salame
1 cup cubed provolone
1 cup cubed mozzarella
3/4 cup diced yellow bell pepper
1/2 cup diced red bell pepper
3/4 cup diced green bell pepper
1 Tablespoon capers
1 cup jarred olive salad
1 2.5-ounce can sliced black olives, drained
1/2 cup thinly sliced pepperoncini
1 1/2 cups thinly shredded purple cabbage
1/2 cup minced flat-leaf parsley
1/4 cup minced fresh oregano
1 teaspoon Aleppo pepper
1 cup halved yellow cherry tomatoes
1 - 1/2 cups Zesty Italian dressing
kosher salt and freshly cracked black pepper to taste
Instructions
Prepare farfalle according to package directions; rinse and set aside while preparing remaining ingredients.
Cube the meats and cheeses. Toss with the farfalle.
Dice the peppers; add to farfalle mixture.
Add capers,olive salad, black olives, pepperoncini,cabbage, parsley, oregano, Aleppo pepper, and cherry tomatoes. Toss well to combine.
Toss in shredded purple cabbage; stir to combine.
Add Italian dressing in desired amount. The pasta will absorb the dressing, but I suggest starting with slightly less than 1 cup and add more later if you want.
Season with salt and pepper.
Refrigerate until serving.
Notes
This salad is great as a side dish or as a light meal. It keeps well for days in the refrigerator.
https://diningwithdebbie.net/2017/03/01/new-orleans-muffuletta-pasta-salad/
DiningWithDebbie.net. All Rights Reserved.