If you've read my bio you know that I learned to cook from two of the best — my grandmothers. These ladies were known throughout our home county as two of the best cooks to be founds. Mamaw cooked for a family of 9; Nonnie cooked for a family of 6. Needless to say, that involved a whole lotta' cooking and feeding…and dishwashing, of course.
The first thing I ever remember cooking was potato chips. Mamaw didn't have a mandoline, but she could slice those potatoes just as thin as if she did. She's the one who taught me how to wring a chicken's neck by the way. And to make the very best chicken and dumplings anywhere.
Honest.
With Nonnie, I learned how to dry apples on the rooftop, how to churn fresh butter, and how to find the top secret blackberry vines. I also learned how to slather myself with the most gosh awful sulfury smelling salve to ward off the chiggers when picking those black beauties.
And so much more.
I especially learned not to waste food (even though I sometimes do). That's why I never, ever toss collard stems in the trash or on the compost pile, y'all. Nonnie and Mamaw cooked them. And so do I, of course.
And if you've been tossing yours, I'm here telling ya' STOP that right now! "Save the stems" may just become my new mantra.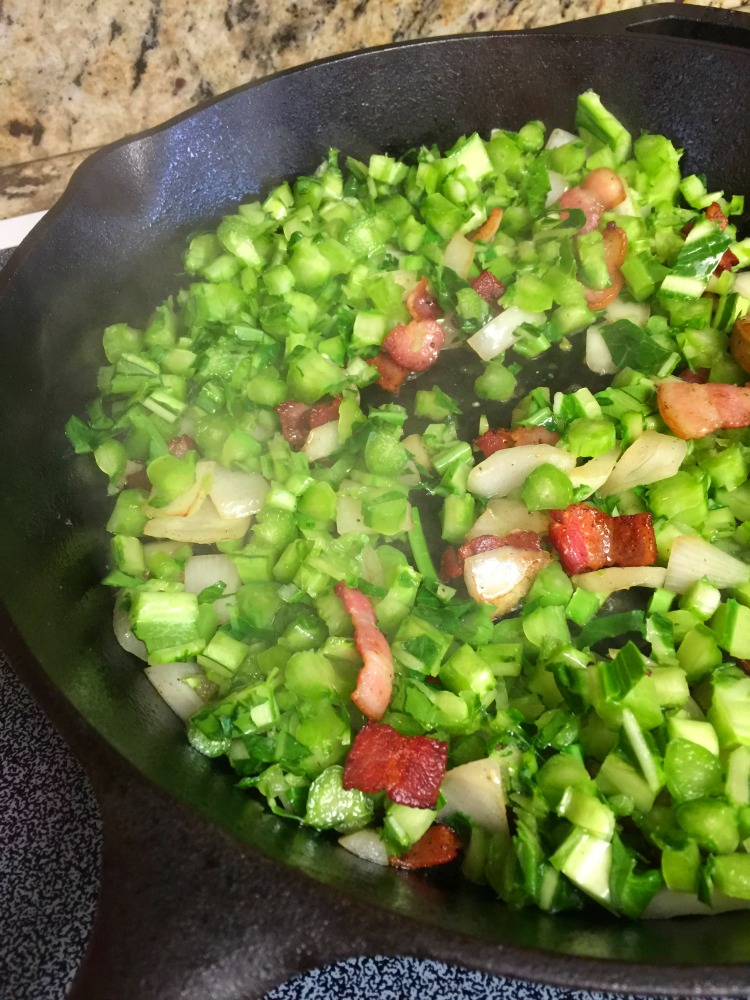 I really like the added texture the chopped stems give to the collards. They cook up nice and soft, but they keep their texture adding just a little extra bite to the greens.
I use smoked turkey necks or wings to make the seasoning broth for my collards, but you can use a smoke ham hock if you prefer. You just can't have real, honest-to-goodness Southern collards without that smoky flavor. Don't even try!
And I don't think a quick sauté is the way to go either when cooking collards. It's that slow simmer action that breaks them down into delicious, delectable mouth-watering goodness. And creates the most heavenly potlikker. Oh yeah!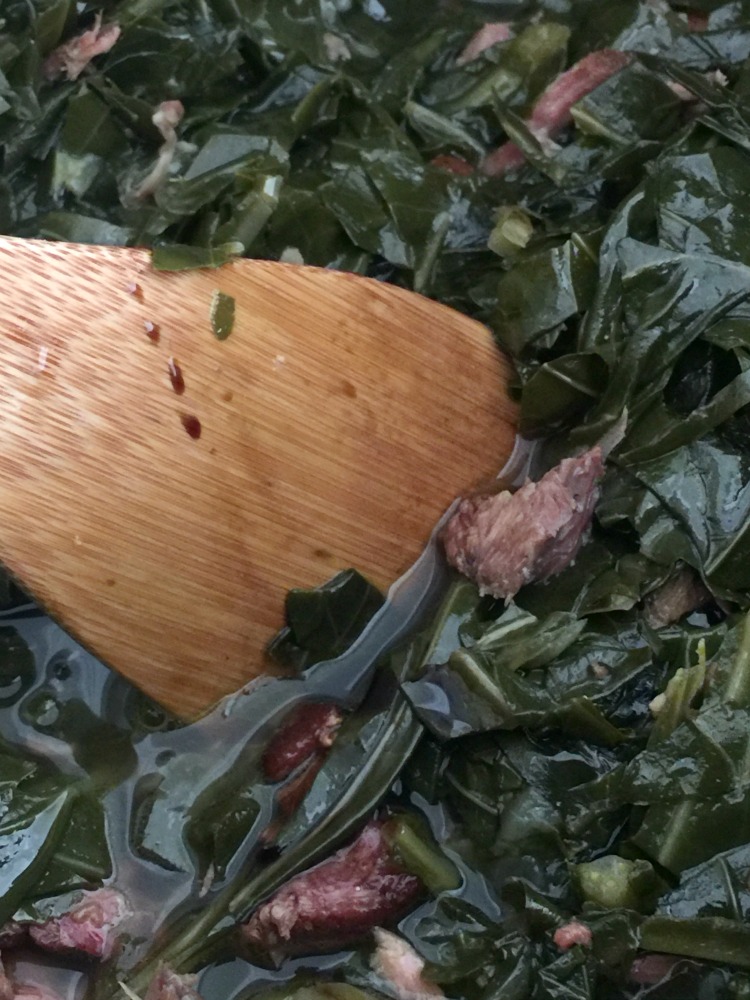 I use my Fagor 3 in 1 to cook my collard greens, but you don't have to have one to still get some deliciousness going on. I like to pressure cook the turkey necks in a little chicken broth for about 30 minutes then add the collards to slow cook for several hours.
The stems? I sauté those babies up with some Petit Jean thick-cut bacon, onion and garlic before adding them to the slow cooker. Y'all … put this on your bucket list!
And open your windows. Collards definitely have a real fragrance:)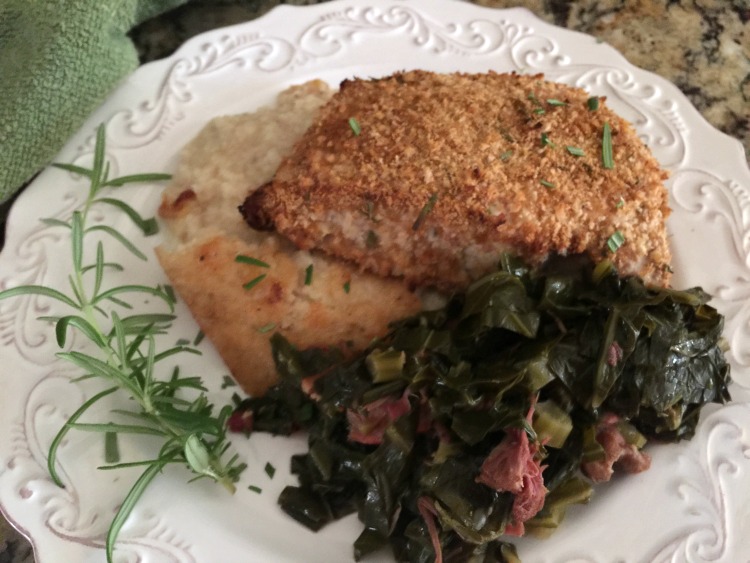 Honestly, you could cook up a big cast iron skillet of cornbread and have yourself a tummy-satisfying meal with these collard greens. Soak up a whole bunch of that amazing potlikker!
Save the Stems! Southern Collard Greens
Ingredients
2 1/2 pounds smoked turkey wings or necks
2 cups low-sodium chicken broth
2 pounds. collard greens (about 2 bunches), stems reserved and chopped into 1/4" pieces
2 Tablespoons garlic-infused olive oil (or plain)
4 slices thick-cut Petit Jean Hickory Smoked Bacon, chopped
1 cup coarsely chopped onion
2 cloves garlic, minced
1⁄2 teaspoon crushed red pepper flakes
kosher salt and freshly ground black pepper
1/4 cup balsamic vinegar
Instructions
Put turkey wings or necks into pressure cooker. Add chicken broth. Pressure cook for 30 minutes on HIGH.
Release pressure; remove turkey meat and set aside.
Strip collard greens from stems; roll leaves and slice thinly.
Chop collard stems and onions.
Sauté chopped bacon in olive oil over medium-high heat in a large skillet until almost crisp.
Add in onion and collard stems. Sauté until tender.
Add minced garlic to stems and sauté until fragrant.
Add thinly sliced collard greens to slow cooker along with turkey broth. Add in sauteéd collard stem mixture, red pepper flakes, salt and pepper to taste. Stir to combine.
Strip turkey meat from bones; set aside.
Add in balsamic vinegar and smoked turkey meat.
Slow cook collard greens on HIGH heat for 5 - 6 hours until greens are tender and cooked through.
Adjust seasonings to taste.
https://diningwithdebbie.net/2017/02/24/save-the-stems-southern-collard-greens/
DiningWithDebbie.net. All Rights Reserved.