You all know that chocolate is practically synonymous with Valentines, right? I might have exploited that just a tad with my recent THV11 This Morning segment. The WHOLE segment was variations on chocolate pie.
When I told Hubby what I was doing, his response was somewhat skeptical. Chocolate pie is chocolate pie, right.
Well, no. There's a whole world of chocolate pies just waiting for you to love, y'all. Have you tried that Dark Chocolate Orange Cream Pie yet? Oh my goodness, y'all, it's absolutely delicious.
And that Nutella Hazelnut Tart topped with Cinnamon Cream? Oh yeah! It'll be love at first bite.
Are you a s'mores lover? Remember the ooey-gooey squishy goodness of those slightly burned marshmallows and the melty mouthfuls of Hershey's milk chocolate that you prepared over an open campfire. Or maybe you even made them in the fireplace on snow days like we often did when Perfect Daughter was growing up.
Then you're gonna' love this S'mores Pie Please! It's got all of the flavors of your favorite campfire s'mores in a super pleasing pie. Your family and friends are going to be asking you for s'more and s'more!
What are you waiting for?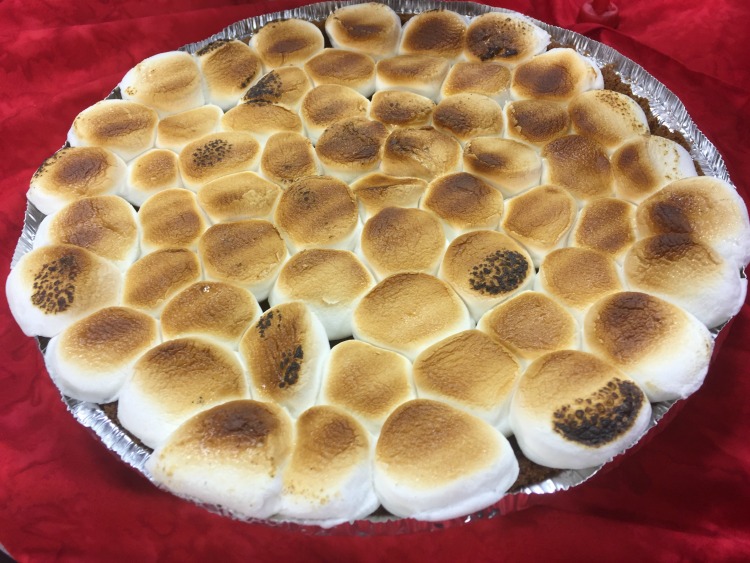 Ingredients
1 10-inch prepared graham cracker crust
1 cup heavy cream
1/2 cup half and half
7 ounces dark chocolate, chopped
pinch salt
1 teaspoon vanilla
2 eggs, beaten
approximately 6 ounces large marshmallows
Instructions
Preheat oven to 350 degrees.
In a medium saucepan, heat cream and milk to simmer. Remove from heat and stir in chocolate.
Whisk until chocolate is completely melted. Continue whisking until chocolate is smooth and glossy.
Add salt and vanilla to beaten eggs and whisk well.
Add a small amount of melted chocolate to beaten eggs to temper; immediately whisk eggs into chocolate mixture.
Pour filling into prepared crust. Bake approximately 25 minutes until filling is set.
Cover top of pie with plastic wrap or waxed paper so a skin does not form while the pie cools. Cool completely on a wire rack. Pie may be refrigerated until shortly before serving, if desired.
Cut marshmallows in half and arrange in concentric circles on top of pie. Brown tops of marshmallows with a kitchen torch. Alternatively, place on lowest rack in oven and broil until tops are browned. (I like to get some of mine "extra brown" for that burned marshmallow flavor.
https://diningwithdebbie.net/2017/02/21/smores-pie-please/
DiningWithDebbie.net. All Rights Reserved.