I love the flavor combination of dark chocolate and orange, especially as they pair in this creamy, a tad on the decadent side, pie. I've made it using an Oreo crust, a chocolate graham cracker crust and a regular pastry crust. Honestly, I think I prefer the pastry crust but go for whatever suits you because it'll be delicious either way.
I use Lindt Intense Orange Dark Chocolate bars as the chocolate. Those can be found in just about any Walmart or larger grocery. They have a mellow orange taste that doesn't overshadow the chocolate. I've tried just using orange extract before, but in order to get enough orange taste, I had to use so much extract that it came out too bitter. Using the orange-flavored chocolate, orange zest and just a little orange extract makes for the perfect triple orange yumminess that I was looking for.
Note: If you want to garnish the pie with candied orange peel, you will need to start that at least 2 days ahead of time. I make up a batch and keep it in the freezer.
Be sure to chill your mixing bowl and beaters for the whipped cream. It really does make the whipping go much better. Using powdered sugar rather than granulated sugar helps to stabilize the whipped cream keeping it from drooping after just a few minutes.
Be sure to watch this week's feature on THV11 This Morning — it's all about variations on chocolate pie. Guess which pie has a starring role:)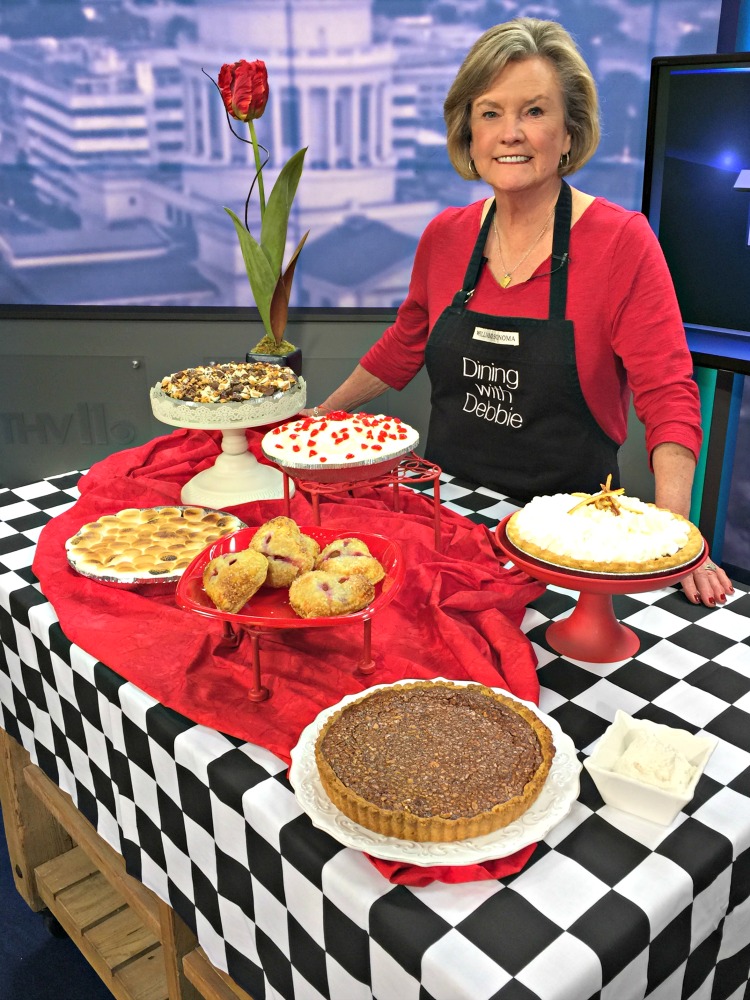 Dark Chocolate Orange Cream Pie
Ingredients
Candied Orange Peel for garnish (make ahead)

1 large orange
2 cups sugar, divided
1 1/2 - 2 cups water, plus 3 more cups for first boiling
Oreo crust

2 1/2 cups Oreo cookie crumbs
2 Tablespoons unsalted butter, melted
(Or use my Never Fail Pie Crust)
Filling

2 cups half and half
1/8 teaspoon salt
fine zest of 1 orange
1/3 cup granulated sugar
2 Tablespoons cornstarch
6 room temperature egg yolks
7 ounces Lindt Intense Orange Dark Chocolate (finely chopped
1/2 teaspoon orange extract
1 teaspoon vanilla extract
Whipped Cream Topping

1 cup heavy cream
1 1/2 Tablespoons powdered sugar
Instructions
Candied Orange Peel (must be prepared 2 days ahead)

Cut peel on each orange into 4 vertical segments. Remove each segment (including white pith) in 1 piece. Cut into 1/4-inch-wide strips.
Bring a large pot of water to boiling. Cook strips 15 minutes in boiling water; drain, rinse, and drain again.
Bring 1 1/2 cups sugar and 1 1/2 cups water to boiling in medium saucepan over medium heat, stirring to dissolve sugar. Add peel. Return to boil. Reduce heat; simmer until peel is very soft, about 45 minutes. Drain.
Toss peel and 1 cup sugar on rimmed baking sheet, separating strips, shaking off excess sugar. Place on a sheet of parchment paper and dry 1 to 2 days.
Wrap and freeze up to 2 months.
Oreo Crust

Preheat oven to 350 degrees, placing oven rack in middle position.
Combine cookie crumbs and melted butter. Press into bottom and up sides of a 9-inch pie plate. Refrigerate 30 minutes to firm crust..
Bake approximately 10 minutes until crust is set.
Set aside to cool completely.
Filling

In a medium saucepan or microwaveable glass bowl, heat half and half and salt to boiling.
In a separate bowl, whisk together sugar and cornstarch. Whisk egg yolks with cornstarch until light and thickened.
Add chopped chocolate to heated half and half, stirring until melted. Whisk in a spoonful of hot mixture to the eggs (temper). Immediately whisk in eggs to remaining hot chocolate.
Return to simmer and whisk until thickened and smooth.
Pour filling into cooked pie shell. Top with plastic wrap to prevent a skin from forming. Chill several hours or overnight.
Top with sweetened whipped cream before serving.
Sweetened Whipped Cream

Pour heavy cream into chilled mixing bowl. Whip on high speed adding powdered sugar as you whip. Beat until stiff peaks form.
Spread over pie and garnish with candied orange peel, if desired.
https://diningwithdebbie.net/2017/02/14/dark-chocolate-orange-cream-pie/
DiningWithDebbie.net. All Rights Reserved.