February is National Cherry Month, but I'm not sure the gurus who assign those titles got this one right. And being that I want to make every cherry recipe I see in magazines or on the abyss that is Pinterest, it seems that fresh cherry season has been gone for several weeks in my neck of the woods.
Of course!
The produce managers at my markets just shake their heads when they see me coming these days because they know I'm going to ask if they POSSIBLY got any fresh ones in. Bless their hearts, they've tried.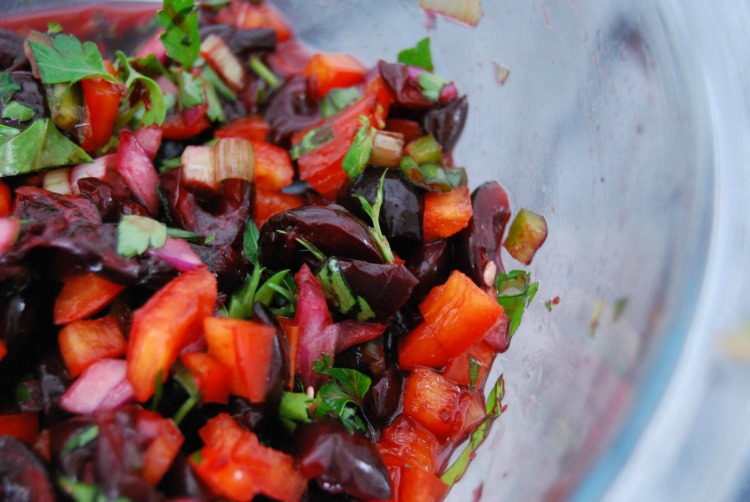 I can find dried cherries. I can find frozen cherries. I can find canned cherries. But not fresh ones. And, naturally, it's fresh cherries that I need. That I want.
I faced this same issue last year when one of my THV 11 This Morning sessions was "All About Cherries." So I have a conundrum with February being "National Cherry Month" and there being no cherries, so to speak. Clearly, it's not one that I am going to be able to resolve.
Why can't cherries be around all year like blueberries? Explain that one if you can.
So I've been experimenting with several new uses for dried and frozen cherries. Surprisingly, I've found some new favorites. Just like this salsa.
You really must give it a try and let me know what you think.
Ingredients
1/2 pound cherries (about 2 cups), pitted
1/2 cup chopped purple onion
1/2 - 1 jalapeno, minced
1 large ripe tomato, cored and roughly chopped
1/4 teaspoon salt
1/4 teaspoon freshly cracked black pepper
2 tablespoons chopped fresh cilantro
Instructions
Put cherries, onion, jalapeno, tomato, 1/4 teaspoon salt and 1/4 teaspoon pepper into a food processor and pulse to make a chunky salsa. (Or, finely chop all of the ingredients and toss together in a bowl - which is what I prefer.)
Stir in cilantro.
Refrigerate until serving.
https://diningwithdebbie.net/2017/02/10/cherry-salsa/
DiningWithDebbie.net. All Rights Reserved.