Nutella Hazelnut Tart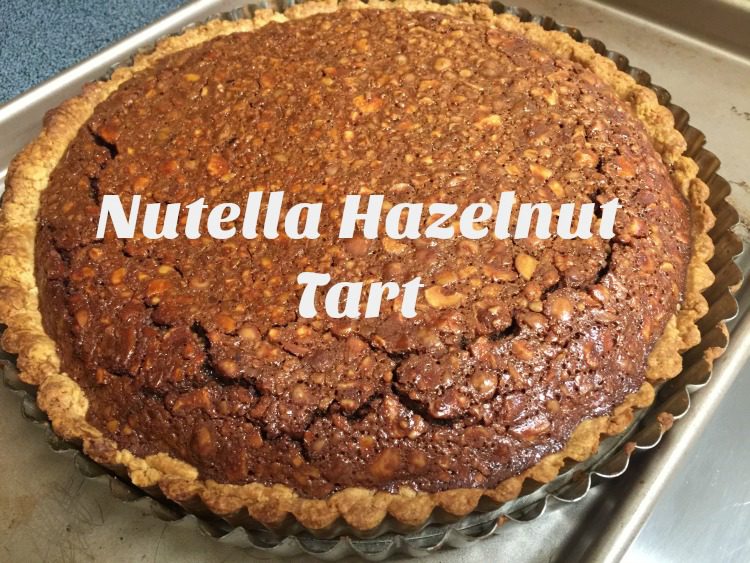 It's love at first bite for this chocolatey Nutella Hazelnut Tart. Nutella, as you may be aware, is a rich blend of cocoa, milk and hazelnuts. Combine that with a rich custard of eggs, sorghum syrup and half and half, and you've got yourself a real winner for a romantic Valentine's Day dinner.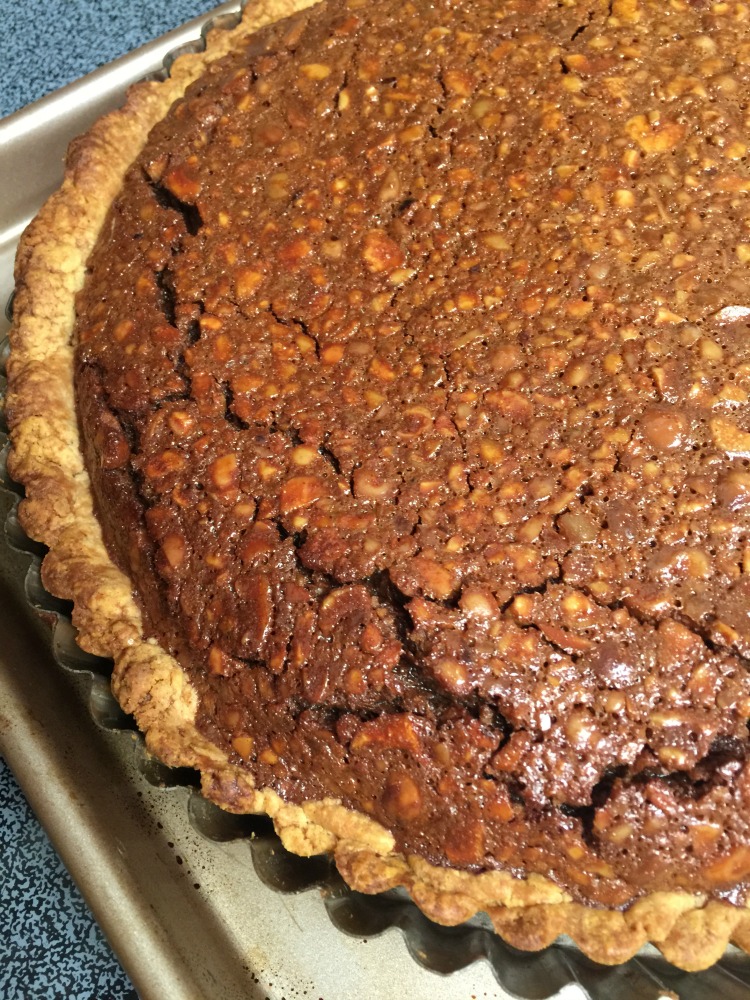 Or, you can just celebrate any ol' day!
This tart is delicious warm or cold, but I prefer it warm with a big dollop of real whipped cream.
Don't confuse sorghum syrup with molasses. There is a difference, y'all. Sorghum syrup is made from sorghum cane, not sugar cane. It is milder in flavor than molasses. If you absolutely can't find it (and get your markets to get it in stock), you can substitute dark corn syrup or even maple syrup. The flavor will be slightly different for each one, however.
My best suggestion for you would be to taste the sorghum. If it tastes particularly strong to you, cut back the amount and add in either the dark corn syrup or maple syrup. Sorghum flavor will vary with each batch depending upon when and where the cane was grown.
This is just one of the chocolate pies I'll be preparing for THV11 on the 14th. I'll be on a little earlier (5:50!) that day. I hope you'll be able to watch, but if not, set your DVR. You won't want to miss this plethora of chocolate pies!
Ingredients
Crust (from FoodNetwork.com)

1/2 cup blanched hazelnuts*
1 cup all-purpose flour, plus more for dusting
2 tablespoons sugar
1/ 4 teaspoon salt
6 tablespoons cold unsalted butter, cut into small pieces
1 large egg, beaten
1/2 teaspoon vanilla extract
Filling

1 cup Nutella
4 Tablespoons unsalted butter, cubed
1/2 cup half and half
1/2 cup sorghum syrup
1 teaspoon vanilla
1/4 teaspoon salt
3 eggs, beaten
1 cup chopped, toasted hazelnuts
Instructions
Crust

Toast the hazelnuts in a skillet over medium heat until golden, about 8 minutes. Let cool.
Transfer 1/3 cup nuts to a food processor. Add the flour, sugar and salt; pulse until the nuts are finely ground. Add the butter and pulse until the mixture looks like coarse meal.
Drizzle in the egg and vanilla; pulse until the dough starts to come together.
Turn the dough out onto a sheet of plastic wrap and pat into a disk. Wrap and refrigerate until firm, at least 1 hour, preferably overnight.
Coarsely chop the remaining hazelnuts and reserve.
Roll out the dough on a lightly floured surface into a 12-inch round.
Press into the bottom and sides of a 9-inch tart pan with a removable bottom, then trim the excess dough. Prick the bottom all over with a fork.
Refrigerate until firm, about 30 minutes.
Preheat the oven to 350 degrees F. Line the crust with foil, then fill with pie weights or dried beans. Bake until the edges are golden, about 20 minutes.
Remove the foil and weights and continue baking until golden brown all over, 15 to 20 minutes. Cool completely on a wire rack.
Filling
Notes
To blanch hazelnuts: (Do this the day before making the crust,) For every 1/2 cup of hazelnuts, bring 1-1/2 cups water to a boil in a large pan or microwaveable glass bowl. Add 2 Tbs. baking soda and the nuts; boil/microwave for 3 minutes—expect the water to turn black. Be careful that it does not boil over. Run a nut under cold water and see if the skin slips off easily. If not, boil the nuts a little longer until the skins slip off. Allow to dry thoroughly before toasting.
Top this pie with a scoop of your favorite vanilla ice cream or some cinnamon whipped cream. Delish!
https://diningwithdebbie.net/2017/02/07/nutella-hazelnut-tart/
DiningWithDebbie.net. All Rights Reserved.
S'Mores Pie Please | Dining With Debbie - […] that Nutella Hazelnut Tart topped with Cinnamon Cream? Oh yeah! It'll be love at first […]