Traditional Scottish Cock-a-Leekie Soup has prunes in it. Knowing Hubby would absolutely rebel at the thought of that, I omitted them. Trust me. I don't think they will be missed.
As you know, we are soup lovers in our household. This one is a fairly new addition to our list of favorites. I've often read about cock-a-leekie soup or pie, but I had not ever made either until recently when my interest in making the coup was piqued by a piece I was reading in preparation for a free lance piece.
There's a wee bit of Scotch-Irish in me. It was time to make this soup!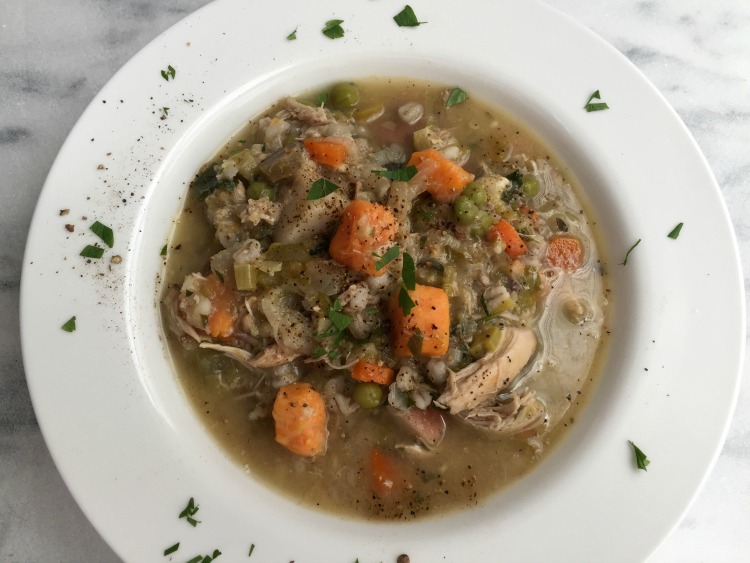 It's hearty and light at the same time. Certainly, it's quite nutritious. And talk about simple! I used a deli chicken, but you can certainly cook yours from scratch if you prefer. Frankly, it's cheaper in my area to use the deli chicken.
We've had and on again-off again relationship with winter this year. Not being a winter person, I'm not complaining, y'all. Oh, I don't mind a good, beautiful snow day once in awhile. But…I really do not like those long, gray days that so often claim our sunlight during the winter months. Hubby would tell you that I being saying, "I hate winter." sometime around Labor Day. While he's exaggerating a teeny bit, he's actually not too far off either.
While we've not had any really long, really cold, day after day, bitterly cold days, we've had our share of gray days. And now that darn Punxatawney Phil has told us we're in for 6 more weeks of that! I don't think he's my friend any more.
Nothing chases those away those sad, gray days better than soup. It not only warms the body, it warms the soul.
Enjoy this one friends. With or without prunes — it's your choice!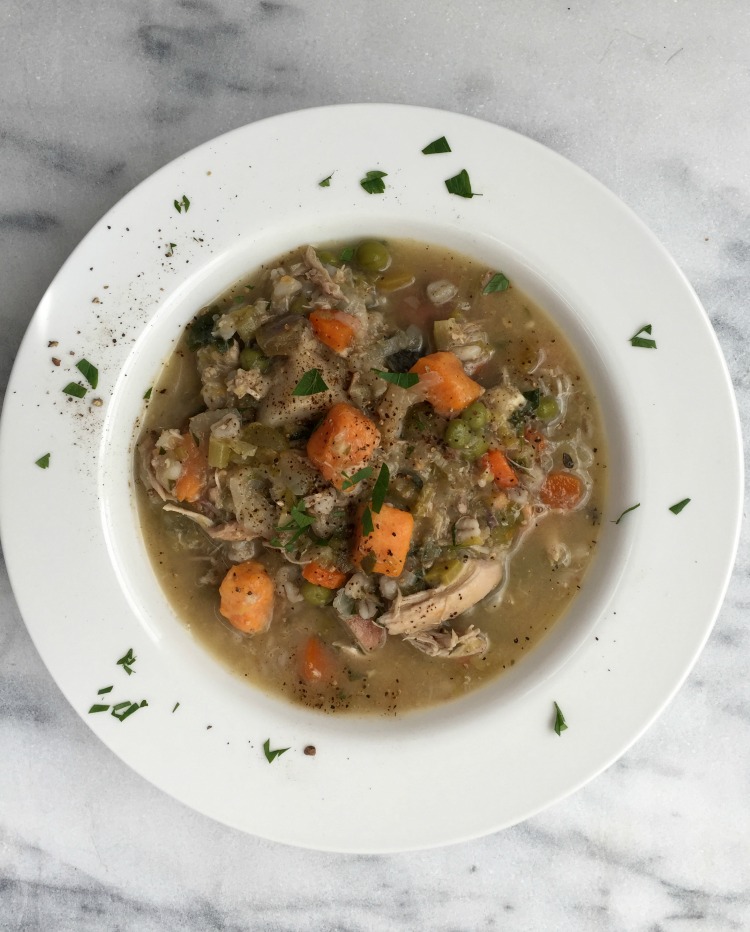 Ingredients
32 ounces reduced sodium chicken broth
4 cups water
1 large cube Knorr™chicken bouillon
4-5 small Irish potatoes
3 stalks celery, thinly sliced
6 leeks, white and light green parts only, thinly sliced
1 1/2 cups cubed carrots
2 cups cubed sweet potato
1 1/2 cups thinly sliced baby portobellos, optional
2 bay leaves
1/2 cup uncooked pearl barley
2 cups shredded cabbage
1/2 teaspoon mace (substitute 1 teaspoon ground nutmeg)
salt and pepper
4-5 cups shredded cooked chicken
Instructions
in a large stockpot, bring broth, water and bouillon to a slow boil.
Quarter unpeeled Irish potatoes and then halve each quarter. Set aside.
Add celery, leeks, carrots and bay leaves to broth; simmer slowly 15 minutes.
Add mushrooms, pearl barley and Irish potatoes; simmer 20 minutes.
Add shredded cabbage and mace; season to taste with salt and pepper. Simmer 15-20 minutes until vegetables are tender.
Add shredded chicken and heat through.
https://diningwithdebbie.net/2017/02/05/scottish-cock-a-leekie-soup/
DiningWithDebbie.net. All Rights Reserved.